If Gerry Ford is Louisville's Irish maven, the Scottish side of the equation is filled by William H. Wallace. lf you have attended your share of weddings, funerals, christenings and the various Celtic festivals within the last twenty years, you have undoubtedly seen and heard Bill Wallace playing his bagpipes in resplendent Scottish attire. With his flowing white mustache and withering gaze, Bill is the image of a highland clan chieftain from central casting. More importantly, Bill Wallace has almost single-handedly preserved the art of bagpiping in our community.
Born November 25, 1930, Wallace imbibed musicianship through the milk of his mother, a local violin and piano teacher. After graduating from Male High School, he went on to Washington & Lee University where he graduated magna cum Iaude and his presence there is commemorated by the mural on the W&L library wall which he painted. Truly a Renaissance man, he studied Latin throughout high school and college where he also learned Spanish and German. While serviing his country in the U.S. Air Force, he won first place for Europe in the armed forces photography competition. Bill graduated from the University of Louisville Law School in 1955, the same year he married a beautiful young Washington County girl, June Kays.
Bill began taking bagpipe instruction from a variety of itinerant teachers in 1969. ln short order he passed on his art to others, forming the Pegasus Pipe Band, which was the forerunner of the Louisville Pipe Band. Today the LPB is thriving as a non-profit corporation, winning competitions throughout the southeastern United States. ln 1972 he formed the Kosair Pipes & Drums, which has been a mainstay of many a parade, to the delight of thousands. He is also to be credited for having nurtured many excellent pipers including Charlie Marlatt, who was a world class competitor and founder of a pipe band in Columbus, Ohio; Pat Benningfield, former LPB pipe major; and Skip Cleavinger, generally acknowledged to be Kentucky's top piper. A young bagpiping savant, Skip is an open world class competitor and member of the Washington, D.C., Capitol City Pipe Band.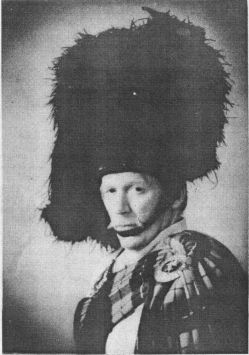 William H. Wallace
Not surprisingly, Bill passed on his love of music to his three songs. Attorney Jerome Wallace and James Wallace, Assistant Director of the Kentucky Historical Society, are both members of the Kentucky National Guard Army Band. Son Billy is a graduate of the Berklee School of Music and a bluegrass musician in Boston, Mass.
Like Mel Gibson's portrayal of the renown Scottish patriot of the days of yore, our William Wallace is one tough bird indeed. He has been facing enormous challenges to his health with a tenacity and dignity that has been an inspiration to all of us in Kentucky's Celtic community. Rock can only offer this brief tribute to a man you don't meet every day. If you love bagpiping or Celtic culture, make a point to shake the hand of a man who has given his gifts so freely and passionately to us all. It's always later than you think.
Hurrah for the Irish Family Fest.
It was a mighty weekend at Louisville's sixth Irish Family Fest. Even regular Fannigan's Isle fans (of whom Rock is certainly one) were overwhelmed by their powerful performance at the Friday night "Kick-Off Concert." The beautiful weather contributed to two days of fabulous music from the likes of Andy Irving. Black 47, Tommy Makem and a host of fine regional and local bands. It must be noted that the Irish dancing was also sensational, thanks to world champion John Timm and his progenitor, the Ann Richens Academy of Irish Dance. The Bluegrass Irish Dancers, Louisville's own academy of Irish dancing, is growing fast and rapidly increasing the calibre of its performances as well, thanks to Allison Weber and Heather McClanahan. Mark your calendars now for the 1996 Fest, September 20-22. In fact, our Irish Family Fest was one of only a handful of Irish festivals in the United States mentioned in the most recent issue of "Irish Music," an authoritative new magazine published from Wicklow, Ireland. This is a very high compliment indeed, for which the Fest organizers should be beaming with pride.
Don't miss the Emerald Fling at the Irish Rover on November 1 to celebrate the Celtic new year in support of Spalding University's Irish student exchange program. For more information call 585~991 1 or 899-3544. Also don't forget the regular Celtic jam session Friday, Nov. 3, at the Rudyard "Kipling.
The World Lights Up
Louisville News Flash! On Friday, November 24 (day after Thanksgiving) "Light Up Louisville" is transforming into the Light Up Louisville International Festival. River City's Greeks, Germans, Africans, et al. and yes, The Irish will be there. The Irish Family Fest will have a tent and plans are to sell hot tea and warm food along with some Fest merchandise and Celtic/Christmas gifts. The really interesting part of all this is that the main stage ethnic music performers will include The Louisville Celtic All-Stars comprised of members of Drowsy Maggie, Ten Penny Bit, Cloighean, Tight Squeeze, The Rashers and Galloglas. So now we can jig when Jerry turns on the juice. Slainte!!!