Cowboy Corner
Alison Krauss Sweeps Cma Awards
The 29th Annual Country Music Association Awards, which were handed out at the Grand Ole Opry House in Nashville, Tenn., on October 4, were full of surprises.
Hot newcomer Shania Twain, who opened the show with her smash single "Any Man Of Mine," recently swept the Canadian Country Music Awards, being nominated for seven awards and winning five (she was nominated twice in two categories). Here in America, Twain was nominated for three CMAs, including Single and Video of the Year for "Any Man Of Mine" and the Horizon Award, but left away empty-handed.
Alan Jackson walked into the Grand Ole Opry House with six nominations but captured only one trophy, the coveted Entertainer of the Year Award. Newcomers The Mavericks beat out BlackHawk, Diamond Rio, Sawyer Brown and Shenandoah to win the Vocal Group of the Year Award. Veteran CMA winners Reba McEntire, Garth Brooks and George Strait were all nominated in two categories and each walked away with nothing.
The biggest surprise of the evening and star of the show was none other than the Bluegrass-diva-turned-country Alison Krauss. Krauss was pretty much a shoo-in for Vocal Event of the Year for "Somewhere ln The Vicinity Of The Heart" with Shenandoah, had a great chance for Single of the Year with her remake of Keith Whitley's "When You Say Nothing At All" and Horizon Award, but Female Vocalist of the Year!? Well, this 24-year-old gal took them ALL home. No one was more surprised than Krauss herself. I'm sure henfireplace mantle is looking much better these days.
The entire list of winners is as follows: Music Video of the Year: The Tractors' "Baby Likes To Rock It"; Song of the Year: "lndependence Day," written by Gretchen Peters; and Vocal Event of the Year: "Somewhere In The Vicinity Of The Heart" by Shenandoah and Alison Krauss.
Single of the Year: "When You Say Nothing At All" by Alison Krauss & Union Station; Musician of the Year: Mark O'Connor on fiddle; and Album of the Year: Patty Loveless' When Fallen Angels Fly.
Horizon Award: Alison Krauss; Vocal Duo of the Year: Brooks & Dunn; and Vocal Group of the Year: The Mavericks.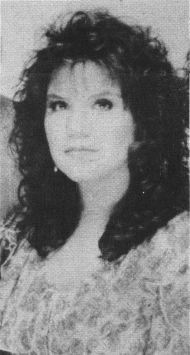 Alison Krauss
Female Vocalist of the Year: Alison Krauss; Male Vocalist of the Year: Vince Gill; and Entertainer of the Year: Alan Jackson.
The late, great Roger Miller was this year's inductee into the Country' Music Hall of Fame.
Congratulations to all the winners!
Mark Collie Celebrity Diabetes Race
Mark Collie, who was diagnosed with diabetes at the age of 20, hosted the 2nd Annual Mark Collie Race for Diabetes Cure at the Nashville Speedway USA on Wednesday evening, October 11. Kix Brooks of Brooks & Dunn, an experienced racer and Legends car owner, was the big winner of the evening when he captured the Celebrity Feature Race trophy. Kix's singing partner, Ronnie Dunn, came in a close second, followed by Little Texas' Tim Rushlow in third, T. Graham Brown in fourth and Little Texas' Jeff Huskins rounded out the top five.
Nine-year-old Mitch Holland, a special friend of Collie's who was diagnosed with diabetes at the age of one, stole everyone's heart during opening ceremonies when he said, "Thank God for Mark and all of his friends who have come out to race and help find a cure for me and other people who are sick." This one event didn't find a cure for diabetes, but it sure did help, raising more than $400,000, twice the amount of last year's debut annual event.
Collie had kicked the exciting event off the night before with a special VIP party at the Wildhorse Saloon, which included a live auction that raised nearly $80,000 for diabetes research. Those in attendance, who contributed $150 per plate, were treated to a special acoustic concert by Collie, Vince Gill, John Berry and Steve Wariner. TNN taped this celebrity event for a one-hour special to be broadcast on Tuesday, November 14, during National Diabetes Month.
"The real winner here is diabetes and we appreciate what Mark is doing to help fight this disease. With the support of the Nashville community and the fans, he has built a great event that raises a lot of money and awareness — I'll be back to defend my title next year," said Kix Brooks.
All proceeds from the race and VIP party go directly to the Mark Collie Diabetes Foundation, which distributes the funds to diabetes research at Vanderbilt University Medical Center, the Juvenile Diabetes Foundation (JDF), the American Diabetes Association (ADA) and various other university research programs.
Thumbs up to Mark and all those who participated in helping fund research for a cure for diabetes!
Connie Smith A Hit
Unfortunately, I was unable to make it out to the Shepherdsville Country Music Show on Sunday afternoon, October 1, to hear Grand Ole Opry veteran Connie Smith, but Tony Krebs assures me that she put on a great show. Krebs tells me, "Miss Connie Smith, one of the 'Grand Ladies' of the Grand Ole Opry, was performing for a small audience [very likely due to Farm Aid]. Miss Connie performed like it was a packed house in Nashville."
He continued, "If it weren't for Miss Connie and the other Grand Ladies, we wouldn't have the Pams [Tillis], Trishas [Yearwood] and Lorries [Morgan] coming up in country music." Krebs also gloats, "If you see a truck with a 'Make Mine Country' license plate on the front, signed 'Love Connie Smith,' on it — then that's my truck."
Thanks to Tony for the update. The Shepherdsville Country Music Show is located on Hwy. 44, just 2 miles west of I-65. The curtain rises every Saturday night at 8 p.m. and admission is just $5 for adults, $4 for senior citizens, $1 for children 6-12 and free for children under 6. For more details, call 968-6358 or 969-3515.
Hot New Country
Fans of the CMA's Entertainer of the Year, Alan Jackson, will want to rush out and pick up his new greatest hits CD, which includes his current single, a remake of George Jones' "Tall, Tall Trees." This album is a real bargain at the average CD price because it includes nearly twice the amount of music of a normal CD.
Aaron Tippin fans can get close to him by picking up his latest, Tool Box, which includes "That's As Close As I'll Get To Loving You." Doug Supernaw has a new record after quite some time, titled You Still Got Me.
You won't want to miss the new album by the late, great Keith Whitley, titled Wherever You Are Tonight. This CD offers brand new, previously unreleased songs that Whitley recorded before his tragic death in 1989.
And last, but definitely not least, Garth Brooks' long-awaited Fast Horses album, including "She's Every Woman," will be available toward the end of the month.
Keep your eyes open for this sure-to-be smash hit!
Upcoming Live Country
Country fans won't want to forget about Confederate Railroad's performance at this year's Louisville Professional Firefighters country concert which is scheduled to be held at 8 p.m., November 17, at Louisville Gardens. Opening will be newcomer Chely Wright. Tickets can be purchased by calling 366-4004.
Trisha Yearwood will be ringing in the Holiday season when she performs a special Christmas concert at Louisville Gardens' Byck Arena on Saturday, December 2, at 8 p.m. Radney Foster was originally scheduled to open the show but at press time Louisville Gardens was looking for a replacement.
You may or may not have heard rumors of an upcoming Little Texas concert here in Louisville. Louisville Gardens has been working with Little Texas trying to schedule a November 16 concert, but as of press time, nothing had been confirmed yet and, due to time running out, in all likelihood will not take place on the 16th, but hopefully sometime in the future. Keep your eyes and ears open for forthcoming information.
Cowboy Corner Country Ouiz
Q: What is Wynonna up to
these days? Is a wedding date set yet? A: I recently spoke with Wynonna's publicist by phone and received very little information. He did tell me that Wynonna is currently working on a new album, as yet untitled, that should be released sometime after the first of the year. No firm date.
As for touring, Wynonna plans to hit the road sometime in 1996 after more than a year hiatus during which she gave birth to her first child, Elijah Judd Kelly.
Once again, no firm dates have been established. As for whether Elijah will be traveling with Mom, that's something that Wynonna doesn't discuss with her publicist.
And what about the rumor of Wynonna marrying Elijah's father. Arch Kelly? Well, I'm told that no wedding plans have been made; at this point it's just that: a rumor.
The one thing her publicist did assure me is that Elijah is rapidly growing every day and is a very happy and cheerful baby. As for the rest, I guess we'll just have to keep on waiting. I'm sure we'll all know when "Hurricane Wynonna" strikes again!
If you have a question you'd like answered about one of your favorite country music artists, please send your question, along with your name, to: Cowboy Corner Country Quiz, Louisville Music News, 7505 Cambridge Drive, Crestwood, KY 40014. Please don't hesitate to send in your question. We're anxious to hear from you.
Well, that's it for now. Always remember: Keep your boots shined up and your hat on straight, 'cause country music is comin' your way.