10th Anniversary Farm Aid
October I saw more than 47,000 music fans join favorites in both the country and rock genres to aid America's family farmers as Louisville played host to the 10th Anniversary Farm Aid concert in Louisville's Cardinal Stadium. Willie Nelson, co-founder and Farm Aid President, stated that, "Over the past 10 years, hundreds of artists have donated their time and talent to help Farm Aid put a spotlight on the problems facing family farmers. Farm Aid wouldn't be possible without their support."
This year, Nelson was joined by fellow co-founders John Mellencamp, John Conlee and Neil Young, along with musical greats such as Hootie and the Blowfish (dubbed "the nicest guys in rock and roll"), BlaekHawk, the Dave Matthews Band, the SuperSuckers and Steve Earle, making for an extremely diverse and enjoyable 7-hour block party concert, for which each artist donated their time, talents, transportation and lodging merely to help America's farmers.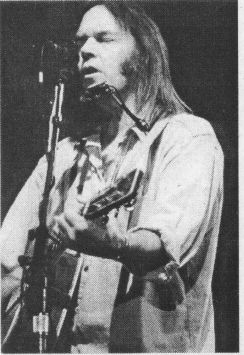 Neil Young
Special guest Mattie Mack, a family farmer from right here in the Bluegrass State (Brandenburg, Ky.), helped kick off the festivities when she had the great privilege of joining Nelson onstage to perform a rousing rendition of "Amazing Grace." Ms. Mack thanked her friend Judy for making her cowgirl dress and as she stood beside the legendary Willie Nelson, gloated:
"Eat your heart out girls!"
Willie Nelson referred to this tenth anniversary not as a celebration, but as a black eye to America. "We're not here to celebrate anything. We're here to say that the problem is not only still here, but worse than before."
He said he regrets the fact that there was ever a need for the first Farm Aid and regrets even more that this was the eighth Farm Aid concert since 1985, wishing that this would be the last concert necessary to aid the struggling family farmer.
Rock and Roll Hall of Famer Neil Young stressed the importance of supporting family farms, not factory farms and urged the U.S. Government to pass bills to abolish the factory farms, which are polluting our nation's rivers. He stated that this issue of the factory farm vs. the family farm was the most prevalent issue at the first Farm Aid at Champaign, lll., in 1985 and is unfortunately still a forefront issue. "Huge conglomerate farms completely wipe out everything, including the environment, the family structure and just the overall goodness of American life."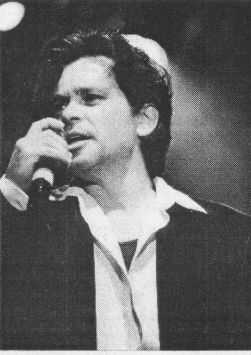 John Mellencamp
John Mellencamp was almost in his backyard in Louisville, stating, "I'm just glad to be here — I'm from here — I'm from right up the highway in Seymour, Indiana." He continued to explain how he has actually watched the small town farms between Louisville and Indianapolis go out of business.
John Conlee proudly introduced himself by saying, "I'm John Conlee and I'm from Kentucky. it's been great to be a part of all the Farm Aids so far, but man it's great to do it at home." He reminisced of actually showing cattle at Future Farmers of America cattle shows held on the grounds of the Kentucky Fair and Exposition Center, joking that it was only six or seven years ago.
Conlee's family is one of the minority since they still operate the family farm he grew up on in Woodford County. His parents' intention is to pass it on to his generation one day and their intention is to later pass it on to their children. "That's what Farm Aid has been about all along, preserving the whole system of agriculture, that is the best of the world."
Louisville's own Stan Curtis, founder and President of both Kentucky Harvest and USA Harvest also played quite a role behind the scenes in this year's Farm Aid. Curtis represents "people that are hungry in this country."
His goal is to take food from people who have it and don't want it and give it to people who want it and don't have it, living up to the words of the Constitution, "We the people.
Local farmers donated 75,000 pounds of fruit and vegetables while concert-goers pitched in by donating canned goods upon entering Cardinal Stadium.
The 10th Anniversary Farm Aid concert was the first Farm Aid to sell out before showtime and netted nearly $1 million dollars, twice the amount raised at any of the past three Farm Aid concerts. Farm Aid plans to award its 1995 grants in mid-November. To date, Farm Aid has granted more than $12 million dollars in 44 states.
lf you weren't fortunate enough to attend but would like to help abolish the growing crisis that forces nearly 500 family farmers off their land every week, you can make a monetary donation by dialing 1-800FARMAID.