The House Marys
By Paul. Moffett
"We've been [coming to play in] Louisville for years," says Sean Jackson, guitarist and vocalist for the band the House Marys, on the phone from Bloomington. "We're hoping that our new songs will actually give people a good reason to come out and see us."
Louisvillians will have four chances in November to hear the quartet: November 9 at the Brewery, November 15 at the Backstage Blues Cafe, November 17 at the Butchertown Pub and November 29 at the Phoenix Hill Tavern. Q2 will be doing a live broadcast on the 29th, for radio types to listen to.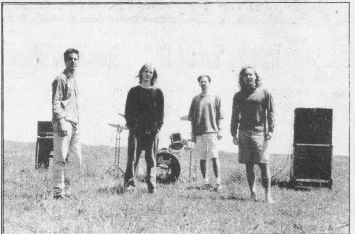 The House Marys
"I guess they'll really get 'a chance to see us."
Even though the band's name suggests a kind of starling, perhaps, or a union of maids, Jackson dismisses suggestions of deep contemplation or market study prior to the creation of the name: "It kind of stuck. We don't have any good stories about it."
When guitarists Jackson and Kenny Phau got together with Todd Smith, bass, and drummer Randy Cole in 1991 to form the House Marys, the intent was to "get out there and play some music for some people."
Meaning covers.
"You can't make a living doing anything else," Jackson observes, "especially when you're young, so we worked on those other tunes," adding, "you can really work on your chops playing other people's material."
The result was a tight guitar quartet which cranked out a repertoire hammered together from material plucked from (of course) Pearl Jam to Green Day and Alice in Chains, with a Liz Phair tune for the gender blend.
Early on, the guys were into DIY stage visuals, with TVs and bulbs and strobes but practice has pared the list to what's necessary for the job.
"Basically, we're lazy, so we don't carry any more than we have to," adding that they have learned a fundamental rule of the road: travel light.
No young band of curious and talented people could resist the lure of writing for a band and thinking about MCA Records. The results: original songs, going to glass platters: a seven-song CD that's "in progress."
"We talked about a name [for the project] but mostly we're just working on it," Jackson sighs.
Songwriting credits belong in large part to Jackson, with the band consulting on arrangements and, occasionally, rewrites. The desire to do "something interesting and exciting" drives the band but "mostly we're just livin'," by which he means pursing the many interests of the young, learning engineering, film and video,"the usual stuff."
He'd like to show films by friends at the band's gigs but finances preclude.
"It'd be cool, though."
Jackson spends his days working at Echo Hill, a Bloomington studio run by Mellencamp guitarist Mike Wanchic, studying the engineering business.
On his night job, he's in a guitar band, on the road. Dirty work, but somebody's got to do it.
Sounds like a job for a union of maids.