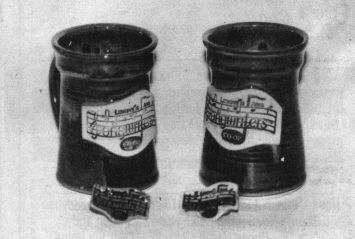 LASC MUGS FOR SALE
Looking for that unusual Christmas gift tor your songwriting significant other or relative or friend? Buy him or her one of these one-of-a-kind mugs, thrown by potter Jim Griley. The glazing on each one is individual and the L.A.S.C. logo is imprinted in the clay before firing, for a very tactile surface.
They cost $8 each and if you want them shipped, we can do that too. Just call 502-241-2699 for details.
The LASC also has T-shirts and sweats, in a variety of colors and sizes.
Tees are $6 and sweats are $10. Check with us about available colors. We ship them, too.