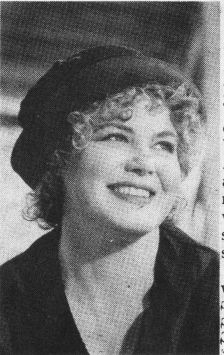 Maura CO'Connell
Stories (Permanent Records/ Rykodisc)
Maura O'Connell
By Bob Bahr
Folks who have heard Maura O'Connell sing are likely to say one thing" With the right song, that voice is going to make her millions. So the question becomes, does Stories contain the song to make O'Connell a star?
She is certainly not hindered by the production on this album, quite the opposite, in fact. The man behind the mixing board is Jerry Douglas, the master dobro player with an unerring sense of taste and appropriateness. The cast of backing musicians boasts some impressive names – bassist Edgar Meyer, mandolinist Tim O'Brien, fiddler Stuart Duncan, and vocal help from James Taylor and Cheryl Wheeler. O'Connell taps some great songwriters for Stories, too — John Gorka, Shawn Colvin, Mary-Chapin Carpenter, and two fellows names McCartney and Lennon. So is O'Connells's breakout single here? I don't hear it, but then, I'd go bankrupt as an A&R man. I can simply say that Stories holds a handful of delicious, restful tunes.
"Blue Chalk" and "Hit the Ground Runnin'" establish this album's torch-song atmosphere. The title track smashes together a reggae beat and a Celtic penny whistle. "This Town Can't Get Over You" rings like a classic in both its heartbroken lyrics and the music's '40s blues shuffle. Her take on the Beatles "If I Fell" is strangely lifeless, while songs like "Rainmaker" and "Shotgun Down the Avalanche" (the latter hinting at Joni Mitchell's vocal approach) get over on the musicianship, especially the lap steel guitar work of Douglas.
Carefully, carefully this album was put together, and each song is crafted finer than exquisite handmade furniture. Stories positively drips with AAA radio polish on acoustic wood and O'Connell's prominent vocals give the listener plenty to hang onto. Elegant, always touched with a taste of melancholy, O'Connell's vocals melt your heart. These songs are empathetic, not rousing. Stories is comfort food. Warmth on a rainy day. Hot soup for the soul. And there's plenty of substance behind the soothing surface. Sorta like Mom, but unfortunately, Mom never made the Top Ten on the music charts.