Elvis Aaron Presley: Revelations from the Memphis Mafia
With Billy Smith, Marty Lacker and Lamar Fike
HarperCollins Publishers (766 p. $25)
Written By Alanna Nash
It was the best of times, it was the worst of times.
Charles Dickens' much-quoted words from A Tale of Two Cities could well summarize the life of Elvis Aaron Presley. Ditto for the lives of the three members of his "Memphis Mafia" who were interviewed by talented writer Alanna Nash for this oral biography. Touted as "the first book to capture Elvis Presley — the man and the phenomenon — in his full complexity," it is the product of more than five years of interviews by Nash with the trio "who knew him best."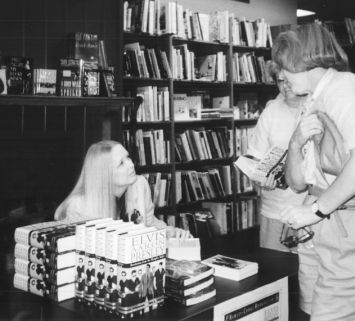 Louisville Alanna Nash signed a copy of her Elvis biography at Hawley-cooke Booksellers on Auug. 19. Photo by Juli O'Brien
How could three of The King's closest friends/family/confidantes/protectors be converted from tenacious guardians of his privacy to disciples of the gospel of "tell it all, brother"?
Well, for openers, try money. Perhaps if Elvis had paid them better (or hadn't died?) their lips would have remained sealed about such intimate matters as his incontinence, his sexual adventures and his personal hygiene. (I couldn't help but note the irony in their condemnation of a Presley cousin who sold a photo of Elvis in his coffin to the National Enquirer for a reputed $50,000.)
For setting the record straight? Estimates of the number of books written about the man are in the more-than-200 range, but Smith, Lacker and Fike maintain that "most of it has been untrue, half-true and confusing." Admittedly, their account should be the most accurate one.
Because it's their story, too? ln a televised interview, that's how they justified it. No argument here; by their own admission, none of the guys ever really got a life of his own. And their wives ... well, how does one compete for the love of a man whose first love is The King? Elvis fans will he hard put to refrain from reading this book; the old train wreck syndrome.
It is nothing if not interesting a quick, easy read despite its 766 pages. (Nash said she had to pare it down by more than 400 pages.) We're talking "live fast, love hard, die young"here."
As Smith, Lacker and Fike admirably pointout in the acknowledgments, "The good times far outweigh the bad." And they back up their statement with accounts of assorted high jinks and expressions of love and generosity. Yet we must eventually face the fact that The King toppled from his throne and ended up face down on the floor of his bathroom on August 16, 1977, at the age of 42, not to be discovered until he had been dead for several hours.
Despite his inglorious end, this fan still remembers Elvis Presley as a polite, thin, sensual, talented 21-year-old singer wearing a sport coat and slacks; the Elvis she saw in concert in 1956 at the Armory, who would later wave from his limo to two young fans who had correctly guessed the exit from which he would leave the building, but who did not have the foresight to take along a camera.