I've Got A Mind To Ramble
Blues Blitz
The blitz of blues benefits for Jim Rosen has come and gone. Five fund-raisers in two weeks brought the blues community together for a good cause and some fantastic music.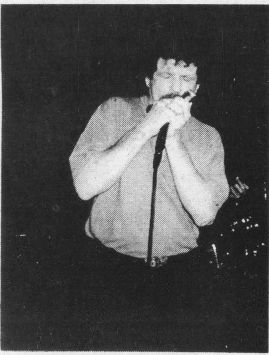 Harmonica innovator Lee Oskar. Photo by Jean Metcalfe
Hearing the soaring sounds from Lee Oskar's harmonica was an experience to remember at Stevie Ray's on September 28. By manipulating his foot pedals, Lee effortlessly jumped from octave to octave and demonstrated the potential of his trademark harmonicas. There was a special moment when Lee and Jim shared the stage, trading riffs back and forth like the maestro and his pupil.
Six nights later at the Butchertown Pub, Jim was back blowing with several bands including Greg Martin and his Roothogs.
The Roothogs were a hastily assembled group of veterans that included bassist Jimmy Brown, of Bodeco; Jon McGee, who is Greg's stepson, on drums; and one of the founders of Buster Brown, Bobby Ritchie, singing and blowing harp. Jim fit right in with the "Hogs." When Greg isn't out on the road with the Kentucky Headhunters, it would be nice to see this group perform locally.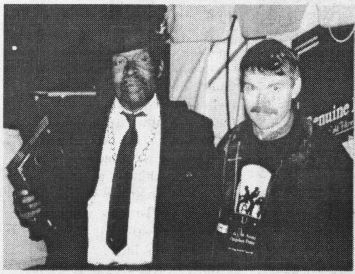 Fred Muurphy, left, and Keith Clements. Photo by Jean Metcalfe
Big Al and The Heavyweights followed, with Roguie Ray fronting the band. The main attraction, Duke Robillard, was also on the stand, but really didn't get much opportunity to stretch out and solo. Later that night Jim was back upon stage blowing with Rodney Hatfield and Nick Stump to complete the 3rd Annual Louisville Blues Harmonica Showdown.
The following week there was even a benefit concert in Lexington at Blues On Broadway, a new blues club that opened up in July. The Metro Blues All-Stars were there, along with the Kelly Richey Band. (Jim did all the harmonica work on Kelly's latest CD, The Blues Don't Lie.)
Even though these benefits have raised thousands of dollars for Jim, it is only a drop in the bucket for the actual costs he will need for the past medical expenses and future chemotherapy treatments. lf you want to offer some moral and financial assistance, send a card and/or check to Jim Rosen, 1463 First St., Louisville, KY 40208.
Garvin Gate VIII
How do you compress three days of great Garvin Gate blues into a few hundred words? Well, here goes. While Lonnie Brooks, KoKo Taylor and Buddy Guy were jamming at The Palace on Friday, October 13, the Redd Snapper Blues Band showed the damp crowd at the Gate why they placed fifth out of the twenty-five bands that competed in the International Blues Competition on October 8 at the Daisy Theater in Memphis. B. B. Taylor Blues Band laid down some deep R&B/soul and B. B. nearly lost his pants in the process. The headliner, Magic Slim and The Teardrops, transported everyone to a Chicago blues club with their distinctive hard South Side sound, propelled by Slim's driving guitar and strong voice. This was their first visit to Louisville.
Saturday the fall weather was perfect and the diverse crowd grew as the day progressed. The Cincinnati Blues Allstars got the crowd into it with "Scoot" Jacobs working his sax through the audience. Jim Rosen led the Mudcats with his harp and gravely voice through many of their standards, with some help from Rusty Ends on guitar.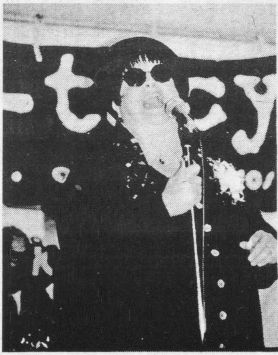 Sue O'Neil at Garvin Gate '95. Photo by Jean Metcalfe
The 1995 Sylvester Weaver Award was presented to Fred Murphy, who referred to his plaque as his "reward." Fred's recognition is long overdue, for he has been singing his down-home blues and blowing the harmonica since he was twelve years old playing on Beale Street.
It was birthday time for Sue O'Neil and she partied with the Blueshounds both on the stage and in the Rudyard. Mississippi Heat, a group of veteran Chicago musicians, were Saturday's main attraction. By then everyone was tightly packed around the stage. Deitra Farr, their featured singer, teased and taunted the crowd with "Someday Baby." Will Cosby replaced Billy Flynn on guitar for their gig as Billy has had some recent problems with arthritis.
Sunday brought more blue skies and Marion James doing some low-down singing with her Nashville band. Keith Little and his band, Bluesbody, followed, representing the Queen City. Keith showed me a demo of his new CD, Christopher Corey, which is about to be released. The godfather of Louisville blues, Foree Wells, was resplendent in his purple suit. His son Michael pushed his guitar to the limit to counter Foree's melodic style.
Byther Smith brought the festival to a dramatic close with some of the most poignant blues you will ever hear. His lyrics are filled with sorrow, hope and love. When he sang "I've Got So Much Love" it pretty well summed it up. The intense emotion that came from Smitty's compact frame through his Fender guitar reached out and grabbed everyone right between their ears. His' fiery West Side Chicago blues was right on target, touching the soul of the crowd.
Byther told me before the show, "I want to move the people," and he did just that. He is a deeply religious man who doesn't smoke or drink and firmly believes that one should take care of oneself, for he has seen many musicians succumb to excesses.
Smitty's cousin, J.B. Lenior, a flamboyant Chicago bluesman, suggested he come to Chicago in 1957. During the 1960s he played intermittently in Muddy Waters' band, which included Pat Hare, James Cotton, Otis Spann and Francis Clay. Smitty also worked with Otis Rush and during the 1970s he was the lead guitarist in Jr. Wells' band at Theresa's Lounge. Smitty has led his own band, the Nightriders, since 1979. (When the band is playing on its own they call themselves the Kingsnakes.) His latest record, 1993's I'm a Mad Man on Bullseye Blues, will be soon followed by I'm Ashamed Of Myself on Belmont Records.
Finally, thanks to WFPL Public Radio for taping the entire Festival, which will be broadcast sometime in 1996.