Upcoming Live Music
Nov. finds a number of regular visitors welcomed back to Louisville, plus a few wild cards. Like they do every year, the Kentucky Center for the Arts' Lonesome Pine Special series helps liven up the fall with some interesting draws and the Butchertown Pub ups the ante with a few strong double-bills.
The Griters hail from Nashville, where a rock band has to be outstanding to get noticed. Their self-absorbed, guitar-bolstered sound will fill the Butchertown Pub on Nov. 1. Rex opens.
On Nov. 3, Duke Tumatoe returns to the Backstage Cafe at Coyote's. Tumatoe has developed a strong cult following for his guitar work and his fans will no doubt be in attendance. Blind Ambition closes the night out.
The harmonica gets its due on Nov. 3 with "Harmonic Convergence," a celebration of the harp and its role in pop, jazz, blues, bluegrass, Caribbean, Latin and world music. Featured players include Howard Levy (a former Flecktone), Rodney Hatfield (Metropolitan Blues All-Stars), Pete Pedersen, Mike Stevens and others. It's a Lonesome Pine Special show at the Bomhard Theater.
A week later, Hatfield returns with his band the Metropolitan Blues All-Stars for their very own LPS show. They'll be playing blues, of course and a lot of the material will probably come from their new album, Hillbilly Nation. That show is Nov. 10 at the Bomhard Theater.
The last Lonesome Pine Special in Nov. is Frances Black with Nanci Griffith. The Irish singer has earned a lotlof notice for her traditional/contemporary Celtic album, Talk to Me. Griffith is one of the leading lights in folk music. Be in Bomhard Theater on Nov. 17 for the show.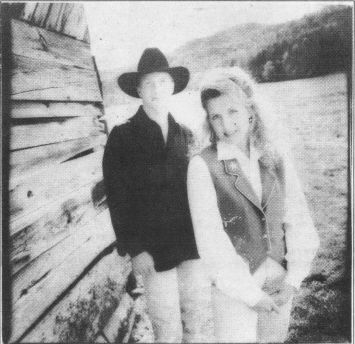 John & Audrey Wiggins
Top-notch bluegrass comes to town on a regular basis starting this month, courtesy of Gary Loeser, the man behind the Otter Creek Bluegrass Festival. He has started a half-year, weekly series of bluegrass shows at the West Point Country Opry, located 7 miles past the Snyder Freeway down Dixie Highway, 20 minutes from downtown Louisville. The lineup for Nov. is impressive: Dry Branch Fire Squad on Nov. 3, the Goins Brothers on Nov. 10, J.D. Crowe on Nov. 17 and Josh Williams & the High Gear Band on Nov. 24. The shows will continue through May.
On Nov. 5, gallop on out to Churchill Downs for their inaugural Country Music Fest with John & Audrey Wiggins. The Reed Brothers Band opens.
Like classical harp? Then you should know about the Louisville Harp Society. Get acquainted at Harpstrings, a concert on Nov. 5 at Bellarmine College featuring six harpists playing solo and in ensembles. It starts at 4 p.m.
Straight from their smash appearance on "Baywatch," it's the Beach Boys! Weee! Good vibrations will abound on Nov. 5 when Mike Love and his eternal surfer birds come to the Palace Theatre. Forget the nippy fall air—these guys are peddling So. California mild. Buy some.
"Broken Down in Tiny Pieces," "Rub It In," "Easy as Pie," "If I Could Write a Song as Beautiful As You" ... Do these song titles mean anything to you? Billy " Crash" Craddock rode these songs and many more to the top of the charts. Mr. Country Rock comes to the Derby Dinner Playhouse on Nov. 6.
Hail the regulars, the fine performers who service our fair town like clockwork, keeping our jones for their sound alive, keeping us well until the next time. Favorites visiting this month include Greg Foresman & the Freakouts (with Supafuzz at the Butchertown Pub on Nov. 10), Cincinnati yuppie punks the psychodots (with Joe's Report. at the Butchertown Pub on Nov. 11), pop-bluesmen The . Fabulous Thunderbirds (at Coyote's on Nov. 14), the glorious – Blueberries (at the Butchertown Pub on Nov. 16), country dude Chris Ledoux (at Coyote's on Nov. 16) and reggae roustabouts Identity (at Dutch's Tavern on Nov. 25).
Where's Stills? He's absent from the curious lineup at the Palace Theatre on Nov. 10. The show that night features David Crosby and Graham Nash with Maura O'Connell. You know the two hippies, but you may not be acquainted with the fair-voiced O'Connell. Take this opportunity to do so; start by reading the review of her latest album on page 20.
The tones of blue-eyed soul, backed up by the classic Wall of Sound, come to the Palace Theatre on Nov. 14. it's the Righteous Brothers, the artists responsible for "You've Lost That Lovin' Feeling" and "Unchained Melody." How touching!
Speaking of touching (ahem), Julio Iglesias has sent songs out to all the women he's ever loved. If you're one of his past flames, you can hear the man sing it to you on Nov. 16. lglesias graces the Palace Theatre that night.
Sing it real low, now ... "You'll never find ..." a better show than this. It ain't braggin', Lou Rawls and Roberta Flack positively own Nov. 18. Flack's early pop songs such as "The First Time Ever I Saw Your Face," "Killing Me Softly with His Song," "The Closer I Get to You" and "Where Is the Love" succeeded back in the days where emotion and strong vocals counted more than elaborate vocal stylizing. Perhaps Rawls will join Flack for the songs that she originally sang with the late great Donny Hathaway. The show's at the Palace.
One of the most novice-friendly operas ever staged comes to the Kentucky Center for the Arts on Nov. 19 and 20. it's "Carmen," Bizet's opera about a gypsy girl who breaks the heart of a soldier and pays for it with a knife in the heart.
If you think the wild life will stick it to ya, then your choice is the Slaughter show at the Toy Tiger on Nov. 22. They have a new album, Fear No Evil, which you can probably buy at the show. Take money.
He's not just a folk singer. Alan Rhody has written country hits that have scaled the charts for other artists. His live show is as likely to rock out, venture into Latin or cast a James Taylor-like spell as it is to explore folk music. Touring behind his new album From a Real Good Home, Rhody comes to The Rudyard Kipling on Nov. 24.
Expert musicians relaxing and playing whatever they feel like — blues, bluegrass, rock, pop, country — you name it. Sound like fun to you'? Then catch Duck Butter when they play Jim Porter's Good Time Emporium on Nov. 30. Sam Bush is in the band.