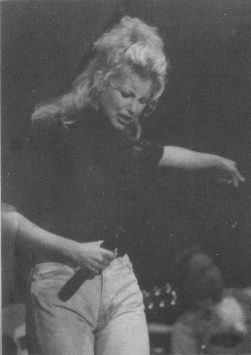 Faith Hill. Photo by Michael Stout
Alan Jackson
The 1995 Kentucky State Fair ended on a high note when the Fruit of the Loom Country Comfort Music Series starring Alan Jackson and very special guest Faith Hill rolled into Freedom Hall Aug. 27. The combination of multiple-award winning Jackson and the hot newcomer Hill was an unconditional success and gave the concert-goers an unforgettable evening of nothing but good ole foot-stompin' country music.
Freedom Hall fell dark and the crowd roared for nearly five minutes straight as towering country heartthrob Alan Jackson moseyed on stage with an acoustic guitar strapped over his shoulder. The hoops and hollers continued as Jackson ripped into his recent smash remake of Eddie Cochran's "Summertime Blues." Jackson sang "there ain't no cure for the summertime blues," but it was obvious that his smash 85-minute set managed to wipe away any and all summertime blues that might have been present this evening.
Jackson's 21-song playlist read like the back cover of his soon-to-be-released greatest hits album, including songs spanning his career all the way from his debut album, Here In The Real World, to his current award-winning album, Who I Am. These tunes included "Chasin' That Neon Rainbow," "Don't Rock The Jukebox," his anthem to Hank Williams "Midnight In Montgomery," "She's Got The Rhythm (And I Got The Blues)," "Mercury Blues," "Livin' On Love" and his latest hit, "I Don't Even Know Your Name." In addition, the audience was treated to a few classics such as "Blue Moon Of Kentucky."
It was no surprise that the highlight of the evening was none other than Jackson's self-penned "Chattahoochee." The shy, humble performer sang his heart out while the band tore it up and the crowd roared, shifting their attention back and forth between Jackson's live performance and the two larger-than-life video screens showing Jackson water-skiing in cowboy boots and a cowboy hat.
Alan Jackson is one of the most fortunate country performers traveling down that lonesome highway on a big Silver Eagle today because his friends and traveling mates, The Strayhorns, are just about the tightest and most talented band in the business. Jackson proudly spotlighted them on "The Strayhorn Clap" and "What Kind Of Man Jesus Is" from their own album, and lent a hand on vocals.
Lovely Faith Hill started the evening off with a very well-received and entertaining 55-minute set that included material from her smash platinum debut album, Take Me As I Am, her incredible sophomore effort, It Matters To Me, and a few pleasant surprises. Among these songs were her debut number one hit "Wild One," her remake of Janis Joplin's "Piece Of My Heart" and a spine-chilling acoustic version of "Lonesome Dove." The highlight of the evening came with her brand new smash single -- the female version of "Chattahoochee" -- "Let's Go To Vegas," written by her female guitarist, Karen Staley.
Not only was Jackson gracious enough to invite Hill to tour the country with him this summer, but he also wrote the moving ballad "I Can't Do That Anymore" included on her new album. The ladies in the audience related more to this tender tune, which deals with a wife sacrificing her dreams to help her husband become successful, than to any other song the entire evening.