I've Got A Mind To Ramble
Blues to the Point
There is a first for everything and the Two Rivers Blues Festival in Carrollton, Ky., got off to a good start on September 8 and 9 despite the rain and threatening weather. The festival took place at the confluence of the Kentucky and Ohio rivers. The setting is similar to our Waterside Music Festival with the spacious grassy nine-acre park providing easy access. The site was set up for crowds of thousands but only hundreds showed up due to the weather. I arrived on Saturday to work the KYANA Blues Society booth, which was the only other booth there besides the food concessions. The planning was excellent, with volunteers everywhere.
Lee Robbins, one of the committee members and the festival's M.C., exclaimed that the Metropolitan Blues All-Stars had put on an outstanding show the night before. She said that when the rains came during the Metro's set everyone crowded under the large metal pavilion with the band. They performed many of their original regional blues from their recent CD, Hillbilly Nation. Sweet Alice Hoskins and The Unfinished Business Blues Band from Cincinnati opened Saturday. Alice rolled everything she had into her raunchy performance. She is a hot blend of Etta James and Ruth Brown, with a few extra moves thrown in when she finished her set with "Stoop Down Baby."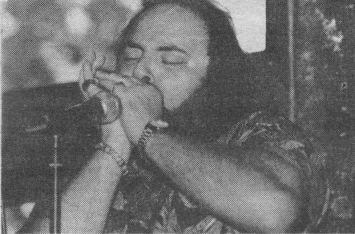 Jim Rosen. Photo by Nicolas Bonura
Nickel Slick was on next, playing their Chicago style of blues. This six-piece band came from southeastern Indiana and showed a lot of talent for having performed together for just a year. They play with a full original sound with horns and percussion plus Tom Ping's stinging guitar.
The swinging sounds of the Cincinnati Blues All-Stars are always a treat, with Little Al Thomas (who had played earlier with Sweet Alice) doing some mellow vocals and guitar work. "Scoot" Jacobs got out into the audience and honked to the crowd with his mighty sax. The band will be back at Garvin Gate this year, and they have been getting gigs every other month at the Backstage Cafe.
A local band from Carrollton, Leo, Martin & Haze, followed with a hard-edged blues sound led by their guitar man, Jack Hazelwood.
As the darkness of the evening set in, it was time for Louisville's own Foree Wells and the Walnut Street Blues Band. Foree, who has slimmed down, looked great in his purple jacket, white slacks, shoes and chapeau. He now lets his son Michael, who plays second and lead guitar, arrange the songs for each performance. It was a classic Foree and Sons show with Michael and Foree trading licks on their guitars and his others sons, Greg on keyboard, Foree III on drums, plus George Curry playing bass. We are all impatiently waiting for the release of Foree's new CD on Rooster Records which is set for national distribution in November.
Carrollton is Lonnie Mack's turf for he started playing in his early teens throughout the southern Indiana, Ohio, and northern Kentucky area working the redneck clubs and roadhouses. (I wonder if Lonnie still remembers the Twilight Inn outside of Oxford on the road to Hamilton, Ohio.) The crowd picked up and was ready for their guitar hero, when Lonnie played those distinctive distorted notes saturated with reverb on his Flying V. Next to him on keyboards was Dumpy Rice who has been accompanying Lonnie since 1959. Lonnie would face off with his bass man and challenge his whole band. In the middle of his performance Lonnie still does an acoustic set and it is "Oreo Cookie" time. As the show continued his fans packed around the pavilion to savor the legend. An encore of "Cincinnati Jail" and an instrumental that had everyone stomping the sod capped off a memorable day. I hope there will be a 1996 Blues to the Point.
So Long, Pigmeat
As a footnote to the festival, Sweet Alice said that Pigmeat Jarrett recently passed away. Pigmeat was 96 years old and had played professionally blues, ragtime and boogie woogie piano since he was 15 years old when he came to Cincinnati from Cordele, Georgia. His father was a Gullah tribesman and Pigmeat learned his trade on riverboats during the '20s.
He played with Louis Armstrong, accompanied Bessie Smith and was a part of the hot blues scene in Cincinnati during the '50s when King Records was a major blues and R&B label. Pigmeat had steady gigs at Arnold's, Cory's and Coco's in Cincinnati and was featured at the 1992 Chicago Blues Festival on the Front Porch Stage. He played right up to the end, performing two days before he died.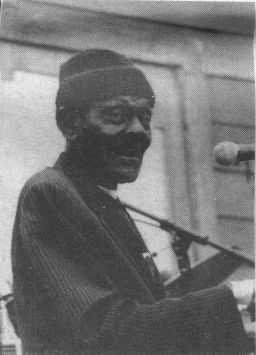 Pigmeat Jarrett at the 1992 Chicgo Blues Festival. Photo by Keith Clements
Check out Steve Tracy's book, "Going to Cincinnati," which has a chapter on Pigmeat and the times in which he lived.
Pigmeat now joins Sunnyland Slim playing those ivories beyond the pearly gates.
Days of Wine & Rosen
Lonnie Mack made the point at last year's MERF benefit at Coyote's about the vulnerability of musicians because they don't have pensions and medical insurance. Jim Rosen, the main harpman with the Mudcats, now needs our help. He recently had a kidney and tumor removed and faces additional medical treatment. Jim has always been on the front line helping others through MERF and the KYANA Blues Society at fundraisers.
A whole series of benefits are being set up to assist Jim through these tough times. The first event was scheduled to be held at Stevie Ray's on Sept. 28, featuring harmonica innovator Lee Oskar.
The 3rd Annual Louisville Blues Harmonica Showdown will be Oct. 4 at Butchertown Pub. This year the money will go to Jim instead of the Sonny Boy Williamson Blues Museum. According to Scott Mullins, who is organizing the event again, the expanding list of musicians includes Rodney Hatfield, Rougie Ray, Joe Pinkerton, Greg Martin, Lamont Gillespie, Duke Robillard, plus many more.
Other benefits to follow include Oct. 5 at Phoenix Hill featuring several rock bands, and another at O'Malley's Corner with local and regional bands participating. Her is a chance to pay back Jim for all those great performances he has given us over the years.