The True Gael
There can be no discussion of the Celtic music scene in Louisville without considerable mention of one person who, throughout the years, has supported the music of the Gael in every way possible. Local Celtoids already know that Rock is referring to none other than Gerald L. Ford.
Drowsy Maggie is Gerry's child. Born some fifteen years ago, DM has always been a rough-and-tumble, bare-knuckles kind of band, always fun and exciting to listen to. Gerry is the undisputed number one Celtic percussionist in the area, providing the "heartbeat" of his bands on the bodhran (Irish goatskin frame drum) and the bones. Drowsy Maggie has served as a local Celtic "musical militia" where players new to town or to the genre have had a place to go, to learn and grow in the music. It has been the "crucible" of a number of local groups including Ten Penny Bit, Galloglas and The Rashers.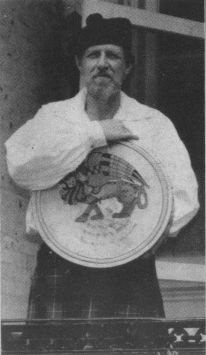 Gerry Ford
DM's current lineup features on button accordion Ronin O'Culain from Inisheer, one of the Arran Islands off the coast of Galway, and John Woodward, a hot banjo player based in the bluegrass tradition. Gerry also pitches in with an occasional recitation or song like "The Oul Triangle" with his (Irish) whiskey voice.
You can hear Gerry's latest band at the upcoming Irish Heritage Festival at Locust Grove on Oct. 22. Gerry can also be credited with starting the Celtic Jam Sessions held on the first Friday of every month at the Rudyard Kipling.
Of course, the music is but one aspect of Gerry's involvement. Together with his Dublin-born wife, Martha, Gerry founded a local Irish heritage society, The Sons and Daughters of Erin. Gerry has been involved with several Irish import businesses and currently owns and operates The Celtic Centre at 149 Chenoweth Lane in St. Matthews, featuring imported goods from all the Celtic lands as well as his own art works made of copper.
Perhaps Gerald Ford's most enduring legacy will be as a founder of the Irish Family Fest which just completed its sixth celebration with record attendance and an ever-increasing international representation in its program lineup. His friends know him to be a doer and a dreamer. Gerry's dream is to someday have in Louisville an Irish cultural center where all of the Irish organizations, dance academy, etc. can have a facility to carry out their respective missions.
The Irish at Locust Grove
Sunday, Oct. 22, will be the 2nd Irish Heritage Festival at Locust Grove on Blankenbaker Lane.
Locust Grove was built by William Croghan, a native of County Roscommon, Ireland. Croghan married George Rogers Clark's daughter and Locust Grove is where Clark (Louisville's founder) spent his last days.
The festival admission ($4) includes a tour of this historic house which has a number of uniquely Irish features. From noon to 6 p.m. you can enjoy the music of the Louisville Pipe Band, Drowsy Maggie, Ten Penny Bit and Galloglas as well as a Celtic puppet show, the Bluegrass Irish Dancers, food by the Irish Rover and much more.
Celebrate the Celtic New Year
The Celtic new year, or Samhain, is the origin of our modern holiday of Halloween. Acknowledging this ancient tradition, Spalding University is throwing an Emerald Fling on Wednesday, Nov. 1, hosted by the Irish Rover.
The event is a benefit to support the University's Irish student exchange program. Students from the Irish Republic and Northern Ireland will be there enjoying the festivities, including dancing jigs and reels under a tent with the music of Ten Penny Bit, singing in the dining rooms with Galloglas, an Irish buffet, door prizes, free souvenirs and more for a $25 tax-deductible donation. Rock will be at the bar. See ya there.