Cowboy Corner
National Country Music Month
As many of you probably know, October is National Country Music Month. Country music has had many ups and downs since being founded in the early 1900s by yodeling Jimmie Rodgers, the "Father of Country Music," but it has never been more successful and more popular than it is today, thanks to country fans like yourself.
Not only have the success and popularity of country music varied over the years, but also the musical style itself. People may argue that what they hear on country radio today is not really country music, that country artists have abandoned their roots. Like any other genre of music, country music has evolved into what it is today using its roots as a foundation to build on, creating modern country classics. If it weren't for influences such as Johnny Cash, Dolly Parton, George Jones, and Loretta Lynn, we wouldn't have such superstars as Reba McEntire, Garth Brooks, and George Strait today.
National Country Music Month will bring about the "29th Annual CMA Awards" program, which will be broadcast live from the Grand Ole Opry House in Nashville on Wed., Oct. 4, at 8 p.m. EST on CBS.
Clint Black Teams Up With USA Harvest
Thanks to all you country fans who brought food to the Aug. 25 Keebler Wheatables Tour starring Clint Black with special guest star John Berry at the 1995 Kentucky State Fair to help fight Kentucky's hunger problem.
All concert dates in Clint Black's 1995 "Summer's Comin'" Tour sponsored by Keebler Wheatables will help fight hunger in cities across America. The tour benefits USA Harvest, the nation's largest all-volunteer food distribution organization. Louisville's own Stan Curtis is the founder and president of both Kentucky Harvest and USA Harvest.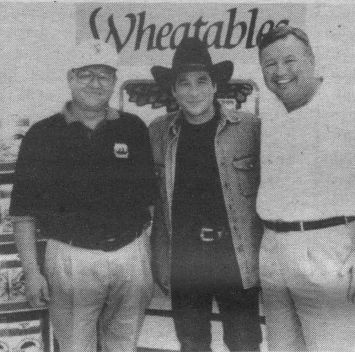 From Left, Keebler's Ron Steinke, Clint Black and Stan Curtis. Photo by Harry Butler
As was the case right here in Louisville, fans are asked to bring non-perishable food items to Clint's Keebler Wheatables shows for distribution to those less fortunate. The Keebler Company will match or exceed fan donations by supplying approximately 5000 pounds of assorted food products to USA Harvest, adding up to about 80 tons of Keebler cookies, crackers, and snacks.
Thanks again to all of you who donated food, to Clint Black, the Keebler Company, and most of all Stan Curtis. Keep up the good work!
Where Are You Now?
We'd like to hear from all you local country bands out there. We want to keep our readers up-to-date on where you're playing, any new projects you're currently working on, etc. Drop us a note telling us what's going on. Send your band's bio, along with a contact name and phone number to: Country Band Update, Louisville Music News, 7505 Cambridge Drive, Crestwood, KY 40014. We hope to hear from you soon and we'll plan to spotlight your band in an upcoming "Cowboy Corner."
Hot New Country
While you're in your favorite record store this month wading through the flood of new country records, be on the lookout for Reba McEntire's Starting Over, including "On My Own," a remake of Michael McDonald and Patti LaBelle's pop hit from the eighties, with help from country songbirds Linda Davis, Trisha Yearwood, and Martina McBride.
Tracy Lawrence fans can relive Tracy's live show in the comfort of their own home with Tracy Lawrence Live. The hot band Little Texas has released a greatest hits album as has the workin' man, Sammy Kershaw. The Mavericks have titled their latest Music For All Occasions.
The wait is finally over for Tim McGraw's follow-up album to his multi-platinum Not A Moment Too Soon. Be sure to pick up All I Want, which includes the hot new "I Like It, I Love It." The lovely, angelic Martina McBride's follow-up is appropriately titled Wild Angels.
Mark Chesnutt's brand new album, Wings, which includes the sizzling new tune "Trouble," will soon be available for your listening pleasure. Emmylou Harris is soon to release Wrecking Ball.
There is also a flood of newcomers out there such as Rob Crosby's Starting Now, Emilio's Life Is Good, and Lonestar's self-titled album.
And for all you Garth fans, his new CD is currently scheduled for release on Nov. 15. Just hold your horses, it'll be here before you know it, just in time for the holiday shopping season!
Live Country Music
Probably the biggest concert to hit Louisville in several years is scheduled to take place in Cardinal Stadium at 4 p.m. on Oct. 1. What else could I be talking about but the Tenth Anniversary Farm Aid concert to help save America's family farms. Scheduled to appear are Willie Nelson, John Mellencamp, Neil Young, Hootie & the Blowfish, BlackHawk, and John Conlee, among others. This is a once-in-a-lifetime opportunity you won't want to pass up.
"Don't tell my heart, my achy breaky heart, I just don't think it understands . . . ." That's right, Billy Ray Cyrus will bring his achy breaky heart to Louisville for the first time in nearly three years to perform at the Palace Theatre on Oct. 6.
Fans of Confederate Railroad won't want to miss their performance at this year's Louisville Professional Firefighters country concert which is scheduled to be held at 8 p.m., Nov. 17, at Louisville Gardens. Opening for the Railroad will be country newcomer Chely Wright in a "Sea of Cowboy Hats." Call 366-4004 for ticket information.
And last, but certainly not least, it's not too early to start thinking about Trisha Yearwood's Dec. 2 stop in Louisville. Trisha is scheduled to appear at Louisville Gardens along with an opening act to be announced. I should have more details on this show next month, so keep reading!
Cowboy Corner Country Quiz
Q: Where did Tim McGraw attend college? Did he finish?
Sharon Truax, Louisville
A: The Indian Outlaw, country superstar Tim McGraw, son of Betty Trimble and New York Mets baseball star Tug McGraw, attended Northeast Louisiana University but hung up his backpack and tossed away the textbooks to pursue a musical career. And the rest is history!
Tim's musical desires started burning while in high school in Start, Louisiana. Tim says, "I was a junior in high school and I was playing basketball in the backyard. I remember hearing 'Miami My Amy' when it came on the radio. I stopped and thought, 'Man, this is the way it is supposed to be done. That is what I want to sing.' Keith Whitley was a big, big influence."
"I made up my mind after my first year in college that I was gonna teach myself to play guitar. I was gonna do it; there was never any doubt. That was all I thought about. I ate and slept country music. I am about as country as you can get. I'm a redneck. No matter what I sing, it's gonna come out country."
Tim decided to drop out of college in 1989 to give Music City a whirl. He sold his car for $600, sold his shotguns, his water-skis, everything he couldn't carry, to move to Nashville. "I wanted to have some money to live on in case I didn't do well. I rode in on a Greyhound Bus."
Ironically, Tim arrived in Nashville on May 9, 1989, the day that his biggest musical influence, Keith Whitley, died of an alcohol overdose.
After quite some time of hitting the streets and desperate living, Tim was signed to Curb Records in 1990. It wasn't until 1993 when his self-titled debut album hit the streets. Unfortunately, it wasn't until his sophomore effort, Not A Moment Too Soon, was released that he finally started being recognized, so much so that this record sent Mr. McGraw into multi-platinum orbit, selling in excess of 5 million copies. Not too shabby for a college dropout.
College may not have been Tim McGraw's forte, but country music sure was and he continues to succeed and rise up the country charts with his latest release, "I Like It, I Love It" off his brand new CD, All I Want.
If you have a question you'd like answered about one of your favorite country artists, please send your question, along with your name, to: Cowboy Corner Country Quiz, Louisville Music News, 7505 Cambridge Drive, Crestwood, KY 40014. Please don't hesitate to send in your question. We're anxious to hear from you.
I'd like to take this opportunity to thank you, the readers, for a great year. "Cowboy Corner" first appeared in Louisville Music News one year ago this month and I hope you've enjoyed reading it as much as I have enjoyed writing it. I hope we'll both have the opportunity to enjoy it for many more years. Thanks again!
Well, that's it for now. Always remember: Keep your boots shined up and your hat on straight, 'cause country music is comin' your way.