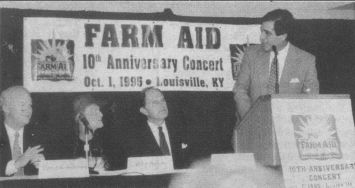 From left, Jefferson County Judge-Executive Dave Armstrong, Willie Nelson, Kentucky Gov. Brereton Jones and Louisville Mayor Jerry Abramson at the Farm Aid Press Conference. Photo by Jean Metcalfe
Here Comes Farm Aid!
October 1 is a big day for Louisville and the small family farmers of America. This year's Farm Aid concert marks the 10th anniversary of the highly respected event, and it will be celebrated in our town's Cardinal Stadium!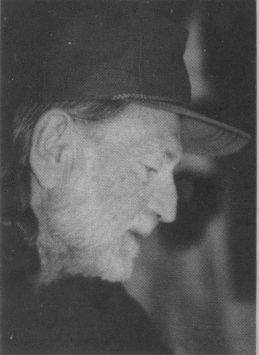 Willie Nelson. Photo by Michael W. Stout
Small family farms are dying out at an alarming rate, and while farmers don't expect Farm Aid to completely turn the tide, they can expect to gain a little ground with the help of some mighty broad shoulders. Count on Farm Aid founder Willie Nelson to call the plays. (In his youth Nelson picked cotton and baled hay to help out his family in Abbott, Texas.) And he'll get a lot of help from teammates and fellow Farm Aid founders John Mellencamp and Neil Young.
Tickets may by now be as scarce as a hen's teeth, but at last word they could be bought for $25 at the Kentucky Fair & Exposition Center. For that small investment ticket holders will be rewarded with several hours of music by Nelson, Mellencamp and Young, plus (wear your asbestos suit) the blistering-hot Hootie & the Blowfish (or as a popular local mayor struggled to identify them: Hootie & the Bluefish, uh, Hooters & the Blowfish). Added attractions include BlackHawk, the Dave Matthews Band, and the former mortician from Versailles, Ky., John "Rose Colored Glasses" Conlee.
And . . . don't forget Mattie Mack! Mattie Mack? She's the Harrodsburg farmer who got a kiss from Nelson at the July 28 Farm Aid press conference and who's gonna sing a duet of "Amazing Grace" with the popular singer/songwriter come Farm Aid Sunday.