IBMA Fan Fest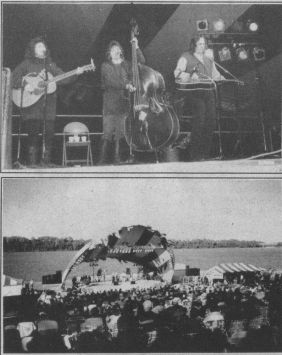 Sharon White, Cheryl White and Jerry Douglas (top photo) of the country/blue- grass group The Whites closed down the IBMA's Fan Fest on Sept. 24 at Owensboro, Ky.'s English Park.
The Fan Fest began with the induction of Jimmy Martin into the IBMA (Intemational Bluegrass Music Association) Hall of Honor at the association's annual Award Show. The bluegrass industry crowd gave a standing ovation to Ronnie McC0ury when he handed his Mandolinist of the Year award to Bill Monroe, the father of bluegrass music and a seminal bluegrass mandolinist. Alison Krauss won awards for Entertainer of the Year and Female Vocalist of the Year.
Friday night's all-star jam featuring Bela Fleck, Sam Bush, Tim O'Brien, Tony Rice, Mark Schatz and Jerry Douglas was blemished by 44 degree temperatures and cold winds whipping off the nearby Ohio River. The highlights of Saturday's performances included a potent performance of old-time country from guitarist Doc Watson and a solid set of progressive bluegrass from Claire Lynch and the Front Porch String Band.
Photos and text by Bob Bahr.