Jean Metcalfe
When Jean Metcalfe went to her first songwriters' meeting -- a seminar at U of L -- she hoped that someone on the panel might like her song and get it recorded by a name artist. She took a tape with the a cappella song on it; it was the first tape played that day. She feels it was picked first because of the cutesy "hot stuff" sticker she had affixed to the wrapper.
"They were extremely polite," she says, recalling the critique of her song. Nashville Songwriters Association founder Maggie Cavender was there, as were several other Nashville publishers. The panel also politely returned her tape and it has, by design, never resurfaced.
That was over a dozen years ago. Since then, she has learned how hard the songwriting business really is, how hard it is to write a hit song and how much work goes into the entire process.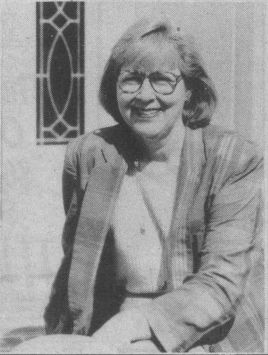 During that time, Jean and this writer founded the LASC (with two other writers) and shepherded it through many exciting years of growth, as well as a wide variety of activities and events. Jean served as the organization's first secretary, putting in many, many hours of unpaid volunteer work to keep the Co-op moving forward.
Jean's tune "Willie, Please Sing a Duet with Me" was cut on the LASC's first recording project, First Time Out. Produced by Alan Rhody and recorded in Nashville and Louisville, the song features a chorus sing-along rehearsed by a quick gathering of Co-opers in Falk Recording's side parking lot, chief among them being the founders of the LASC, plus Bill Ede.
Over the years, she notes, she has written about "twenty songs that she wouldn't be embarrassed to death" to show people. Her notebooks have many more songs and song scraps, waiting for Jean's discerning hand to re-write.
Jean came to the LASC from the Kentuckiana Chapter of Sweet Adelines, Inc., a barbershop style group, and was shortly named "Sweet Adeline of the Year." She would later be elected to a term as the chapter's president.
"You think dealing with songwriters is hard, you should try managing eighty-plus women" remains one of Jean's most memorable comments about those years. It was, however, a rewarding period in her life.
A member of the Co-op's Board of Trustees since the beginning of the organization, Jean has provided the group with invaluable direction, years of work and considerable funding as well as frequent parliamentarian advice. She has also been the regular and default and excellent editor of the LASC Letter, a job that does not come with sufficient compensation or reward. She does a great job of keeping folks informed.
Ten years of LASC work and six years of editing the Louisville Music News have taught her a great deal about the music business. Jean remains optimistic in spite of that and continues to write and plug songs. Currently, she is plugging a Gene Adams gospel tune, "A Ship Soon to Sail," plus a song on which she and this writer have been collaborating extensively.
Jean's husband, Tom Metcalfe, has been very supportive over the years, encouraging her in her musical activities, even when it meant that he sometimes had to do the laundry. An electrical engineer employed by Jeffboat, Tom has also been a regular photographer for the LASC Letter. The Metcalfes are the parents of two adult sons.
As for her hopes for the future, a hit song remains her primary goal and so she gets up every morning and "puts one foot in front of the other" to move in that direction. A hit song is not the only possibility that drives her on:
"A Grammy would be nice," she says and laughs.
Jean laughs a lot.