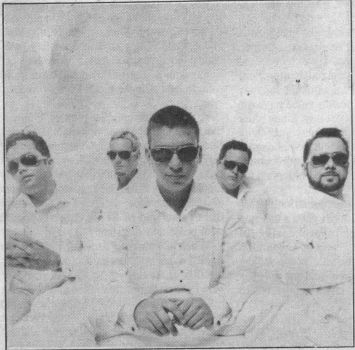 Love Jones
Powerful Pain Relief (Zoo)
Love Jones
By Mark Clark
Since the release of their major label debut, Love Jones had over a year to write, rehearse and polish material for their new album. They integrated several new songs into their live performances, even suggesting fans look for tunes like "Wood" on their next release. Then, in typical Love Jones fashion, the group dumped most of that material and wrote a half-dozen new songs in a single, alcohol-soaked weekend.
The result is Powerful Pain Relief, the band's second effort for Zoo Entertainment. And the result is, for the most part, a happy one. The Jones boys have (at least for this record) swapped their lounge attire for Elvis sunglasses -- and their usual swing and bossa for '70s-style pop and blue-eyed soul.
While they were at it, they brought in former Los Lobos producer Paul DeGre, who lends this record a stripped-down, organic feel, light years distant from the glossy, bombastic approach the band took on its Zoo debut, Here's to the Losers.
The only vestige the old Jones is "Stars," one of the new tracks which had become a staple of the band's live performances. By itself, "Stars" seems terribly out of place. Perhaps the band could have tossed in a couple more lounge tunes to prop this tune in place -- and also satisfy its Cocktail Nation following. "Wood" would have been welcome, and it would have been nice to capture old favorites like "Melissa" and "Helpin' Hands." But it's difficult to complain about the lack of familiar material-sounding material because the new tunes are so good.
Don't Know Me is a slab of Stax-style soul, with a nifty guitar solo by Chris Hawpe. "World of Summer" finds singer/percussionist/rabble-rouser Ben Daughtrey pining for the carefree summer days of his youth amid a warm, fuzzy, Seals and Crofts backdrop. And singer/wise guy Jonathan Palmer chips in with a soulful tribute to the jobless, "Help Wanted."
That triumvirate of tunes, which queue up as tracks 2-4 on this disc, surpasses anything Love Jones has before recorded. "World of Summer," in particular, is simply amazing. The fact that the band could hole up for a weekend and come out with tunes like these is testament to the growing musicianship in a band Palmer once described as a collection of "accomplished hacks." (Speaking of musicianship,drummer Stuart Johnson -- now touring and recording with Matthew Sweet -- does perform on this record, and does so with his customary verve.)
More good tunes follow that trio: "Peepin," a funky instrumental jam which showcases bassist Barry Thomas, the Earth, Wind and Fire-y "Roll-On," and the album's witty title track, an old-fashioned make-out ballad.
There are a few creaky moments. The opening number, "The Thing" sounds a lot like Prince. Unfortunately, it sounds like something Prince would have put on his last record, not on his good ones from the '80s. "Vigilante" is an attempt to ape a '70s cop show theme, complete with wah-wah effects. Nice idea, but the result falls as flat as the dialogue from a Baretta rerun.
And diehard fans may be surprised at the lack of humor on this record -- at least, the lack of slapstick like "Pineapple" and "Custom Van." "Vigilante" and "Me" are the only tracks which actively attempt to be funny, although cuts like "Powerful Pain Relief" aren't meant to be taken too seriously, either. Then again, the band is wearing those Elvis spectacles on the cover.
In short, this isn't exactly the Love Jones you're used to. But, at least for a few cuts, it's even better.