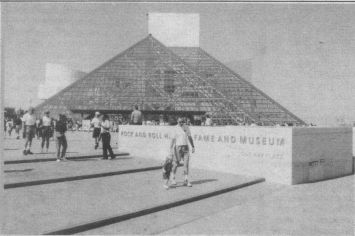 Against All Odds (Take a Look at Me Now): Rock and Rock Hall of Fame
After a decade-long struggle and more than $90 million later, the Rock and Roll Hall of Fame became a reality over the Labor Day weekend.
Located on the shores of Lake Erie in downtown Cleveland, the 15(),()O0-square- foot facility is very rich in content, featur- ing an abundance of vintage guitars, post- ers and articles of clothing that once be- longed to some of the inductees — 122 so far!
The 4-day celebration included a live concert with dozens of rock's greats and one-of-a-kind pairings, paying tribute to stars past and present. Billed as "Rock's Master Jam," it certainly lived up to its name. But with ticket prices soaring into the $560 range a day before the show, only the diehard were able to pick one up.
Close to 80,000 rock-hungry fans showed up for this history-making event. The show was broadcast live on HBO, which tumed out to be the best seat in the house. The least expensive anyway.