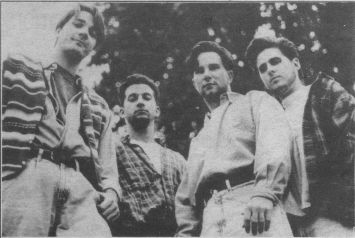 From left, Jon Beyl, Sam Powers, Rob Marlin, John Shireman
The Rumors
The Rumors are real — a real band, that is, and they're gigging around town.
Rob Marlin, lead vocalist and guitarist, recalled that when the group was trying to think up a name, he kept considering "The Rumors" as a name but was convinced that it was already used by another group. After several fruitless weeks of hashing it out, they gave in, decided that there wasn't a group with that name and adopted it.
They're been playing under that name for a year and, so far, no lawyers, publicists or irate pickers have confronted them, or so rumor would have it. (Sorry.)
The group is Marlin; John Shireman, drums; Jon Beyl, guitar, and Sam Powers on bass and harmony vocals.
High school buddies, all but Beyl went to Providence High School in Southern Indiana. Beyl, also a Hoosier, attended Silver Creek High School in Sellersburg. Picking up various instruments, they jammed in the garage just for fun. Eventually, they decided to form a group.
The idea for the band was simple: let's play songs we like. The result of that approach is a repertoire1 of material that draws from the last thirty years of rock and pop, with a particular emphasis on eighties material.
"Our audience seems to really like our '80s set," said Marlin. Tunes like J. Geils' "Centerfold" and Duran Duran's "Hungry Like the Wolf" keeps the audience coming back. Marlin notes that a lot of the eighties songs they cover are techno-rock. As a guitar-based quartet, they have to arrange the tunes for guitars, which means that "the sky's the limit." They're even contemplating working up some Men At Work material.
They're not limited to short-term nostalgic tunes, however, covering material ranging from the Rolling Stones (nostalgic — not!) to Green Day to Matthew Sweet.
Powers and Marlin have also been writing tunes for the band and have been satisfied enough with one, "Until I'm Missing You," to add it to their playlist.
"It's got a danceable feel," Marlin said. "The audience doesn't care about the lyrics if they can move to it."
The pair, who admire the Beatles' songwriting, plan to keep on writing, as they would like to have a career in the music business. They are not betting the farm on it, however, and all four have college degrees to fall back on. Marlin graduated from Indiana University (Bloomington) Business School. Sam Powers and Jon Beyl graduated from Indiana University Southeast in New Albany, while John Shireman graduated from Bellarmine. Shireman still plays with Jeff Sherman's jazz ensemble.
The group is working the Phoenix Hill - Butchertown Pub - Backstage Cafe - Golden Nugget circuit and compiling a fan mail list.
Asked what an audience member should expect at a Rumors show, Marlin did not hesitate:
"The crowd should have as much fun as the band," he said. If they can manage to keep on having fun, then they should be able to keep their crowd happy.