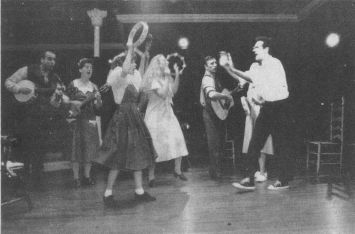 Smoke on the Mountain
Smoke on the Mountain': Amen!
"Us Baptists are moving right on into the modern world," Pastor Mervin Oglethorpe not quite confidently tells the Derby Dinner audience who double as the Mt. Pleasant Baptist Church congregation during the run of "Smoke On the Mountain."
We all know a Pastor Oglethorpe; he constantly wears a nervous smile and attempts to keep everybody happy during potentially explosive situations. In this instance Oglethorpe has brought in the testifying, glorifying, Scripture-for-every-occasion Sanders Family Gospel Singers in an attempt to bolster the dwindling congregation. And it's a fine line that he walks between personally enjoying their energetic performance and offending the conservative members of the congregation (especially two ladies in the amen corner).
At the outset it was feared by this writer that the youthful Jason M. Miller's Oglethorpe, with his high-water trousers, white socks and twitchy delivery, would soon become about as bearable as a Pee-wee Herman / Steve Urkel combination, but the little twerp quickly won over his 'congregation' with his excellent portrayal and likableness. (Miller, taking a working semester off from his scholarship-aided stint at Northern Kentucky University, makes his Derby Dinner debut in "Smoke.")
His "I'll risk one eye" attitude sees Oglethorpe sometimes joining in the lively delivery (translate "dancing") of the Sanders Family's gospel numbers while at the same time attempting to assure the congregation that "they're not dancin'."
The mother of the Sanders clan, Vera Sanders (Ellen Saxton), took the spotlight (as did each of the talented Sanders bunch in turn) and presented her testimony via a clever analogy between a June Bug on a string held by a child and a sinner on a thread held by Jesus. Summing up, she exhorted the congregation to "Let Him tie one on tonight."
Even the unchurched surely recognized several of the musical selections. Perhaps they even sang along on one of the quartet of songs which the Sanderses referred to as their "Blood Medley." ("Nothing But the ...," "Are You Washed In the ...," There Is Power In the . . . and "There Is a Fountain Filled With . . . .)
In between there is a lot of just plain feel-good entertainment. No doubt the Methodists and the Presbyterians -- and the Baptists -- went home wearing more than a wisp of a smile from "Smoke On the Mountain."
Our very own waitress, Shaune Rebilas, took the spotlight during the Footnotes' brief set of songs sandwiched between dinner and the main attraction for a lovely (and appropriate) solo of The Manhattan Transfer hit "Operator."
"Smoke on the Mountain," ably produced and directed by Bekki Jo Schneider and Dudley Saunders, respectively, will continue through Oct. 15 at the Derby Dinner Playhouse, Clarksville, Ind., in an extended run of the very popular musical. Call 812-288-8281 for info and reservations.