Strictly Bluegrass Booming
The fourth annual Strictly Bluegrass Festival continued to live up to its name and the dream of its founders (Gary and Jim Brewer), entertaining nearly ten thousand fans with one of the purest music forms ever invented in a two-day, 15-band event held in Iroquois Park Sept. 8 and 9.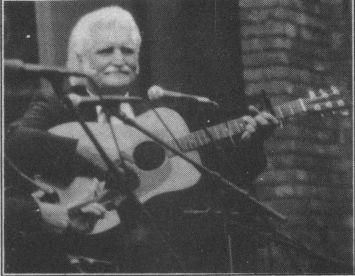 The Sullivan Family's Enoch Sullivan. Photo by Les Reynolds
Headlining the fest (the second consecutive held in the park following two years in Central Park, which the festival outgrew) were the legendary Sullivan Family (a traditional bluegrass gospel group), Wendy Smith and Blue Velvet, the Bluegrass Cardinals and Gary Brewer & the Kentucky Ramblers from right here in Louisville.
Friday's 5-11 p.m. show introduced a dozen of the groups and on Saturday most of the ten bands (a slight revision of the Friday-night lineup) played twice in 30-minute sets. The weather smiled on the proceedings as the audience smiled, laughed, clapped and even danced a little as they kept time to the traditional bluegrass tunes. In fact, according to Brewer, the amphitheater was nearly packed to capacity (4,000) Friday night. (This includes the bench seats and the grass areas to each side of the seats.) Brewer said there were always several hundred inside the theater at any one time as folks wandered in and out to eat and either participate in or listen to the impromptu jam sessions near the parking lot. On Saturday night, however, a light mist and overcast skies kept the crowd on the lighter side.
Brewer attributed the overall heavy turnout in part to the rising popularity of bluegrass music -- which he in turn believes is caused by the resurgence of acoustic ("unplugged") performances by popular musicians of all types (of music). Brewer is a staunch traditionalist who says he believes bluegrass should make room for the newer sounds as well, but "a line has to be drawn somewhere." That is, it still has to be and sound like bluegrass.
The Strictly Bluegrass Festival (one of Louisville's Top 40 Outdoor Festivals) is a "labor of love" for Brewer and his family. He says he wants to keep the event growing, non-profit, and alcohol- and admission-free -- "a clean atmosphere, a family event, something you can bring your grandchildren to . . . and be entertained."
Margie Sullivan. Photo by Les Reynolds
"Bluegrass music and Kentucky go together like a bow and fiddle," Brewer continued, and "it has stood the test of time."
So has the festival -- and it appears it will continue. "We didn't start this thing to stop," he said.