Local Women Songwriters Sing Out for Spouse Abuse Center
One of the first crisp evenings of the changing seasons made for a perfect Sunday evening to gather at the CoffeeStop for sharing music, coffee, desserts and conversation. Housed in the Bardstown Road Presbyterian Church, this Highlands Community Ministries weekend coffeehouse has celebrated two years of bringing voices in song and purpose together.
A concert on Sept. 17 was the occasion to raise funds and draw attention to the Spouse Abuse Center, located at 226 W. Breckinridge. This multi-funded Louisville organization provides phone, individual and group counseling for women in abusive relationships. Shelter arrangements, as well as child, court and hospital advocates, are only part of the services offered.
Local performers Marie Augustine, Linny Simkin, Michelle Gossman and Linda Stone Cushing strummed up covers and originals of blues, folk, rock and some soulful jazz and classical moments for good measure.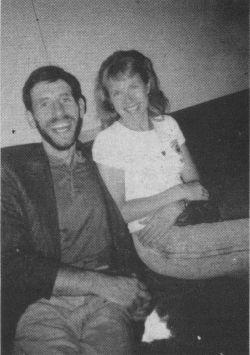 Ken Lucchesse and Linda Stone Cushing share a laugh at CoffeeStop. Photo by Cindy Lamb
Three generations of Marie Augustine's family were present -- daughter Michelle Gossman and Michelle's daughter, Sarah -- all sharing the stage at one time or the other. Gossman's light, storyteller's voice was often challenged by Sarah's chants of "Mama!" but the songs made their way through. She began with "This Old House," a tender ballad about the house built by her grandfather in 1952 and still filled with family. Good taste in saluting another artist was evident with Gossman's rendition of West Coast artist Kimm Rogers' "Walk On Water": "I'm surely no Jesus, things aren't always what they seem . . . But every night I go to sleep, I walk on water in my dreams." In retrospect, I felt it was an appropriate sentiment for the evening's cause. Gossman's performance would be strengthened if she let someone take over on guitar, leaving her vocals to weave the songs with undivided attention. Joining her daughter onstage, Augustine closed out the first round of tunes with a rowdy "Hang On Tight, the Night is Young."
Joined by Serpent Wisdom guitar tamer Ken Lucchese, Linda Stone Cushing pulled off a sultry acoustic jazz number -- "Lemonade" -- followed by "Missing You More and More." Next, what Cushing described as from the sublime to the ridiculous, was a sassy note of comedy that started out with Tip Toe, Tip Toe, Tip . . . . I'm still not sure if that's the proper title but it was a clever ditty 'bout sneakin' around. The minor chords of "Lost My Age of Innocence" created a haunting mood. Lucchese, in his incomparable twelve-string artistry, played a solo as if it were a surreal violin. This was the first time I'd seen this couple of artists pair up -- the tall, agile guitarist and the diminutive blonde singer with a smile, T-shirt and jeans made a great combo.
Walkin', talkin' chili pepper that she is, Marie Augustine opened her set with a vintage song from the 1700s, a love-struck ballad entitled "William Hall," zoomed through to local favorite "Thrifty Nickel Man," belted out a feminist twist to "Hit the Road Jack" and a brand-new song simply titled "I Like." It's fun watching this woman play -- hard to tell sometimes if she's holding on to that red guitar or if it's holding on to Marie. Augustine enjoys the very young through her grandchildren, and the elderly via her musical visitation to nursing homes. She enjoys big, crazy kids at the Rud where you can find her samplin' songs most every Monday night.
Linny Simkin, who shares hosting duties between the Rudyard Kipling's open stage and her own artist night at Cherokee Blues Pub, brought violin wizard Peter Rhee along for the ride. Not only did Peter volunteer as sound crew but he kindled a dazzling glow on Simkin's songwriting as he always does. Simkin presented a solid round of women's stories with "She's Goin' Away," a situation that celebrates not running away from but toward a goal, plus a high-spirited mover about women who repeat their unwise relationship patterns, "Can't Stay Away From the Flame." (And you know what happens to those moths . . . .) The one song that hits the hardest in most any Simkin performance is "Declaration of Independence," and it would inspire any female in desperate straits. The chorus, "I declare my independence . . . from you," always produces a tear somewhere. Simkin cited spouse abuse as an epidemic in our society and emphasized the need to rally together.
With only two bucks at the door, gourmet coffees donated by Cookbook Cottage across the street, and homemade chocolate pie, pound cake, cherry cake and more, you'd think that more people would have attended the concert in the beautifully candle-lit room with its cozy hardwood stage. Although over fifty dollars was raised, the only people to admonish were the ones who decided to stay at home and watch "60 Minutes." Keep an eye on the local event listings in the Courier, LEO or Louisville Music News -- you might be missing something good.
Special thanks to CoffeeStop organizer Keith Clements, who has more performing events scheduled. Also, to the Louisville Spouse Abuse Center, continued success in your outreach.
The center's number is 581-7222.