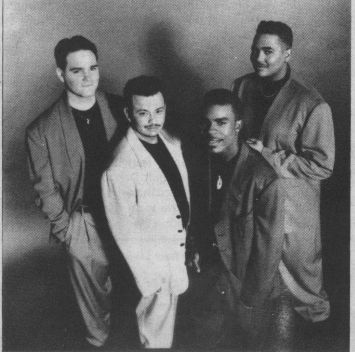 All-4-One
vocal foursome succeeds again
And The Music Speaks (Blitzz/ Atlantic)
All-4-One
By Michael W. Stout
All-4-One, the magically harmonious pop/R&B/soul foursome, exits the ring victorious, arms waving high in the air, as And The Music Speaks successfully overcomes the awesome feat of following up this group's smash self-titled debut album. You may have thought their debut album was just too good to be true, but this sophomore effort proves that these four young men have a rare and highly coveted talent, one that is truly genuine. As long as they keep making albums like this, All-4-One will have a place in music.
Throughout the course of this twelve-cut gem, these guys take the listener on a musical journey from sweet and tender ballads such as "I'm Sorry" and "These Arms," to the sock-hop style "Could This Be Magic," to the grooving beat of songs such as "Love Is More Than Just Another Four-Letter Word." And once again, All-4-One takes a smash country ballad sung by country heartthrob John Michael Montgomery and customizes it to fit their four-part harmony — and it fits like a finely tailored Armani suit. Their debut album included "I Swear" (which was a number one hit on both the country and pop charts) and this latest effort includes Montgomery's tender love song, "I Can Love You Like That."
This CD includes a minimal amount of instrumentation. What is there is quite effective, yet entirely unnecessary. All-4-One manages to create music as sweet as any instrument could with just their vocal harmonies. This one's a little bit of heaven on earth. Listen to hear how "the music speaks" for itself.