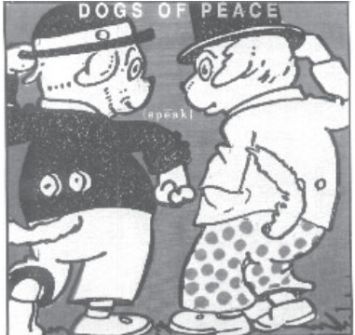 modern, with nods to classic rock
Speak (Sparrow)
Dogs of Peace
By Robert Gruber
Speak is the debut from Dogs of Peace, a new band that features Christian rock luminaries such as Jimmie Lee Sloas and ex-Whiteheart keyboardist Gordon Kennedy. Speak is a seamless blend of modern rock production, classic rock touches (notably Pink Floyd and Beatles) and smooth, spirited harmonies. The overall feel is as instantly comfortable as a pair of pre-washed jeans.
Kennedy, a brilliant lyricist, explores his faith on personal terms in songs like "In the Event" and "I Wanna Know." "Pray to God" is a direct plea for prayer ("Say what you want/Pray to God"). "When I Believe It" defines Christianity at the expense of an old cliché; "I will see it/When I believe it" goes totally against the grain of modern thought, but in the video age, it gets harder every day to believe what you see (and easier to believe in what can't be seen).
Musically, the band favors crunchy rhythm guitars interspersed with soaring leads. Cool percussion, '70s-style keyboard sounds and cello swipes rise and fall like waves through each song, adding flavor where needed. Obviously informed by classic rock sources, the Pink Floyd influence seems most prevalent--in "Thrown Away," the Dogs go so far as to quote verbatim lazy guitar lines from Dark Side of the Moon's "Breathe." Far from ripping off Floyd, though, Dogs of Peace pay homage--another song, "Do You Know?" is structured a lot like songs from The Wall and Wish You Were Here. The results are very satisfying. If mainstream rock radio embraces Dogs of Peace the way alternative radio did with Jars of Clay, Speak is sure to be a smash--no bones about it!