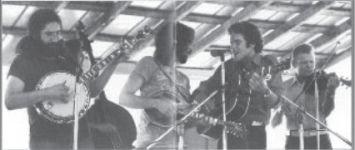 POld And In The Way
That High Lonesome Sound (Acoustic Disc)
Old and In the Way
By Bob Bahr
When the first Old and In the Way album dropped in 1975, and a host of Deadheads were wooed to bluegrass's hot, honest sound via Jerry Garcia's banjo playing in the band. Other non-traditional fans caught on too, and Old and In the Way became a hot commodity on the West Coast. But the group was just a pick-up band for Garcia, vocalist/guitarist Peter Rowan, mandolinist David Grisman, fiddler Vassar Clements and bassist John Kahn, never intended for the long haul. Their recorded output began and ended with their self-titled debut on Sugar Hill Records.
Thus, the arrival of That High Lonesome Sound will be big news for fans of the iconoclastic bluegrass group. With the big news comes good and better news. The good word is that this archive recording from 1973 is better than the first release; the better part is that it is labeled "Vol. 1" on the CD booklet.
The album is heavy with bluegrass classics (Jim & Jesse's "Hard Hearted; Clements' own "Lonesome Fiddle Blues;" Bill Monroe's "Uncle Pen," "I'm on My Way Back to the Old Home," and "Wicked Path of Sin;" the Stanley Brothers' classic "Angel Band;" and the Rouse Brothers' "Orange Blossom Special"). Their inclusion is probably a better indication of Old and In the Way's goals than the songlist of their 1975 release, which had three progressive Rowan originals, a Grisman tune and a great cover of the Rolling Stones' song "Wild Horses." The liner notes and the popular legend surrounding the band paints them as non-traditional bluegrass players intent on paying tribute to a traditional sound without abandoning their individual musical styles. That means that traditional trio vocals (well, as traditional as their harmonies can sound with Grisman, Garcia and Rowan at the microphones) wrap around the melodies in the Platters' hit "The Great Pretender," and a song like "Uncle Pen" shares space on the same disc as Rowan's "Lonesome L.A. Cowboy," which talks about "Smokin' dope/Snortin' coke/Tryin' to write a song." Purists had best leave their inhibitions at the door.
But please, come on through that doorway. If nothing else, you don't want to miss Clements' fiddling on this record. One can tune out the rest and drink deeply from the former Blue Grass Boy's playing, which is as engaging and full of personality as Jimi Hendrix's guitar work. Rowan's underrated singing is in full blossom here too, and Grisman is a legend of the mandolin for very good reasons. Garcia gets a lot of grief from banjo fans, but his gift for musical expression more than compensates for any shortcomings in technique.
Far from being leftovers and outtakes, this is a credible recording by one of the hottest bluegrass ensembles to ever pick up a plectrum. Because it is live, the sound is casual and packed with vibe. Thank god the tapes were rolling frequently during the band's meteoric nine-month career. Bring on Vol. 2.