Bluegrass Beat
Points for West Point
Where Louisville has fumbled the ball, West Point, Ky., will recover for the score. And score big in due time. Louisville's refusal to continue with the Otter Creek Bluegrass Memorial Day Festival has opened the door of opportunity for West Point to grab the brass ring and come out the winner. A proposal was made, taken to the merchants and others in West Point, and in very short order it was a done deal to go ahead with a bluegrass festival.
The festival will be Memorial Day weekend, May 24-27, in conjunction with West Point Civil War Days. This combination should make for a super combination of combined and overlapping interest. It is my understanding that from the beginning there was an enthusiastic willingness of the business leaders of West Point to not only be a part of this project but to invest in this project. West Point Mayor Rube Yelvington said, "While the festival has not been cash-productive for Otter Creek, it has received regional and national recognition among bluegrass fans. (Also international recognition, Rube.) With West Point's volunteers and shoestring economics and the support of bluegrass fans we believe we can reap a harvest from Otter Creek's seed planting. It will help establish West Point as a city with lots to see, lots to do and one that welcomes tourists, and also help with the re-establishment of bluegrass music as an art form in greater Louisville."
Right on, Rube.
Take to heart a couple of points noted here: 1) the support of bluegrass fans; and 2) reap a harvest from Otter Creek's seed planting.
Granted, this festival will not be able to start off at the level of the Otter Creek show, but, given the support it will deserve, it should not have to set limits in the not-too-distant future.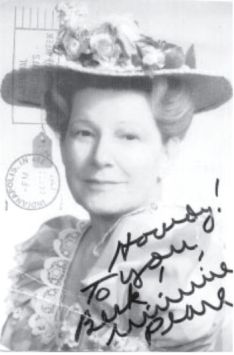 A postcard from Minnie Pearl
There is nothing wrong with the lineup and activities planned for the first festival:
The Dry Branch Fire Squad (a big favorite in this area), Jerry Williamson and Redwing, North West Territory, Leroy Troy, New Kentucky Blue, East Bound, Bluetowne and The Prairie Dogs.
Pickin' Parlors at various shops and restaurants in town, a checkers tournament, hosted by Leroy Troy, workshops and other activities.
For festival information call 922-4503 or to volunteer, call Gary Loeser at 267-4028.
Riddle me this.
Louisville bluegrass fans, answer this: Why is it that a good group will FILL, as in SELL OUT, a 500-seat auditorium in Mitchell, Indiana, or fill the hall at Clay City, and the same act will only manage, at the most, on a rare night, 300 tops, and usually less in this area. Why is this? Do you have to have your bluegrass music delivered to you in such a manner that requires no more action or effort than the flick of a switch?
Prove the city made a short-visioned, prejudicial mistake, that a good bluegrass festival in this area can and will be a success with the proper opportunity. Attend West Point in May, and other shows in the area in the meantime.
Jean "the boss lady" Metcalfe, has mentioned to me and in the column that I get some interesting mail. I would like to share another example of that, which was received several years ago. I had written to Ralph Emery when he hosted Nashville Now a few years ago. I wrote in hopes that he would read the letter on the program. This he did not do, but he obviously did pass along the letter. I forget the exact wording, but it was something close to this:
God wanted us to be happy and to help accomplish this He gave us Sarah Ophelia Colley Cannon and we called her Minnie Pearl.
I received a card with an excellent picture of Minnie and this note, "Howdy! & thanks so much for the sweet letter about me you sent to Ralph! Warmest best wishes — Minnie." On the front, it is signed "Howdy! To you, Berk! Minnie Pearl."
(Minnie, as you often said you were told to do, you loved us and we sure did love you back. Bless you and thank you, Minnie Pearl, we have lost one of our brightest sunbeams. Tell Rod and Roy and Lester and all the others we miss them too.)
More bluegrass opportunities
At the Kentucky Nightriders bar, just outside of Vine Grove, there is live bluegrass music on Tuesday nights featuring Dean Osborne and Bluetowne. Starts at 8 o'clock, with a small cover charge. Cloggers/dancers are welcome.
The first Saturday night of each month there is a bluegrass jamboree at the 4-H Club fairgrounds, Madison, Ind., FREE. For information call Mike Brown, 812-866-2826.
Clay City, Ky.: April 6, Blue Knight & Rob Morgan & Co.; April 13, The Osborne Bros. and Eastbound.
Coming to Shepherdsville, April 4 (this is a THURSDAY night), The Lewis Family and Jim & Jesse. (No true or serious bluegrass fan would miss this show.) April 5, The Eddie Adcock Band; April 12, The New Tradition; April 19, Larry Stephenson; and April 26 (last show for this season), Doyle Lawson and Quicksilver.
At West Point, April 5, no show; April 12, The Charlie Sizemore Band; April 19, TBA; April 26, New Kentucky Blue w/Brushfire; May 3, Jerry Williamson and Redwing; May 10, RANDALL HYLTON.
The 2nd and 4th Saturday nights at Henryville, Ind., and the 3rd and 5th Saturday nights at Scottsburg, Ind.
Road trip festivals:
April 5 and 6, Cullman, Ala., Osborne Bros., Warrior River Boys, Sand Mountain Boys, and Charlie Cline, plus.
May 2-4 at Lincolnton, Ga., Lewis Family Homecoming and Bluegrass Festival includes Jim & Jesse, Osborne Bros., Doyle Lawson, Mac Wiseman, Bass Mountain Boys, Lewis Family, The Marksmen, Jimmie Davis on Saturday.
I guess this is about all I need to say this time. Keep these dates of festivals and shows in mind and show up at them. For those who have been asking, the fund drive for WFPK and my show, Sunday Bluegrass, will be April 12-19. Keep in mind that your pledge goes to keep Sunday Bluegrass on; public radio depends on pledges. None of it comes to me, but your response in the past has brought the show up to three hours. The more you make your opinions heard the more results, time and programming can be influenced.
See you right here — same page — same paper — next month.