I've Got A Mind To Ramble
Shortly after I came to Louisville in 1969 I clearly remember driving downtown to work and noticing this strange name, "Magic Sam," on the marquee of the old Guild Theater at E. Broadway and Logan. At the time, I was interested in the blues but was totally ignorant of who this rising star of Chicago's west side was. It wasn't until the revelation of purchasing Sam's first LP, West Side Soul, which Bob Koester produced on the Delmark label, did I realize what I had missed.
There is a brief reference about Sam's Louisville performance in the Jan./Feb. 1996 issue of Living Blues. The excellent 13-page spread about his life and music mentions that he fainted at the show. This was just a few months before he died of a heart attack on Dec. 1, 1969. He was only 32 and you wonder what his impact would have been on the blues had he been alive today. His driving exuberance that came through his guitar and voice would have propelled him to an international star with the potential for cross-over popularity like Robert Cray and Stevie Ray Vaughan and what Luther Allison is rapidly achieving. Thanks to Delmark for issuing all those wonderful Magic Sam recordings to his legacy.
If anyone attended that historic Louisville concert in the fall of 1969, give me a call. If there is a message in all this, it is that if you dig the blues it pays to learn as much as possible about the music so you don't miss an opportunity like I did.
Today there are many sources to bone up on the blues that were not around in 1969. Blues Revue and Blues Access are excellent magazines, in addition to Living Blues. Coincidentally, the first issue of Living Blues came out in the spring of 1970 just after Magic Sam's death and included an article "Remembering Magic Sam." All these magazines, which are published bimonthly or quarterly, feature detailed articles of blues musicians and events and reviews of CD releases.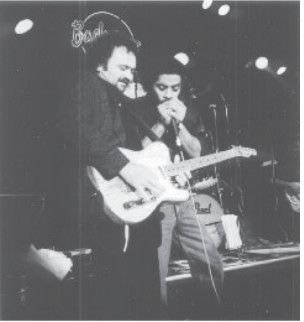 Tinsleyh Ellis. Photo by Keith Clements
James Peterson, who made his third Louisville appearance this past year on March 14 at Stevie Ray's, had an extensive interview in the same recent Living Blues issue on Magic Sam. That story, plus a nice promo in the March KYANA Blues Society newsletter, helped to wipe away any ignorance of who James Peterson is, and there was a good turnout.
There are plenty of books about the blues that are good references. "Deep Blues" by Robert Palmer," "The Devil's Music — A History of the Blues" by Giles Oakley and "Nothing But the Blues" by Lawrence Cohn all give excellent historic overviews of the music. If you like extensive biographical detail on individual singers, then "Blues Who's Who" by Sheldon Harris is for you. Unfortunately it was published 17 years ago and needs supplemental updates.
Liner notes on LP jackets or CD inserts can be another good source of information. Besides the quality of music on the recording, the facts about the musicians are important to the blues collector. Blues labels like Arhoolie, Delmark and Testament do a consistently good job in providing the background and identifying the personnel on their records.
Finally, if there is a blues festival or concert which features any musicians with some bizarre names like Sugar Blue, Ironing Board Sam or TuTu Jones, don't pass them up just because you are unfamiliar with them.
February 26 at the Backstage Cafe was the last performance of the Tinsley Ellis and Kenny Neal tour across the U.S. that started in January. Buckwheat Zydeco was also on part of the tour. Tinsley said before his opening acoustic set that he will be performing at this year's Chicago Blues Festival with KoKo Taylor and Son Seals. They will be at the Navy Pier celebrating Alligator's 25th year.
It was a treat to hear Tinsley playing solo on stage, mixing traditional standards like "Keys to the Highway," "Cut You Loose," and "Come See Me Early, in the Morning" with his original "Deaf, Dumb, Cripple and Blind."
Kenny Neal and his band, which included his two brothers on bass and keyboards, followed. During his set he played nearly every instrument on the bandstand including guitar, harmonica, drums, bass (the instrument he first learned to play) and lap steel guitar. Kenny made the lap steel moan and cry on "It Hurts Me Too." The highlight of the evening was an engaging extended version of "Howling at the Moon," with Kenny roaming throughout the crowd blowing his harp.
Tinsley came back to the stage to do an intensely emotional version of "As the Years Go Passing By" with Kenny's band. Cincinnati guitarist Stacy Mitchart and his sax player were in the audience and they both were invited to get on stage to close out the evening with Kenny on "There is Something on Your Mind," "I'm a Blues Man" and "Wang Dang Doodle." What started out as a concert evolved into an unforgettable blues