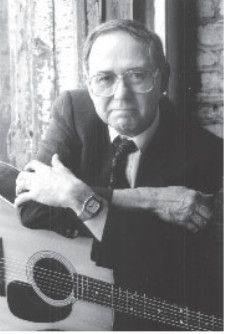 Bob Mitchell. Photo by Richard Bram
Some Days This Place Is A Zoo (Independent)
Bob Mitchell
Social worker and national speaker Bob Mitchell has incorporated highlights of his successful "Stress Management" and "Where There Is Laughter, There Is Hope" seminars into song on Some Days This Place Is A Zoo. This light-hearted and humorous collection of workplace parodies contains several selections for which Mitchell has written both words and music. In addition, Mitchell has taken the music to several classic tunes and given them an interesting office twist.
Highlights include "The Office Stressed Out Blues" and "The Home Stressed Out Blues" set to Hank Williams' "Honky Tonk Blues." "Old Time Religion" has been converted to "Give Me That Old Time Depression," while Tennessee Ernie Ford's "Sixteen Tons" has become "Tons of Paperwork" and "Hobo's Meditation" has been transformed into "Will There Be Any Meetings In Heaven?"
On these and other tunes such as "Have A Nice Day" and "The Happy Song," in addition to his own vocals and guitar picking, Bob Mitchell is backed with some mighty fine picking by local greats Gary Brewer & The Kentucky Ramblers and Greg Walker & Derby City.
The sole purpose of this humorous, stress-relieving CD is best summed up within Mitchell's liner notes: "Be kind to yourself and keep a song in your heart." So if you've had a rough day at the office with phones ringing off the hook and people screaming at you as you turned every corner, kick back, prop your feet up, and relax by hitting the play button to give Some Days This Place Is A Zoo a spin.