Another St. Patrick's celebration has come and gone and the "big green urge" has been sated for another year. The Grand Finale was the Altan concert. It was a mighty night of music from Eire's greatest band. Unbeknownst to the motoring public, Dermot Byrne's button accordion was malfunctioning and the band had to play many of its tunes in a different key . . . mastery, thy name is Altan! They also won the hearts of local fans when several of the band members showed up at an impromptu jam session at the Irish Rover.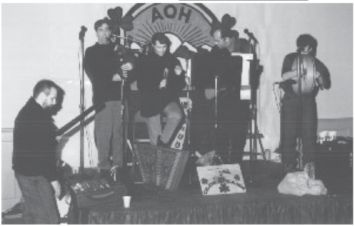 Cloighean performs for the Ancient Order of Hibernians.
Despite the "soft weather," spirits were high. The J-town parade was well attended and although "the Hooley" suffered somewhat for lack of a well-identified location, it was successful. Cloigheann sounded stronger than ever behind a top-quality sound system. Even without it at the AOH "Wearin' of the Green" Party at the Spalding University Ballroom, the band really wowed the crowd, according to reliable sources (see photo).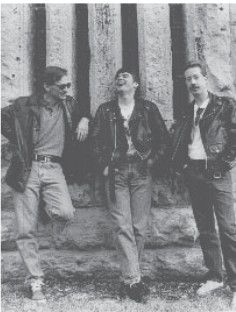 The Rashers, from left, Larry Green, Roman Falon and John Woodard.
The Rashers were doling out their (un)usual musical mayhem with renewed vigor, thanks to a new and very talented bass player. Rock deeply regrets not having been able to hear old favorites Tight Squeeze and Ten Penny Bit. Nancy Harris (formerly of Tight Squeeze) has a new guitarist partner with whom she does all sorts of music, including Celtic. Again, reliable sources have reported that her considerable skill on flute is well mated.
Kentucky Scottish Weekend
The 14th annual KSW is coming up soon (May 10-12) at General Butler State Resort Park near Carrollton, Ky. Only 45 minutes up the road, this is an event well worth the short trip and will appeal to many interests, with highland games (tossing the caber, sheaf toss, etc.), pipe band, pipe solo, drumming and dancing competitions, border collie demonstrations, a British car show and a Scottish seminar. Renown Scottish singer Alex Beaton, as well as your own Rashers (see photo), will be performing on the field and at the Saturday night Ceili. The Louisville Pipe Band will be there facing some very stiff competition from the Windsor Police Pipe Band from Windsor, Ontario, Canada, among others. There are plenty of big tents in the event of rain (the official weather of Scotland). EXCLUSIVE ROCK TIP: For a low-cost, fun weekend, you can camp at the park campgrounds . . . sorry, no reservations.
Celtic Cyberspace
Last month's Celtic Corner briefly discussed Celtic music online. Pipe Major Robert Caudill of the Louisville Pipe Band has already reaped cyberbenefits. Via the Internet Robert was in contact with a piper from London, England, who joined the LPB ranks in the J-town parade during his stay with relatives here in Louisville.
Irish Fest Ballyhoo
You read it here first, sports fans. Coming to the Irish Family Fest at Bellarmine College in September (20-22) will be a great headliner group in balladeer sublime Danny Doyle, Belfast-based traditional group Croagh Rua (pronounced crave ROO-ah; means red branch) and returning, universal favorite Tannahill Weavers from Scotland.
Derby Eve Sesiun, et cetera
The first-Friday Celtic jam sessions at the Rudyard Kipling will go down on April 5 and May 3. The latter date is, of course, Derby Eve so the revellers will have a Celtic alternative during the celebrations.
Just in case you are wondering from last month as to what "craic" means. Not drugs, but certainly addictive, craic is an Irish word with no direct English translation (why am I not surprised?) for lively conversation and excited atmosphere. If it is especially good, "the craic is 90." The Rud sessions are great craic . . . see you there. Sine.