Cowboy Corner
ountry Grammy Awards
Alison Krauss and Vince Gill were the big country winners at the 38th Grammy Awards, held Feb. 28 in Los Angeles' Shrine Auditorium, each capturing two trophies. Alison won the Country Collaboration With Vocals award for "Somewhere In The Vicinity of the Heart" with Shenandoah, and the Female Country Vocal Performance award for "Baby, Now That I've Found You."
Vince captured both the Country Song award and the Male Country Vocal Performance award for "Go Rest High on That Mountain," his tender tribute to his late brother and the late country great, Keith Whitley.
Hot Canadian newcomer Shania Twain claimed her very first Grammy for Country Album for her multi-platinum-selling The Woman In Me. The Mavericks captured the Country Performance By A Duo Or Group With Vocal award for their "Here Comes The Rain."
Amazing Grace — A Country Salute To Gospel, featuring artists such as Lari White, John Berry, and Martina McBride, garnered the Southern Gospel, Country Gospel, or Bluegrass Gospel Album award. Country's Emmylou Harris took home the Contemporary Folk Album Vocal or Instrumental trophy for her critically acclaimed Wrecking Ball album.
Congratulations to all the winners!
People's Choice Awards
The 1996 People's Choice Awards were handed out Sunday evening, March 10, at Universal City, Calif., and country music left a big mark, capturing two of the three trophies in the music categories. Garth Brooks beat out pop performers to win the Male Musical Performer award while Reba McEntire captured the Female Musical Performer award.
Reba was presented her People's Choice Award right here in the Derby city on March 5, during the first performance of her 1996 tour at Freedom Hall. Hot newcomer Faith Hill and pal Linda Davis surprised Reba onstage with the award, and it was televised for the March 10 telecast. Reba accepted her award in honor of the legendary Minnie Pearl, who had passed away the previous day in Nashville.
Hot group Hootie & The Blowfish walked away with the only remaining music award: Rock Performer or Group.
Congratulations, Garth and Reba! Keep up the good work. These awards prove that country music really is hotter today than ever!
Academy of Country
Music Nominees
The 31st Annual Academy of Country Music Awards, hosted by Faith Hill and Brooks & Dunn, will be handed out Wed. evening, April 24. The live telecast will be aired on NBC at 8 p.m. EST. The recently announced list of nominees is full of surprises this year. Leading the pack with five nominations each are Brooks & Dunn and Tim McGraw. Following with four is Shania Twain. George Strait, Faith Hill, and Patty Loveless captured three nominations each.
Popular past nominees such as Garth Brooks, Alan Jackson, Reba McEntire, and Vince Gill captured fewer nominations this year than usual. Garth captured a single nomination, while Alan, Reba, and Vince only managed to capture two apiece.
The entire list of nominees is as follows: Entertainer of the Year: Garth Brooks, Brooks & Dunn, Alan Jackson, Tim McGraw, and Reba McEntire; Top Male Vocalist: John Berry, Vince Gill, Alan Jackson, Tim McGraw, and George Strait; and Top Female Vocalist: Faith Hill, Patty Loveless, Reba McEntire, Pam Tillis, and Shania Twain.
Top Vocal Group: Alabama, BlackHawk, Diamond Rio, The Mavericks, and Sawyer Brown; and Top Vocal Duet: Baker & Meyers, Brooks & Dunn, George Jones and Tammy Wynette, Shelby Lynne and Faith Hill, and Dolly Parton and Vince Gill.
Top New Male Vocalist: Wade Hayes, David Lee Murphy, and Bryan White; Top New Female Vocalist: Terri Clark, Alison Krauss, and Shania Twain; and Top New Vocal Group or Duet: 4 Runner, Lonestar, and Perfect Stranger.
Single Record of the Year: Shania Twain's "Any Man of Mine," George Strait's "Check Yes Or No," Tim McGraw's "I Like It, I Love It," Faith Hill's "It Matters To Me," and Brooks & Dunn's "You're Gonna Miss Me When I'm Gone"; and Song of the Year: Tim McGraw's "I Like It, I Love It," Tracy Byrd's "The Keeper Of The Stars," John Berry's "Standing On The Edge Of Goodbye," Patty Loveless' "You Don't Even Know Who I Am," and Brooks & Dunn's "You're Gonna Miss Me When I'm Gone."
Album of the Year: Tim McGraw's All I Want, George Strait's Lead On, Brooks & Dunn's Waitin' On Sundown, Patty Loveless' When Fallen Angels Fly, and Shania Twain's The Woman In Me; and Country Video of the Year: Junior Brown's "My Wife Thinks You're Dead," Collin Raye's "Not That Different," John Michael Montgomery's "Sold (The Grundy County Auction Incident)," Travis Tritt's "Tell Me I Was Dreaming," and Jeff Carson's "The Car."
Good luck to all the nominees!
Country Music Loses Queen of Comedy
Country music lost its "Queen of Comedy," the homespun country humorist Minnie Pearl on March 4, following a stroke. A previous stroke in 1991 had ended the career Sarah Ophelia Colley Cannon had enjoyed since 1940.
Cannon was born on Oct. 25, 1912 in Centerville, Tenn., the fifth daughter of a well-to-do owner of a lumber business. Following graduation from high school in 1930, Cannon attended Ward-Belmont College in Nashville to become a polished, proper Southern woman. Upon graduation, she taught drama, dance and piano until joining the Wayne P. Sewell Production company as a show director in 1934. This job required the recent graduate to travel to Southern cities and direct local folks in locally sponsored productions.
In 1936, during one of these business trips, Cannon spent time with an Alabama family; she would later base Minnie Pearl on the woman of the house. The colorful Southern mother of 16 children left a lasting impression on Cannon and, out of respect, Sarah Cannon never breathed the name of the Alabama woman. The true origin of Minnie Pearl will never be known.
After moving back to Nashville after her father died, Cannon filled a slot for a local banker's convention when a speaker was late. The act went so well that a banker suggested that WSM radio recruit Minnie Pearl for the Opry. Her first audition with WSM didn't go well and she made a mere $10 for her first Opry performance. She was called back the next week after 300 pieces of fan mail had arrived for her, and Minnie Pearl was offered a permanent spot on the Grand Ole Opry.
During the 51 years Minnie Pearl performed on the Grand Ole Opry — wearing her trademark straw hat with its dangling $1.98 price tag and hollering "How-deee" — she also traveled and performed with country artists (including Louisville's Pee Wee King) during the week and was a regular on Hee-Haw from 1970 to 1991. Minnie Pearl was the very first female to become an official member of the Grand Ole Opry.
Sarah Ophelia Cannon Colley is survived by her loving husband and manager since 1947, Henry Cannon.
Two Louisvillians Shine Bright
Louisville's own Patty Loveless' recent hit "You Can Feel Bad" not only landed her at the number one spot on the Billboard Country Chart, but also fellow-Louisvillian Tim Krekel. Krekel co-wrote "You Can Feel Bad" with Matraca Berg.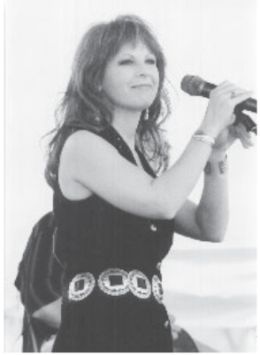 Patty Loveless. Photo by Letha Marshall
Tim is not a newcomer to the music business by any stretch of the imagination. Country-pop songstress Crystal Gayle also took his "Turning Away" to the number one spot in 1984. In addition to songwriting, Tim Krekel formerly played guitar for Margaritaville's Jimmy Buffett. On March 4 Tim appeared on the "Hands for Hand" Benefit Concert (and played a nice solo spot) for the Jim Hubacher Fund, sharing the stage with such greats as Emmylou Harris, Sam Bush, and Bela Fleck and the Flecktones.
Congratulations, Tim and Patty! Keep up the good work.
Hot New Country
The tides are high with the onset of a flood of new CDs in your favorite local record store. Be on the lookout for hot newcomer Bryan White's follow-up to his smash self-titled debut release. Between Now And Forever is now available and features Bryan's popular new "I'm Not Supposed To Love You Anymore." Billy Dean is back after quite some time with a brand new album titled It's What I Do, featuring the title track which is climbing up the country charts.
Steve Wariner is also back with an instrumental album titled No More Mr. Nice Guy. The disc features a broad array of artists such as Bryan White, Vince Gill, Richie Sambora, Chet Atkins, and Bela Fleck. Fans of Dolly Parton's "I Will Always Love You" won't want to miss her I Will Always Love You & Other Greatest Hits. Shenandoah fans will be happy to hear the group's newest release, titled Now And Then.
Fans of classic country music are in luck. Both Merle Haggard and Willie Nelson have new box sets which will soon be available. Keep your eyes open for Merle's Down Every Road and Willie's Revolutions of Time . . .The Journey 1975-1993. Speaking of Merle Haggard, be on the lookout for a brand new album, titled 1996, featuring brand new tunes, including his own version of "Untanglin' My Mind," co-written with, and a recent hit for, Clint Black.
Be on the lookout for Toby Keith's brand new Blue Moon, featuring "Does That Blue Moon Ever Shine On You." Also stay tuned for new albums by Brooks & Dunn, Sammy Kershaw and Paul Overstreet.
Upcoming Live Country
Tickets are already on sale for two hot concerts rolling into Louisville: Tim McGraw & Faith Hill and Alison Krauss & Union Station. The "Indian Outlaw," Tim McGraw, will bring his turbo-tonkin' Spontaneous Combustion Tour to Freedom Hall on April 3. Tim will be sure to perform hits such as "Indian Outlaw," "Don't Take The Girl," "Down On The Farm," and new hits off his new Academy of Country Music-nominated album, All I Want. Appearing with Tim will be the lovely Faith Hill with hits such as "Wild One," "Piece Of My Heart," "Let's Go To Vegas," and "It Matters To Me."
The 1995 Country Music Association Female Vocalist of the Year, Single of the Year, Vocal Event of the Year, and Horizon Award winner, Alison Krauss will bring her bluegrass-country sound, along with her band, Union Station, to Macauley Theatre on April 26 for a sure-to-be unforgettable performance including her smash remake of the late Keith Whitley's "When You Say Nothing At All."
Spring is in the air, meaning only one thing — it's almost Kentucky Derby time. You can rest assured that one of the most popular Derby events, the Philip Morris Festival of the Stars, will once again be part of the Kentucky Derby Festival. This year's free country concert will be held May 2 at Freedom Hall. The show will be a definite smash with Flatwoods, Ky.'s own Billy Ray Cyrus and the hot group Sawyer Brown. If you can only enjoy one Derby event, then this is definitely the one you'll want to attend!
The Palace Theatre has a huge line-up of country and country-rock concerts scheduled for this spring and summer. First of all, The Allman Brothers Band will roll into town for a May 5 show. The "redheaded stranger," Willie Nelson, will be performing at the Palace on June 20. And last, but definitely not least, the Statler Brothers will be sure to put on a four-star show on Aug. 3. Keep reading for further details on these shows as the time draws nearer.
Well, that's it for now. Always remember: Keep your boots shined up and your hat on straight, 'cause country music is comin' your way.