Down On The Corner
• Learn Guitar Theory Cheap. John Edmundson is hosting a public access show called "Applied Music Theory for Guitar" on TKR Channel 18, Mondays at 5:30 p.m. AFM Local 11-637 President Rocky Adcock also called about this show, as he and Sam Harris are helping Edmunson out. Might be worth checking out.
• Speaking of Rocky and (Dis)harmony. Rocky dropped us a fax acknowledging that his four-year marriage to former KCA entertainment manager Leta Rodway is "down the tubes." "We weren't a properly matched pair after all," Adcock reflected. Regardless, he says, the show must go on.
• LO Answers? Rocky also says that the reason he, the local Union President won't — can't — comment on the negotiations between the Louisville Orchestra and the musicians is because he is not the Officer of Protocol. Answers must come from Liza Hirsch Du Brul, the chief negotiator for the musicians.
• A Plug, A Plug. Rocky says he could refer calls (read: gigs) to groups all day long if he knew where they were. Interested musicians should inquire, but he warns you that there is some responsibility attached to such a relationship. (Adcock has frequently expressed puzzlement at the attitude of players toward the Union. He says he would be interested in a dialogue.)
• The Hands for Hand Benefit on March 4, staged to raise money for stagehand Jim Hubacher, netted more than $42,000, according to sources at the Kentucky Center for the Arts. Ticket sales alone were $37,410. KCA employees also voted to issue a challenge grant in the amount of $5,000, using their employee benefits. Businesses interested in helping with the challenge grant should contact Joe Massey at KCA at 562-0103.
Oh, yes, the show was genuinely killer, easily an early candidate for show of the year. In addition to Bela Fleck & the Flecktones, Sam Bush, Jerry Douglas, Emmylou Harris, John Cowan and Chris Brubeck, Peter Rowan showed up, as did Tim Krekel, who jammed on Sam Bush's version of Krekel's "All-Night Radio," which is a cut on Bush's upcoming album.
It was a case of splendidly excessive musical virtuosity all night. If you don't think that's true just ask any of the many, many, many musicians in the audience.
• While We're Mentioning Tim Krekel. We were, yes? Yer humble correspondent talked to Krekel at the Marshall Chapman / Peter Mayer show at the Backstage Cafe on March 17. He said that "You Can Feel Bad (If It Makes you Feel Better)," the Patty Loveless tune he co-wrote with Matraca Berg, hit No. 1 on the Billboard charts. Congrats, Tim.
As for the Backstage show, Krekel and the Groov-Billys opened with a ferocious set, with Peter Rhee sitting in on fiddle. The Groov-Billys have gotten tremendously tight since I saw them last. Rhee, who asserts that he has perfect pitch (I believe him), was sailing that night.
The Groov-Billys then backed up Chapman, a Nashville singer-songwriter with about twenty albums to her credit. Chapman, who was sporting a spray of blonde hair that looked like Elsa Lancaster in The Bride of Frankenstein, has been a working musician for more years than she cares to mention. She was energetic and bawdy, covering the Jimmy Buffett tune, "Why Don't We Get Drunk and Screw?" just because Peter Mayer's group was composed of some members of Buffet's Coral Reefer Band. Her original material was also hot, despite her assertion that "I write sensitive, tender ballads." I guess that includes such tunes as "Love Slave," a Chapman/Krekel collaboration.
Mayer and company took the stage about 11:30, and I caught a couple of tunes before having to leave. He confessed that they were "kind of ragged," having just driven in from Fort Mitchell. They set about to rock 'n' roll anyway and were cooking as I went out the door.
The Backstage was also full, as was Coyote's, where the country band Perfect Stranger was entertaining a crowd of dancers. This on a Sunday night. I couldn't believe there were that many people who didn't have to be alert for work the next day.
• About Those Early Shows. Krekel also mentioned that the Groov-Billys were going to start their Thursday gigs at Dutch's at 10 p.m. instead of 11 p.m..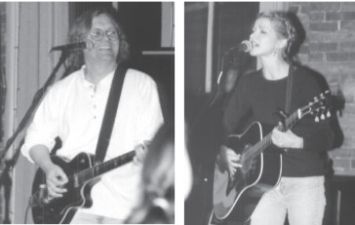 You Can Feel Bad If It Bads You Feel Richer. Tim Krekl and Matraca Berg player together at the Rudyard on Feb. 9, 1995. Photos by Paul Moffett
• Peter Rhee Redux. Peter has started a jam session at R Place Pub in Lyndon on Tuesdays, starting at 9 p.m. R Place is at 9603 Whipps Mill Rd. Check it out. Every Tuesday since he told me about it, I've been either busy or sick, but I'll make it in due time.
• A Phone Call from Wink? Yep, the one and only Wink O'Bannon phoned to say that he's "helping with the bands" at the Cherokee and that he is now designating Wednesdays at the Cherokee "Dead Mike Night." Wink says that he's aiming to make it genuinely acoustic and intimate. Gee, Wink, (et al), read Ray Major's letter on page 23 about the exact same thing. It's in the air.
• Music Rumor Control Central. It could be dangerous trying to keep up with rumors and/or facts in the Louisville music scene, but, hey, life is risky.
• However, the first one is easy: Rick at the Butchertown Pub says that the Pub is not — repeat not — giving up on live music. The mid-week bookings may shift, but the weekend is remaining solidly live bands.
Only every club and venue I know of is trying to figure out something that will work on Mondays and Tuesdays in particular, and sometimes on Wednesdays and Thursdays, so changes at the Butchertown (or any other club) are common and to be expected.
• As for the Cherokee Club, I can't say. There has been some turmoil, as reported by Duncan Barlow, but the extent and exact nature of it is not yet quite certain. Wink O'Bannon's phone call was an interesting addition to the mix. A little later, he faxed us a list of shows for April. Check the calendar.
• So You Think You've Got Chops? Jamey Aebersold's 1996 Jazz Catalog is out, for all you jazz (and other styles) players who want to improve your playing. Aebersold has been marketing play-along recordings for years and he just keeps on adding new stuff. This year, he has added a Billy Strayhorn play-along, a Latin version of Bird tunes, and a truly challenging record of difficult tunes (including "Giant Steps") called Giant Steps, in which each tune starts in its original key, then moves through the other eleven keys. Ha! Try that when you're feelin' frisky. Call 1-800-456-1388 for ordering and info.
• While It's Jazz. Greg Walker was eager to give me a copy of a review of Walker & Kays' Chasing a Rainbow CD, printed in a New York publication called Cadenee. Needless to say, it's a rave.
• The Louisville Dulcimer Society is staging a concert featuring John McCormick, on April 21 at the Thomas Jefferson Unitarian Church. McCormick will offer a guitar workshop at 2:30 p.m. and a concert at 4:30 p.m. Admission to either event is free to LDS members, $5 for the rest of us.
McCormick says he's working on new tunes and a new album and will, no doubt, play some at the concert. For info, call 456-1719.
• More Folk. Laurie Rose Griffith and Peter Mealy sent LMN a CD, Tocoi Light, and letter about a show they're doing at the Rudyard Kipling on May 7, at 8:30 p.m. Griffith is a Frankfort/Shelbyville native who moved to Washington, D.C. some years ago. I dropped the CD in the old player and gave it a listen and then another and then another. I summed it up this way: strong, clear vocals by two excellent singers, clean acoustic guitar work, solid harmonies, interesting songwriting. What more do you folk music lovers want? So go see them, if you've recovered from the Derby by then.
• We Were Talking About Derby, Yes? Local songwriter Ida Callahan has written a tune called "The Kentucky Derby Waltz," which, at this writing, was scheduled to be introduced at the Fillies Ball and played on their float.
• Louisville songwriter Cheryl Woods has gotten a spot at the Bluebird Cafe's Sunday Songwriter Showcase in Nashville. As is always the case with the Bluebird, the date is out there: November 10, 1996. At least it's this year, Cheryl.
• The Louisville Chamber Music Society of Louisville held its first, to-be-annual, Macauley Smith Chamber Music Competition for middle and high school chamber ensembles on March 9, at the U of L Recital Hall. First Prize went to the Vegtet Quartet; second prize to Y.E.S. (Youth Ensemble Society); and third to the all-cello Indy-Tuck Quartet. All seven of the quartets entered in the competition will participate in the Winners Recital on Saturday, April 20, 1996, at 2 p.m. at the U of L Recital Hall. Admission is free.
• Chaz Rough will be promoting his Uniware line of T-shirts at the J. C. Penney store in Southland Terrace on April 13. He will perform at about 3 p.m. and will give away cassingles to the first fifty people who ask for them.
• Nervous Melvin and the Mistakes have been picked to play for the official NCAA Corporate Receptions before the Semi-Final and Championship Games at the Meadowlands in New Jersey.
• Our Intermittent Columnist Alan Rhody sent along some Rhody-type tidbits with his column. He's scheduled to play at the Kerrville Folk Festival on June 13; he's splitting an art gallery exhibit with R.D. Lowery at Laurell's in Nashville during April. (Rhody's art background is well known to his fans — I myself picked up one of his drawings at a yard sale.); he's got cuts: "Christmas to Christmas" appeared on both Toby Keith's Polydor release, Christmas '95, and Tanya Tucker's Capitol album, Christmas '95 (Is there an echo in here?); Dave Mallett, Kate Wallace, Murray McLauchlan and the Goods have cut various of his tunes.
Catch him on Cary Willis' radio show at 11 a.m. on April 27, WFPK, for more info. He'll be in town to gig at the Rud that night.
• American Bandstand Redux? Caught the pilot shoot of a local live music TV show at the Toy Tiger on March 20. The show, called "Backstage Pass," featured Big Head and Almost Noah, plus a house band, the All-Access Pass Band, fronted by Dave "E" Frazier and consisting primarily of members of Nomads plus Rob Marsten on keys.
The show is being put together by Maury Majors and Wayne Young (and others, of course). They've been working on it for quite some time, aiming to have a first-class production with VH1-style editing. Their long-term intent is to market it to VH1. In the short term, they have a slot on Channel 58 at 10 p.m. Tuesdays. Look for the first show in April and stay tuned for more news about this one.
• The 1996 New Orleans Jazz & Heritage Festival is scheduled for April 26 - May 5. The line-up is just too incredible (and too long) to list. For info, call 800-488-5252. Their flyer tells us that Joan Osborne will not be in town for Derby; she'll be sharing a stage with the Indigo Girls and Joan Baez. Of course, Miz Osborne will play the Palace on April 30, so we won't be totally bereft.
Club Changes
• Tru Deaux's, 2420 S. 4th St. Tru Deaux's, set to open officially on April 4, is in the building at Fourth and Colorado which housed the Luau Room, after that restaurant moved from the airport. Prior to that, the building was a Kroger store.
Tru Deaux's has been a catering business for the last fourteen months, opening on Wednesdays for college rock. According to owner Truman Lawrence, the catering business was keeping the building in use on Fridays and Saturdays, but not the rest of the week. Hence the decision to change to a nightclub. Days, the club offers box lunches and meals.
Wednesdays are college rock nights; Thursdays, the blues; Friday and Saturdays, rock; and Sundays will feature country music.
The phone number is 636-3693.