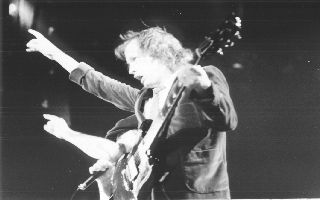 AC/DC's Angus Young points the way, with help from Brian Johnson. Photo by Pete Strojny
Let There Be Rock
And rock there was, when AC/DC took the stage March 11 at Freedom Hall before what appeared to be nearly a sold-out crowd.
The $1.5 million stage extravaganza featured everything from a mechanized crane with a wrecking ball demolishing a haunted castle-like structure (on "Back In Black"), to the pyrotechnics, complete with a deafening 6-cannon salute on the closing "For Those About to Rock."
Angus Young and Brian Johnson heated up the place with a catalogue full of their hits from past and present. The 22-song playlist more than satisfied even the most die-hard AC/DC fan. Standards such as "Thunderstruck," "Shoot to Thrill," "Dirty Deeds Done Dirt Cheap," "T.N.T." and others were all well-received.
The newer material — "Boogieman," "Hard as Rock" and "Hail Caesar" — didn't quite match the response of their older selections. But over all, considering the all-out stage show and the lengthy program, it was a successful night out for those who attended this "overkill" of a concert.
The Poor, another Australian quartet, was the opening band.