Nomads
Maybe the name is indicative of the essential transient nature of bar bands and their members. Maybe it just sounded better than The Bash, which was the previous configuration of this band's members. In fact, it was some "legal issues" that determined the name, according to keyboardist Dave "E" Frazier.
At any rate, the core of the former Bash, Frazier and bassist Regan Calhoun, plus vocalist Lynn Yeakey, who had joined the Bash just a little earlier, found themselves with a group that had dissolved. Searching for a new configuration and identity, they added a guitar player, who brought along drummer Greg Unthank. The guitar player then left, and was replaced by Steve Osborne. Unthank stayed. This configuration has been together for eight months, gigging around local clubs.
Nomads decided to shift their focus from classic rock to college alternative rock after the lineup settled down Their repertoire mixes Hootie college rock with Green Dayish alternative material, with a little Janice Joplin, Jefferson Starship and Led Zep thrown in for boomer measure.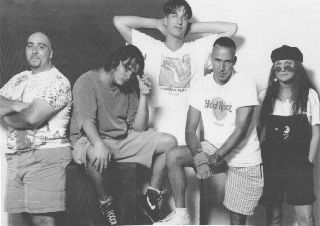 Yeakey, who is responsible for the vocals on all the woman songs, has been singing since the third grade. She has been singing professionally for thirteen years. On a recent Wednesday night at Tru Deaux', she apologized in advance for her vocals, blaming a cold for her raspy voice. Then she went onstage, whereupon the band launched into "Somebody to Love."
The very hard-driving rhythm section of Regan Calhoun and Greg Unthank is an attention-getting part of this band. Calhoun is intense in his playing and, at times, seems to be a devotee of Victor Wooten of the Flecktones, so rapidly does he play. Unthank thinks Calhoun is great and fun to play with.
"We've only been playing together for a few months," Unthank explained. He said he thought that they would only get tighter as the band practiced and worked.
"E," who trades off with Yeakey on lead vocals, thinks Nomads is "overlooked and underrated" as a band. He's writing material for an original band that will be composed pretty much of the same members as Nomads, plus another guitar player.
"E" explained that he had released an EP, entitled Everything, that had generated some buzz and which had drawn attention from indie record labels Power Records of Spokane, Wash. and Motor Jam Records from New York. A&M Records is also somewhat interested in the project.
As if all this wasn't enough, "E" and most of the members of Nomads comprise the house band for the VH1 style TV show called "Backstage Pass."
"Let me get this right," "E" said. "It's the All-Access Backstage Pass Rhythm Ensemble featuring "E"." They performed on the pilot show on March 20 at the Toy Tiger.
Nomads will be appearing at the Backstage Cafe on April 3; Legends, New Albany on April 5&6; A1A in Lexington on April 12-13 and at the 3rd Base Tavern, Jeffersonville on April 19-20 and 26-27.
This is a band to go see, if for no other reason than to say you did should they climb the heights under another name.