'Phantom of the Country Palace'
Derby Dinner Closes Its Season with a Close Call
I admire a theater that's not afraid to take a risk, encourage new talent, be a leader, break from tradition! On this, the last of the 1995-96 season, Derby Dinner Playhouse did just that with the opening Thursday night of "Phantom of the Country Palace."
First played in Chicago, DDP bought the rights to this cheeky two-act musical, whose humor tends to ride on the predictable side, and brought it to the Sunny Side of Louisville for its second run.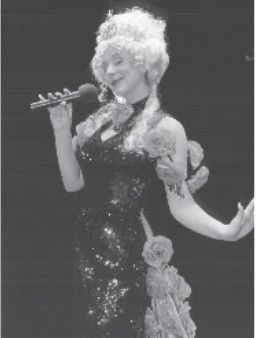 Sandra Simpson as Sally
It's fun to see a musical that is completely new. You don't know the story line, you've never heard the music, Julie Andrews never made it famous and the New York Times never reviewed it. The trick, then, is not to compare new material to old blockbusters. (That would be completely unfair.) Along that thought, don't come because you think this show might have some faint resemblance to that other "Phantom." It doesn't. Don't be put off by rumors that this is some sort of opera. It's not. Come with light anticipation, sit back and enjoy the ride. The scenario starts halfway around the world but ends up in the "Country Music Capital of the World" where a Country Queen meets Snow White. I'll say no more!
Watch for some special moments between David Myers as the stage manager and Alicia Carol, who plays a newcomer with a thinly veiled relationship with David's character. These two share the only serious moments in the story, and put a refreshing twist on the typical romantic lead duo. You will also be taken with Alicia's beautifully crafted high soprano delivery.
I must also say, Sandra Simpson plays the role of country diva with all the schmaltz and pizzazz of an early Barbra Streisand. In fact, I would be disappointed if she did not play the lead in DDP's upcoming version of "Funny Girl," on line for the 1996-97 season. Ben Madden as young Skipper is an amazing talent with a long list of credits, including that other "Phantom." This part doesn't do him justice, but he carries his character well.
A couple of comments, though. The opening number, clever as it is, would be better if the words weren't lost in the interpretation. Props and stage design remind me DDP is on a tight, end-of-season budget. (I'm sure they are — that's why you need to buy a season ticket for the upcoming year as soon as possible . . . that one's for you, Bekki Jo!) I hope the cast has permission to take liberty with the script. My guess is this musical will ripen with age. Parents, I rate the first half "PG" due to a few blushers near the beginning, but the last half pure "G" for "Go ahead and take the kids."
Speaking of the upcoming season, "Swingtime Canteen" starts April 30 and sounds like the female version of "Forever Plaid" — different era, same great music. Other shows in the lineup include, among others, "Jesus Christ Superstar," "Some Like It Hot," and as I mentioned earlier, "Funny Girl."
"Phantom of the Country Palace" plays now through April 28. Call 812-288-8281 for ticket information.