Reba McEntire, Billy Dean
With Special Guest Linda Davis
Reba McEntire's four-star performance at Freedom Hall on March 5 — the opening night of her brand new 1996 concert tour — may well be her ticket to capturing a coveted Entertainer of the Year award.
Better described as an extravaganza than a concert, Reba's show included a nearly 200-foot stage extending from one end of Freedom Hall to the other, fireworks, twelve dancers, ten costume changes, hydraulic platforms, elevators lowering into the stage for a costume change, dual stairways leading to a second-story stage, a moving piano, a crane, a taxi, a jet airplane . . . and even a surprise or two.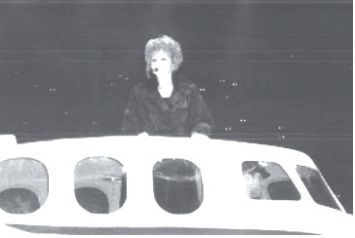 Reba McEntire knows how to make an entrance
When the lights were dimmed, the audience applauded thunderously and a taxicab headed toward centerstage. As the crowd continued to roar, the cab came to a stop and members of the band emerged, instruments in hand. The suspense was broken when Reba arrived onstage in her very own Starstruck jet airplane. Wearing a teal raincoat, Reba exited through the open hatch and jumped right into "Why Haven't I Heard From You." The energy was so intense it sounded as if a volcano had erupted inside Freedom Hall.
Reba continued to belt out hits, both old and new, from her twenty-year musical career. It was a welcome treat to hear a medley of early hits that included "How Blue," "Somebody Should Leave," and "Whoever's In New England," as well as remakes such as Linda Ronstadt's "You're No Good," Lee Greenwood's "Ring On Her Finger," and Dolly Parton's "Starting Over Again" from Reba's latest album, Starting Over. Also included were recent favorites "And Still," "Walk On," and "Is There Life Out There?"
One of the finest highlights of the evening was Reba's performance of her AIDS awareness hit, "She Thinks His Name Was John." As she delivered the tender ballad from the center of the Hall, a small platform lifted her nearly fifteen feet into the air while raising from the floor an illuminated replica of the world-famous AIDS quilt. When the tune ended, Reba was slowly lowered inside the quilt. Seconds later, the quilt fell to the floor and Reba appeared in yet another costume. Accompanied by eight dancers, she broke into "Take It Back."
As Reba began to sing her recent smash hit "On My Own," Linda Davis, Trisha Yearwood, and Martina McBride appeared on larger-than-life video screens singing harmony. When it was time for Linda to sing her solo verse, she disappeared from the video screen and magically appeared in the spotlight opposite Reba's end of the stage. Reba then graciously turned the spotlight over to Linda for a stellar performance of the title track from her brand new Some Things Are Meant To Be album. Reba rejoined Linda for a performance of the duo's astronomically successful "Does He Love You" — likely the biggest smash of the evening — which brought the house down.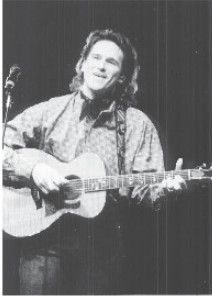 Tall, Lanky Billy Dean
Faith Hill came onstage to help Linda surprise their red-headed pal with the 1996 People's Choice Awards' Female Musical Performer award, and the presentation was taped for the March 10 awards show broadcast. Reba dedicated the special honor to country music's dear friend Minnie Pearl, who had passed away the previous day in Nashville.
Having made such a spectacular entrance, Reba couldn't simply walk off the stage to end the show. As an encore, the lights dimmed and Reba, wearing a black fur coat and fur hat, appeared atop a set of stairs at one end of the stage singing "Fancy." Or was it really Reba? All of a sudden, the Reba look-alike slipped behind a black curtain and the real Reba appeared on a platform at the opposite end of the stage, wearing a floor-length, scarlet-sequined gown. A crane lifted Reba to a height where she could face the fans in the upper level eye-to-eye, and spun her around the arena while she sang.
Despite the high ticket prices, all 20,000+ fans attending this sold-out performance surely got their money's worth.
The nearly two-hour opening-night concert was a well-rehearsed and -choreographed production with a high energy level and lots of glitz and glamour. The excitement of this new tour sparkled in Reba's eyes as she performed the show for the first before an audience. Despite the hollow sound caused by speakers suspended from the ceiling, Reba was in tip-top shape, both vocally and physically. Even without such hits as "You Lie" and "For My Broken Heart," the evening provided a balanced selection of material from Reba's twenty-year career. If she continues to push full-steam ahead as she did this special night, Reba will enjoy another great twenty years in country music.
Opening for Reba was long-legged country heart-throb Billy Dean, who was performing his first live concert in more than a year. Dean endeared himself to his audience when he said there was no better place to resume performing than right here in Louisville.
He managed to melt the heart of every female in the audience with a storybook delivery of hits such as "Somewhere In My Broken Heart," "Fire In The Dark," "Billy The Kid," and "If There Hadn't Been You." He dedicated his performance of "Only Here For A Little While" to the late Minnie Pearl.
Dean also offered songs from It's What I Do, his first album in almost two years. His selection included the title track, which he dedicated to his children, and "That Girl's Been Spyin' On Me." Although Dean played heavily to the female fans in the audience, both male and female were treated to a fine performance.