Doug Supernaw's Giant Comeback
By Michael W. Stout
Good ole country boy Doug Supernaw is making a giant comeback these days, both professionally and personally. He's floating on cloud nine for more than one reason: not only is he riding success from his newest single, "Not Enough Hours In the Night," but he has also changed record labels and is now recording for Giant Records. And he is once again enjoying fatherhood with the birth of Jesse Douglas Supernaw on Jan. 23. Doug Supernaw is back and stronger than ever.
"Not Enough Hours In the Night," the first single from Supernaw's third album You Still Got Me, is burning up country airwaves and has peaked at the number two spot across all country music trade magazines. Doug Supernaw described his new album to Louisville Music News as "really country stuff." He has great expectations for his debut Giant release:
"I think there's some real radio records on this one. Radio records and things that I love don't usually go hand-in-hand, but this time I found some that really hit both avenues."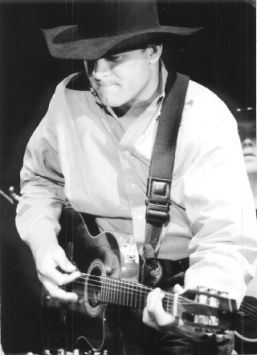 Doug Supernaw. Photo by Doug Supernaw
Supernaw co-wrote three of the eleven cuts on You Still Got Me, including the title track.
"I always start with about twelve songs that I write for the album, then I try to knock mine off with songs that other people write. This time, unfortunately for my publishing company (Supernaw Music), I found a lot that I like by other writers — but it's better for the album because I can knock mine off and then I save them for the next album."
Doug Supernaw feels that entertaining is his strong point, but songwriting has been the backbone of his success.
"I started writing songs when I was about eight years old and started singing professionally when I was nineteen in a touring band on the east coast. I went to Nashville when I was, I guess, twenty-two, when I was on my way back from the east coast — nothing happened."
"Then I moved back to Nashville in '87 and I was a staff songwriter. [From] '87 to '90, nothing happened, so I went back to [Tyler,] Texas and put together this band that I've got now (the Possum-Eatin' Cowboys, formerly known as Texas Steel). Record companies basically came to us."
BNA Entertainment signed Doug Supernaw and he made his Top 40 debut with "Honky Tonkin' Fool" from his debut album, Red And Rio Grande. His second release, "Reno," co-written along with the Possum Eatin' Cowboys, landed in the Top 5 on all three country charts and hit number one on Gavin. Supernaw says, "I think 'Reno' is our biggest record." So, will he be playing it till the day he dies? You bet! "I'm sure I'll have to."
"I Don't Call Him Daddy," a heart-wrenching look at the relationship of a father and son separated by divorce and distance, followed and smoked the airwaves, holding onto Billboard's number one spot for three consecutive weeks. Doug's son Phillip made his acting debut in this highly acclaimed video which was nominated for Video of the Year by both the Academy of Country Music and the TNN Music City News Awards.
Following the success of his debut BNA album, Doug Supernaw released Deep Thoughts From A Shallow Mind, which included six self-penned tunes. The first release, "What'll You Do About Me," shot into the Top 20 on the country charts quicker than any of Doug's previous hits.
The next release, "State Fair," a tragic tale of a teenager's death due to drunk-driving, unfortunately didn't get near the air-play and recognition it deserved. Possibly the best song Doug Supernaw has ever cut, "State Fair" was snuffed out before it really started to burn. Doug says, "I thought 'State Fair' was a great song — I didn't write it, I found it. I thought it was a great song but the record company just didn't promote it. It was actually doing alright and a bunch of radio stations across the country started playing 'You Never Even Call Me By My Name,' so we had to pull 'State Fair.'"
He continues, "We had a conflict: we had a lot of stations who were playing 'You Never Even Call Me By My Name' and wouldn't play 'State Fair' because they were playing 'You Never Even Call Me By My Name.' So we pulled 'State Fair' and went with 'You Never Even Call Me By My Name.' Then the people that were playing 'State Fair' wouldn't pull off it, so it killed both records basically."
Needless to say, Doug Supernaw grew unhappy with BNA Entertainment. "I don't think they treated me like a person that had a gold album because they didn't believe in the second album. They didn't believe in it, so they didn't push it and it died—so we parted ways." Although unhappy, he will forever be grateful. "They gave me my shot at doing it in the first place, so I appreciate that."
Two years after the release of Deep Thoughts From A Shallow Mind, Doug Supernaw is ready for a giant comeback and has recently released his debut Giant Records album, You Still Got Me with great expectations. "I always felt like I was kind of a step-child on BNA. On Giant, I feel like I've got a family there—it's a good thing. They're really behind me. I don't think there's any way this could miss, so we'll just wait and see."
Doug Supernaw doesn't exactly have all the time in the world these days to sit back and await the success of his new release and enjoy the success of "Not Enough Hours In The Night." Doug is on diaper duty these days since the birth of son, Jesse Douglas. It was evident that Jesse has inherited his father's spunk and drive when he tried to make his debut six weeks early. Doug's wife, Debbie, whom he met when she starred in the "Reno" video (she also stars in the "Not Enough Hours In The Night" video), followed