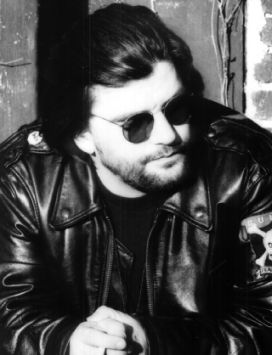 Steve Earle
Upcoming Live Music
April rocks like Fred Flintstone. No foolin'.
Actually, it starts with jazz — specifically, a visit from John Abercrombie and Andy LaVerne. Their appearance on April 1 at the Old Seelbach (Hotel) Bar is brought to you by the Louisville Jazz Society. Abercrombie is well known (and loved) among guitar aficionados; LaVerne worked extensively with the late Stan Getz. Get to the Old Seelbach Bar by 7 p.m. at the latest, because tickets will only be sold at the door for this 7:30 p.m. show.
The underground sensation Intergalactic Caca comes to Butchertown Pub on Wednesday, April 2, and if you ask them snidely, they just might play their classic, "Puddin' fer Brains." The eccentric trio, which consists of a lead singer who plays the audience's beer bottles, a female bass player, and a keyboardist who plays a customized piano of just one key, reportedly wowed a crowd of ten people several months ago in a seedy NYC bar. Don't miss this show; IC plans on breaking up next Tuesday.
Tim McGraw, who seems to have a handle on how to touch those sentimental hearts of country music fans, returns to town for a gig at Freedom Hall on April 3. The man has a good voice, discernible even when it's working its way through cornball hits like "Don't Take the Girl" and "Refried Dreams."
Although they're accused of being derivative, Rancid wins points for the astuteness of their thievery. If you're gonna steal, steal from somebody good like the Clash. Besides, they're not that derivative.
And they're coming to the Brewery on April 4. Rocket From the Crypt will perform too, making the ticket well worth the price. It's an all-ages show that starts at 7 p.m.
Two days later, the Brewery's Thunderdome plays host to Steve Earle, the modern outlaw country artist who is touring behind one of the most acclaimed albums of 1996. Pray for good acoustics for the show in the 'dome, which is currently under construction. The date on that is April 6.
Johnny "Pinky Finger" Wilson will set fire to Stevie Ray's blues club on April 10. Famous for once jamming with Sonny Boy Williamson's harmonica tech's step-sister, Wilson has also earned a sterling reputation as a torch. Stevie Ray's will submit to the arsonist's art at the conclusion of his set; it will be part (specifically, the finale) of his dramatic interpretation of the Blue Rhythm Band's "Blue Flame." Wilson will not be signing autographs after the show.
Eighteen-year-old blues guitarist Kenny Wayne Shepherd will bring his Albert King-influenced music to Phoenix Hill Tavern on April 12. The Shreveport, La., teenager was hooked on blues since age seven, when he watched a Stevie Ray Vaughan concert from on top of an amp case at the side of the stage. The Bottle Rockets are also at the Hill that night, along with the crowd-pleasing Menus.
The Caribbean Jazz Project, a technically proficient ensemble headed by Dave Samuels, takes the Bomhard Theater stage on April 12 as part of the Lonesome Pine Special series. The all-star cast's last local appearance was appropriately hot and colorful.
Jackyl also jackal: 1. any of several wild dogs of Asia and N. Africa; they often hunt prey in packs, generally at night and also eat carrion 2. a person who does dishonest or humiliating tasks for another from the notion that the jackal hunts game for the lion and eats the leavings 3. a cheat or swindler 4. April 15 at Coyote's.
The acclaimed reunion tour of the Rutles is scheduled to make a stop at Louisville's Palace Theatre on April 15. The infamous pop foursome, featuring three of the remaining Rutles and an unnamed substitute for late Rutle Graham Chapman (rumors say it will be Bob Dylan), are touring behind their recent release, Rutles Outtakes: Slaggin' the Wedge. The recording features studio chatter of three disgruntled Rutles complaining about Chapman's Polynesian wife, Loco Ono, who was widely maligned for causing the Rutles' untimely breakup. Rutlefan magazine reports that a snippet of studio conversation after a rare nose-flute version of "Raspberry Briers Forever" catches Paul distinctly saying, "I'll pound Loco's face until it looks like cranberry sauce, cranberry sauce, cranberry sauce." Tickets are $87, $88 and $114.
This MERF benefit is a bit different from the others: It features jazz at the Butchertown Pub. Among those scheduled to appear at the April 16 show are Ron Hayden, Sandy Neuman, Walker & Kays and Splatch.
Gerald Levert's voice is smooth and soulful, but can it compare to the incomparable Eddie Levert's pipes? Find out when R&B star Gerald shares a gig with his father, the legendary lead vocalist of the O'Jays. The show is at the Palace Theatre; the date is April 17.
The same night at the Backstage Blues Cafe (part of Coyote's Corner), Shag is in the house for a little P-funk style jam. (See the review of their new live album on page 20.)
Infamous "cornflake girl" Tori Amos will sell out the Palace for her April 19 concert. Amos recently told Musician magazine that she is spiritually in touch with a number of women in her head. I'm not touching that with a ten-foot pole.
Have you ever heard of Carman? The contemporary Christian artist has sold over six million albums and has sold out the 71,000-seat Texas Stadium. He brings his R.I.O.T. tour (Righteous Invasion of Truth) to Freedom Hall on April 20. The concert tour is in support of a film with the same name.
What's Jimi V up to these days? Funny you should ask. He's in a new band of veterans who're calling themselves Daisy Chain. They play mostly covers, and Jimi sez they pride themselves on playing their hearts out. See them at the Backstage Blues Cafe on April 21.
John Joe Carpenter, country music's hot rising star, swaggers into Coyote's on April 22 for a sure sell-out. Carpenter, famous for performing with cow dung clinging to his boots, has a current single titled "Dumb, But with a Guitar Strum." This is Carpenter's first concert since he underwent painful treatment to install bowleggedness to his formerly straight legs.
April 25 is a night of rawness. Over at Coyote's, country deity Merle Haggard will sing it like it is. In Phoenix Hill Tavern, Guided By Voices will try to approximate their lo-fi recording style in concert. Both shows are worthy of your cash money.
You can call her bluegrass. You can call her country. You can call her pop. But no matter how she's approached, Alison Krauss pleases the ears. Her excellent fiddling is only surpassed by her high, angelic voice. She's with her crack band, Union Station, for an April 26 show at the Macauley Theater. It will sell out quickly, so let your fingers do the walking — the number for tickets is 584-7777.
April 27 marks the arrival of Shelperswyth; their show is part of that darned eclectic Lonesome Pine Special series. Shelperswyth, the hottest band in Wales, plays the traditional music of sheltie dog trainers, using a mixture of ancient Welsh musical instruments and contemporary dog-grooming tools. Unforgettable. A great deal of excitement has surrounded them since ESPN used a snippet of their song "Swiftly Sliding Choke Collar" during the telecast of the American Kennel Club's 1996 dog show. Shelperswyth's performance will take place in the Bomhard Theater.
Joan Osborne blah blah blah Joplinesque blah woof woof blah "One of Us" yadidda yadidda yadidda blah Palace Theatre on April 30 etc. etc. etc. Anchorage native blah blah blah. Have fun.
Bob Bahr will unsteadily climb on top of a table at the Outlook Inn on April 31 (2 a.m.-ish) and sing an a cappella rendition (augmented by exquisite air bass playing) of Bootsy Collins' "Hollywood Squares" — until security pulls him down and throws him out. Musicians are invited to heckle and review his performance.