Bluegrass Beat
It's been a good couple of months, at the end of June and July. There's more to come. I'm looking forward to events that are coming up in August and September and somehow it seems like we are almost into fall and . . . well, thankfully, not yet.
The Charlotte, Mich., festival at the end of June was another big success this year. Really good to get up there and visit with all the good folks who come out for that show. Tessie was there again. I told about Tessie last year. A dear, sweet little lady, Tessie lives in Florida in the winter and travels along back to Michigan in the summer. She comes to the festival with her son and daughter-in-law and revels in being recognized and spoken to. Well, she should be all the above, for Tessie will be 99 in October. "I'll be back next year," she said. Bless you, Tessie, I hope you will be back for many more. I'll be looking for you.
I can't quite say this with certainty yet, but it also looks like Dr. Ralph Stanley will be back next year, along with several others from this year. As of now, they are planning to have Claire Lynch. I am on the schedule for next year, also. I figured out that this year was my eleventh year for that festival. Next year, the dates are June 26-29.
The Goins Bros. came in on Friday. They did an excellent show in spite of a sad and personal note for them. Their fiddle player, Sam Jeffries (I am unsure of the spelling) was killed in a tragic accident two days before. He pulled out from a stop sign right in front of an oncoming tractor trailer. He had waited for to pass and apparently did not see the second one. Melvin Goins was asking assistance for the family, as there was no insurance.
Learning of the plight, Melvin told Sam's mother, "You don't put him in a pine box. We'll take care of it somehow." The bluegrass community does answer the call and need, when there is one. One of the vendors, Betty and Jimmy the Hat Man, Bluegrass Safari, donated five hats. They had them signed by all the bands and we auctioned them off, two each night and one on Sunday. One gentleman bid $110 for one on Saturday night. When he came up to get it and bring the money, he donated it back and said to auction it again. The second time around, it brought another $80. Aren't bluegrass fans and festivals and performers just absolutely great?
July 4 found us at the Museum of the Appalachia. My daughter came from Virginia with my granddaughter Becky, who came home later with us for a visit. We all really enjoyed the day.
Finally got to see an anvil shoot. Fascinating experience that I was able to capture on video. Briefly, an anvil is inverted on the ground. Gunpowder is placed in the space on the bottom of it. A second anvil, 124 pounds worth, is set upright on the top of it. When the powder is set off, the top anvil goes as much as 75 feet straight up, turns over and comes back down, of course. We watched three shoots and none of them landed over six feet from the base anvil.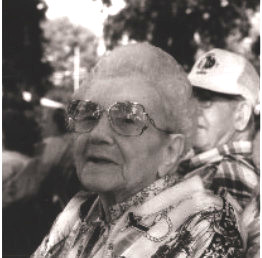 Tessie Bongari. age 98. Photo by Berk Bryant
This month, I am looking forward to making a trip with Randall Hylton. Labor Day weekend, he is playing at Tarentum, PA, on August 30 and at Westminister, SC, the next day. He wants me to help him get there. DRIVE, Drive, drive. What's in it for me? A chance to spend a weekend with a good friend and perhaps the best opportunity to visit we have had.
Of the new CDs I've got, there are four I want to tell you about. John Hartford has a good new one. First scanning tells me everything on this one is good for the show and will be heard. Several of the selections have short bits of dialog as introduction. All the tunes are John's, with the exception of "My Tears Don't Show," a Carl Butler song. There are ten new numbers, including the title song, "No End of Love." Others are "When the Guiding Star Came to Tell City," "Railroad Cap," "The Burning of the Grand Republic" and a new version of "Gentle on my Mind." Pickers on the CD are Mike Compton, guitar/vocal; Ronnie McCoury; Roy Huskey Jr; Jamie Hartford and John.
The first Old Homestead CD release, Classic Bluegrass, Today and Yesterday by Delia Bell and Bill Grant, is out. The CD has 20 tunes, the first eleven of which are of special interest to local bluegrass fans, especially for those who have asked me so many times where to get a tape of Allan Phelps. Allan played the dobro on these. I would say, get it, it's GOOD.
Then there is the new Jim & Jesse CD handed off to me at Charlotte, with sixteen songs, most by Jesse, with one, "Texas Fiddling Man," by Jim and Randall Hylton. A good Jim & Jesse release, as theirs always are.
The last CD came as a pleasant surprise. What a good effort, writing, recording and all it is. I know this fellow as a Traditional Music Association board member. He lives in Nashville and is obviously a terrific writer and artist. This CD is NOT is bluegrass as we think of it. What it IS, is a CD of great songs, all acoustical, that any bluegrass fan can relate to if you have any memory of life at all. The title cut says it all: "Quilt of Memories." Terry Smith is the writer and performer. Other titles from the 14 songs are "A Little Honky-Tonkin'," "According to the Lie," "The Man Who Fell Through the Hole in his Shoe," "Skinny-Dipping Pond" and "Train from the Past." An overall good effort.
Addresses to get these CDs are:
John Hartford, PO Box 443, Madison, TN 37118. Delia Bell and Bill Grant, Old Homestead Records, PO Box 100, Brighton, MI 48116. Jim & Jesse, Old Dominion Records, PO Box 1385 Gallatin, TN 37066. Terry Smith, Rhinestone Records, PO Box 160191, Nashville, TN 37216 or, for credit card orders, call 1-800-710-7667. Tell them how you found out about the CD,
This month's picking: first Saturday of each month, at the Jefferson County (IN) 4-H Fairgrounds, Madison, IN. August 2-4, the Veterans of Foreign Wars, Inc., sponsor their 3rd annual reunion/festival on the Riverfront in New Albany, IN. The public is invited, as are all bluegrass pickers and bands. The event is free.
The Floyd Collins Story, an outdoor drama, is staged every Friday and Saturday night through September 7 at Green River Amphitheater near Brownsville, Ky.
August 2-3, Piney Woods Music Place, nine miles west of Henryville, Ind., on SR 160. Friday is jamming and on Saturday, the lineup is: Larry Sparks, Charlie Sizemore, Ronnie Stewart, Patoka River Boys, Tommy Brown, Johnny Collins, and Hickory Road's Blue River Ramblers.
August 2-4, the Osborne Bros. Homecoming Festival at Richard Nixon Center, Hyden, Ky. Featured are the Osborne Bros., Ralph Stanley, Reno Bros. and more.