Cowboy Corner
Temperatures are rising, hogs are getting spit-shined in hopes of capturing the Grand Champion blue ribbon, and country music fans are getting psyched for some of the hottest country music concerts on the road today. Where else could you have more fun than at the Kentucky State Fair, which will be held at the Kentucky Fair & Exposition Center in Louisville, Ky. from August 15 to August 25. This year's stellar concert lineup is not much different from those in recent years: C-O-U-N-T-R-Y!!!!!
Kicking off the fair again this year on Thursday evening, August 15, in Freedom Hall will be the boot scooters themselves, the dynamic duo Brooks & Dunn. Kix and Ronnie will be sure to perform brand new hits "I Am That Man" and their recent smash number one, "My Maria" as well as "Boot Scootin' Boogie," "Hard Working Man," and "She Used To Be Mine." Opening for Brooks & Dunn will be the Texas Tornado, Tanya Tucker, performing her hits "Soon," "Down To My Last Tear Drop," and her classic "Delta Dawn."
What better way would there be to end a day full of mustard dripping down the front of your shirt from your fifth corn dog, riding that ride you swore you'd never step foot on again, and trying to scrape the cow off the bottom of your boots than to settle back in the air-conditioned Freedom Hall for a long, tall shot of one of country music's most famed crooners, George Strait. George will get "Carried Away" when he makes his annual appearance at the State Fair on Saturday evening, August 17 performing his "Check Yes Or No," "Heartland," and "The Chair." Making her debut Louisville appearance with Mr. Strait will be hot Canadian newcomer Terri Clark, who'll be sure to offer her debut hits "Better Things To Do," "When Boy Meets Girl," and "If I Were You."
The crowd-pleasing Oak Ridge Boys will make their umpteenth (actually fifteenth+) appearance at the fair when they roll into Cardinal Stadium for yet another free concert on Sunday evening, August 18. Joe Bonsall, Richard Sterban, and Duane Allen will be joined by their newest member, former Oak Ridge Boy William Lee Golden, on "Y'all Come Back Saloon," "Fancy Free," "Bobby Sue," and the ever-so-popular "Elvira."
Clay Walker will "Hypnotize The Moon" for a free show in Cardinal Stadium on Wed. evening, August 21. This hot Beaumont, Texas newcomer will be sure to wow the crowd with "Where Do I Fit In The Picture," "Live Until I Die," "What's It To You," and his latest, "Only On Days That End In 'Y'."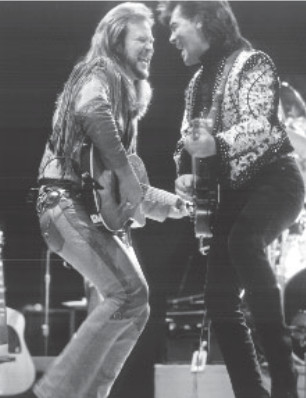 Travis Tritt and Marty Stuart will be at the Kentucky State Fair on August 23.
It's bound to be double trouble in Cardinal Stadium on Friday evening, August 23 when country veteran Marty Stuart and his "The Whiskey Ain't Workin'" pal Travis Tritt team up on crowd-rousers such as their latest duet, "Honky Tonkin's What I Do Best" and "This One's Gonna Hurt You (For A Long, Long Time)." The Marty Party will no doubt include "Tempted," "Hillbilly Rock," and "Now That's Country," while his partner in crime, Mr. Tritt, is bound to make the crowd swoon with songs like "Anymore," "Here's A Quarter (Call Someone Who Cares)," and "Foolish Pride."
Wrapping up the Kentucky State Fair yet another year will be the long-legged country boy from Newnan, Georgia, Alan Jackson. Jackson rolls into Freedom Hall on Sunday evening, August 25. Alan and the Strayhorns are always a favorite here in Louisville and Alan never lets his fans down. I don't expect this show to be any different. "Chattahoochee," "Gone Country," "Don't Rock The Jukebox," and his latest, auto-biographical tune, "Home"are sure to be on the playlist. Newcomer Wade Hayes will warm the crowd up with his latest, "On A Good Night," as well as "Old Enough To Know Better," and "I'm Still Dancing With You."
Tickets for all paid concerts are available through the Kentucky Fair & Exposition Center Box Office or they can be ordered by phone at (502) 361-3100. Please remember that concert tickets do NOT include the $5.00 gate admission to the fair or the $2.00 parking fee. And a word to the wise: leave early for these concerts (especially the Saturday evening George Strait concert) because traffic becomes incredibly slow around all interstate ramps leading to and from the fairgrounds and these shows will start on schedule. I hope to see you at the shows.
Surfin' With Suzy
Grab your cowboy hat and boots because it's time to go surfin' with Suzy! No, I'm not crazy (maybe a little punchy from the lack of sleep due to the birth of my son, though). (Jacob Daniel Stout was born Friday, July 19, 1996 at 12:31 a.m., weighing in at 6 lbs, 7 1/4 oz., at a length of 20 inches. – Ed.) Suzy Bogguss will spend an hour chatting with her fans from around the world on Thursday evening, August 1, 8:30 p.m. Central Time, on the Internet. Fans will have the opportunity to make comments and ask Suzy questions from the comfort of their computer keyboard. Suzy will be talking about her new album, songwriting, videos, and probably even her baby, Ben.
To get more information on how to surf with Suzy, log onto her web site at http://www.suzybogguss.com.
Suzy Bogguss is just one of many country artists with their own page on the Internet. Suzy's web site, developed by avid Suzy Bogguss fans, includes some 35 pages of Bogguss information, including a biography, her record discography, photos, all her album cover graphics along with all the song titles, songwriters' names, album reviews, fact sheets, list of videos, fan club information, and live concert information including fan reviews.
Be sure to mark your calendar and go surfin' with Suzy!
Gene Watson To Appear In Shepherdsville
The newly remodeled Shepherdsville Country Music Show is proud to present the country music "singer's singer," Gene Watson, for two shows on Sunday, October 6, at 2:00 p.m. and 6:00 p.m. Gene will display his rare talent for wrapping soul and emotion around every lyric on hits such as "Love In The Afternoon," "You're Out There Doing What I'm Here Doing Without," "Paper Rosie," "Farewell Party," and his most recognized tune, "Fourteen Carat Mind." Watson does indeed feel a song when he sings it and he'll make you feel it too.
Advance tickets to this great show are $15.00 and tickets will be $17.00 at the door. To purchase tickets or for more information, call Renda Aiken at (502) 968-6358. And don't forget to join the Shepherdsville Country Music Show every Saturday night for an evening of country cookin' fun. Regular admission is $6.00 for adults, $5.00 for senior citizens, $1.00 for children 6-12, children under 6 are free, and no alcohol is allowed. To get to the Shepherdsville Country Music Show, take I-65 South to Exit 117, Shepherdsville and go 2 1/2 miles west on Hwy. 44.
Hot New Country
New country releases are as hot as the rising temperatures outside these days. Suzy Bogguss is back, stronger than ever with a brand new single and album, both titled Give Me Some Wheels. Wade Hayes' sophomore effort, On A Good Night, which includes the rapid chart-rising title track, is now available and will be sure to catapult Wade to the next level of country stardom.
LeAnn Rimes' Blue, which includes the smash hit title track as well as "Cattle Call," a duet with country veteran Eddy Arnold, is now available at your favorite local record store and is burning up the charts. Newcomer Paul Brandt is searing the charts with his debut single "My Heart Has A History," which can be found on his album Calm Before The Storm. These two hot newcomers promise to have a big future ahead.
Newlywed Rick Trevino is back with a brand new hit single and album, Learning As You Go. Newcomer James Bonamy's debut single, "I Don't Think I Will," can be found on What I Live To Do, his debut album.
Be on the lookout for Randy Travis' brand new release, Full Circle, as well as Charlie Daniels' Steel Witness. And if you're a greatest hits fan, then you'll definitely want to keep your eyes open for The Best of Freddy Fender and The Best of Johnny Paycheck Vol. 1.
In the upcoming months, keep your eyes and ears peeled for brand new material from Travis Tritt, Trisha Yearwood, Mary-Chapin Carpenter, Clint Black, and Tim McGraw. I'll have more information on all these as release dates draw closer.
Upcoming Live Country
Fans of The Statler Brothers won't want to miss their upcoming stop in Louisville at the Palace Theatre on Sunday, August 3, at 8:00 p.m. Harold and Don Reid, Jimmy Fortune, and Phil Balsley will be sure to put on an unforgettable show, with tunes like "Elizabeth," "Do You Remember These," "Class of '57," "I'll Go To My Grave Loving You," "Hello Mary Lou," and "Whatever Happened To Randolph Scott." If you've never seen The Statler Brothers perform live, then you're in for a huge treat and you'll see why their incredible harmony and Harold's wit have helped make their variety show on The Nashville Network the highest rated series in TNN's history. Ticket prices range from $40.00-$17.50.
Well, that's it for now. I hope to see you all out at the Kentucky State Fair. Always remember: Keep your boots shined up and your hat on straight 'cause country music is comin' your way.