Down On The Corner
• Pen and Brenda Bogert have teamed up with Zena's to stage a benefit for Loreen Wells, wife of blues musician Foree Wells. Mrs. Wells has recently been diagnosed with breast cancer. The benefit will be on Sunday, August 18, at Zena's, from 7 p.m. – 1 a.m.. A $4 donation is requested (but you can contribute more).
Acts scheduled to perform include The Mudcat Blues Band, Fred Murphy and the 10th Street Blues Band, Foree Wells and the Walnut Street Blues Band, The Blues Syndicate, Pen Bogert (with Fred Murphy) and Nick Stump (Metro Blues AllStars) and friends.
• Lefty and the Lunatics will have a CD Release Party at Kelsey's in New Albany, on August 17 at 9:00. Their new CD is Unlaced Shoes, all originals.
• The Kelly Richey Band will have a CD release party on August 21 at Stevie Ray's. The CD is Live! at Tommy's On Main. Kelly is very high on it, as she believes her live playing is her strength. She also sends along her web site address: http://www.iglou.com/memedia/KELLY.HTM.
• Bardstown's Pat Kirtley has two tunes on the just-released Guitar Fingerstyle from Narada Media.
• Diane Williams has released a CD, 19, on which she played most of the instruments, wrote the songs and produced the album. Williams also is a semi-finalist in Musician Magazine's Best Unsigned Band contest for 1996.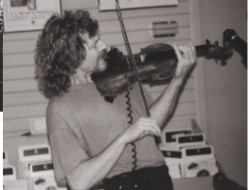 Sam Bush performed during an in-store appearance at Disc Jockey Reocrs on Shelbyville Rd. on July 20. He was promoting his new CD, Glamour & Grits. Photo by Paul Moffett
• Toss Your Publicity Photos Dept. Modern Principle has changed their name to Room for Emotion. Their CD, Emotional Suite, is due out in the fall.
• After fourteen years, Jerry Roubieu has left R.U.O.K? to pursue his own music and production jobs.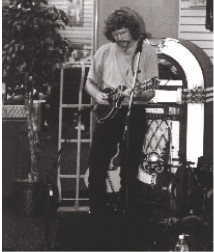 I don't usually play by myself. - Sam Bush. Photo by Jean Metcalfe
• According to an article in the Courier-Journal, singer Rick Bartlett is planning to open another nightclub in the building on Theater Square that formerly housed Hugs and, most recently, the Palladium. We'll keep our ears open and let you know when things develop further.
• See Me On TV? Jim Snyder, a local solo acoustic performer about town, has been putting together a public access show on TKR Channel 8 for about a year. Called "Writer's Night," he interviews singer/songwriters, and they perform a tune or two. The show airs at 6 p.m. Saturdays.
Snyder also takes his camera out to various places and shoots live music. He did just that at the 3rd Annual MERF Blues And BBQ Cook-off held at the Phoenix Hill Tavern last month. The video from that event will be broadcast on Snyder's program on July 13, 20, 27 and August 3, at 6 p.m.
On August 10, 17, 24, & 31, he'll broadcast video from the Rudyard Kipling's Monday Night Open Stage, featuring Tyrone Cotton and several other performers and songwriters. Show time is 6 p.m.
• Brian Pendleton of Pure South called to report that the band had competed in a band contest related to the Corvette Museum in Bowling Green and came in second in the Country category, behind Rym Shot. Pure South picked up some recording time and PA gear.
• Monday Night Alums Move On. Deckard Kinder, Dallas Thomas and Joel Timothy, recent regulars the Rudyard's Monday Night Open Stage, have taken their acts to the Bunbury, where they are staging Amnesia Motel, a vehicle for the three to perform their music and poetry.
The concert/play will run for two nights only, August 2 and 3 at 8 p.m. Call the Bunbury Theatre at 585-5306 for tickets.
• For Opera Lovers. Thomson Smillie will preview the upcoming season's offerings, plus answer your questions at Hawley-Cooke Booksellers in the Gardiner Lane SC, on Wednesday, August 28, 7–8 p.m. Robin Stamper, accompanied by Melinda Cumberledge, will perform selections from the upcoming productions.
• Speaking of the Opera, The Andrew W. Mellon Foundation has made a grant of $225,000 to the Kentucky Opera to help with the opera's Christmas Holiday initiative.
• The Ursuline Voices, an adult-community choir, is looking for new members. Male and female voices are needed. If you like to sing, call: Ursuline School of Music and Drama at 897-1816.
• The Louisville Youth Orchestra has announced the availability of audition slots in late August and early September for interested students through the age of 21 for the 1996-97 season Contact Melody Welch, Executive Director at 502-582-0135.
• Eat, then watch the play or vice versa? Actor's Theatre of Louisville has named a new chef for The Restaurant at Actors Theatre. The restaurant opens at 4:30 p.m. and has a full menu. Call for reservations: 584-1205.
• Songwriting Contests
The 13th Annual Mid-Atlantic Song Contest has an August 10 deadline. Contact 800-218-5996 for an entry form.
The Songwriting Competition normally held by the Louisville Area Songwriters' Cooperative in August will not be staged this year. The LASC was disbanded in January 1996.
Key Changes
Jacob Daniel Stout, son of Michael W. and Jennie Stout, was born Friday, July 19, 1996 at 12:31 AM. Vital statistics are: 6 lbs, 7 1/4 oz and 20 inches long. Jacob's father is the Country columnist for Louisville Music News.
Moritz von Bomhard, 88, died in Austria on July 23. Bomhard was the driving force behind the creation of the Kentucky Opera. In 1984, the Kentucky Center for the Arts named its Bomhard Theater in his
Oops
The telephone number for the Derby City Chorus' that was listed in the Barbershop Singing story that run in the July 1996 issue story was incorrect. The correct number is 493-6684.
Somehow Gerry Mulligan got listed in the Old Seelbach Bar ad as a performer. He is, of course, deceased.