Joe Henry Bounces Into the Phoenix
His new album, Trampoline, has attracted enthusiastic reviews and prompted a full page article in Rolling Stone magazine. But, despite ten years and six albums of strong work, Joe Henry is still an opening act as he promotes the disc this summer.
Except for one glorious Sunday night at the Phoenix Hill Tavern.
Henry took the stage as a headliner on July 7, giving a respectable crowd of lucky Louisvillians a full dose of intense, honest music too few have discovered.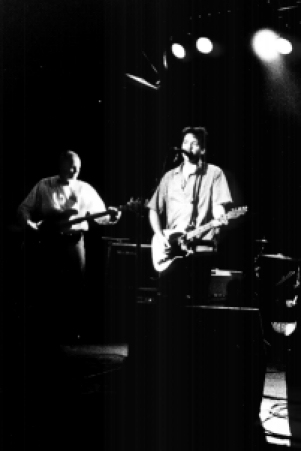 Joe Henry. Photo by Dave White
On Trampoline, Henry has abandoned the lush country-rock sound that seemed so suited to his short story songs about life's losers, simple people trying hard, and love gone wrong. This time out, he's going for a funkier, harder edged sound.
While the disc relies heavily on sampling and studio effects, Henry's three-piece touring band (bass, drums, lead guitar) brought the new tunes to life through simple, tight playing, offering live proof that Henry doesn't really need a lot of gimmicks to sell his songs.
Henry himself as in fine form, his vocals shifting easily from soothing to world weary, his laid back, little brother stage presence putting everyone at ease.
If there was a problem with the show, it was his determination to rock. He even kept his electric guitar strapped on through a short solo set. With not a mandolin, banjo or pedal steel in sight, some of his older, folkier tunes suffered.
The emphasis was on the new material, however, and the groove it offered was so irresistible that the audience climbed on board. It was one enjoyable ride by an uncompromising artist determined to take his own route whether the masses follow or not.