I've Got A Mind To Ramble
Louisville's First Lady Of Song
It could have been a Hollywood premiere at Billy's Place down on Wilson Avenue: a brilliant sunset lit up the sky gloriously, and fireworks were starting to crackle and pop. A long, white limousine was parked out front, and the singer was posing for photographs as friends and fans streamed in.
It wasn't Hollywood, however, but July 4th at Billy's, a night of celebration and appreciation for singer Mary Ann Fisher. After a lengthy exchange of hugs all around, the party moved inside, where the B. B. Taylor Blues Band was in high gear.
Originally the Wast End Elks Lodge, Billy's has been open and hosting jazz, soul and blues since Derby 1995. Lined with mirrors along one wall to make it feel spacious, the long bar across the back wall was solidly stocked and busy with scrambling barmaids. The walls sport lots of photos of smiling customers. There weren't, however, any strings of twinkling Christmas lights.
Mary Ann was primed for the occasion, wearing a glittering black gown and hair that was tinted and teased, defying her 74 years. The crowd was dressed from suits to shirtsleeves, and Kid Pete's Band had already opened the show, featuring a number of musicians who have played with Mary Ann over the years, including Boogie Morton and Ben Ingram.
After she made her grand entrance, Mary Ann lost no time getting to center stage to join B. B. Taylor for "I'll Sing the Blues For You."
Ray Charles had been invited but, since he was gigging in Europe. sent a personal letter, which Will Hill, the host for the evening, read to all.
There were many musicians in attendance to pay their respects and perform, including Ed Chestnut and Billy Madison. Even Bobby Lanz made a surprise visit, accompanied by Barbara Sodd, who got dedicated "You Make Me Feel So Young" to Mary Ann.
During one break, Mary Ann was presented with a plaque inscribed "In appreciation for the wonderful experience of music brought to us throughout the many years, First Lady of Song, we the Louisville Community thank you."
Later, Mary Ann's forthcoming book, Oh, Mary Ann, scheduled for publishing later this year, got a plug. In it, Mary Ann will tell about her life in an orphanage and, of course, about her years traveling with Brother Ray Charles in the '50s.
As the evening wore on, it was time for some down-home blues with Fred Murphy and the 10th St. Blues Band. Mary Ann regularly sings with this group each weekend at the Blues Garden at 10th and Dumesnil. Fred, who just turned 78, was blowing his Mississippi saxophone, on his back during his signature tune, "Nights By Myself." Mary Ann got into the set again with "If You Know What You Had, You'd Be a Millionaire."
Tanita Gaines finished out the evening with Latimore's "Let's Straighten It Out" and "Someone Else Is Steppin' In." Many thanks to Denita Boone of Sable Productions for putting together such a memorable evening. Denita said she wants to do a similar event for another Louisville blues legend later this year.
A Chat with Joe Donne
I had heard that there was a bluesman playing occasionally at the Twice Told Coffee House who was "the real thing." When I dropped by, the "real thing," Joe Donne, was sitting on a stool at the end of the counter, playing an acoustic guitar and singing in an impossibly deep voice.
It looked like he might have a few stories to tell, so I scheduled an appointment with him for an interview at his home near Cane Run Road and Alonquin Parkway.
Donne taught himself to play the guitar in 1961 to impress a college woman. In 1963, he met Smoketown Red. who encouraged him to get good. When he got good enough, he began playing rhythm guitar with Fred Murphy and Henry Woodruff as "The Blues Originals."
He did a four-year stint playing gospel with Jimmy Ellis and the Riverview Singers. The quartet traveled extensively and cut a few numbers for Atlantic in the period after Donne had left the group.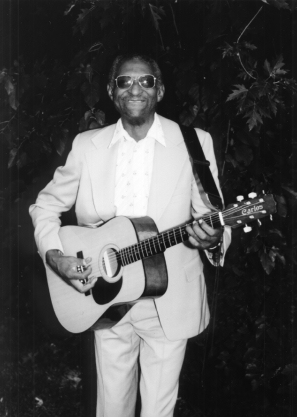 Joe Dunne. Photo by Keith Clements
Donne's musical experiences began with sousaphone in the Barrett Jr. High School orchestra, under the direction of Mr. Stonecipher. He claims that it was playing the sousaphone that gave him such a deep voice.
His distinctive bass voice got him a reputation for singing like Brook Benton. He still sings "Endlessly" during his set.
Donne recalled playing in many now-defunct clubs over the years.
"After hours clubs," he explained. They included the Belgian at 8th and St. Catherine, the Drake and The Turner Inn in Newburg and the Blue Moon and the Circle Bar in Smoketown.
Over the years, Donne has played an electric guitar, but now he prefers an acoustic, which is more appropriate for the older style of blues he plays.
"Using an acoustic makes you play better," Donne said.
Donne's recent appearances at the Rudyard Kipling resulted in the guitar he now plays. Singer/songwriter Linny Simkin, who was hosting the Monday night Open Stage, took the lead in buying Donne the instrument. He calls it "Louise," after a woman he once courted.
Donne claims a three-hour repertoire of blues, gospel and R&B, including originals like "Your Love Is a Fantasy" and "Shy Boy," plus his signature tune, "Suzie Q."
"The blues will be here to stay as long as people care," Donne concluded.
If you see a tall, lanky black man dressed in a sharp tan suit, carrying a guitar down Bardstown Road, it's probably Donne. He's has been playing for tips at the Twice Told every Friday and Saturday, from noon until 3 p.m., for over a year.
He could use a lift, because he travels to his gigs by TARC. He's blind in his right eye and does not drive.
My personal dream is to reunite Joe and Fred Murphy again to sing "I ain't goin' to take any nights by myself."