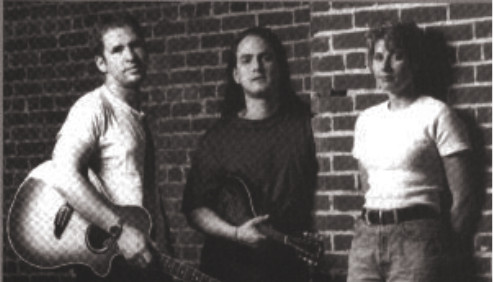 A Town in Everyone (X-Static)
Union Tree
By Bob Bahr
Let me immediately reveal my bias: I have been a devout fan of John Bajandas' songwriting for a good five years or so. This being the first official release of his tunes, I was sure I was gonna like it, and I eventually did.
A lil' history: Bajandas' songs took wing with Domani in the early '90s; some people in the local music scene can still sing you the words to "Breathe Love," "Train Bound for Morning" and "Body Into Soul." That ill-fated band went six feet under in 1992.
Domani seemed about to partially reform when this project arose — guitarist/vocalist Todd Johnson was singing and playing on the demos, Sam Anderson recorded most of the bass tracks, and multi-instrumentalist/producer Todd Smith was in the middle of everything. Most important, the album was based on Bajandas' songs.
But then Johnson parted ways with Bajandas again. Vocalist Natalie Robinson entered the picture and took the sound to another, different place. Violinist Peter Rhee joined up and quickly became a magnetic soloist. The album was made.
Recently, Robinson moved to California and left Union Tree with a gaping hole right through the middle. Once again, we are left primarily with Bajandas and his songs, with only this recording to capture them. The question: How do they fare on A Town in Everyone?
A successful compromise is reached in the production between a revealing sparseness and a comfortable fleshing out — perhaps erring on the side of simplicity. The sound is folky and almost country, with pedal steel, mandolin, fiddle and acoustic guitar taking prominence. Hammond B-3, piano, drums and electric guitar ground it a bit in rock. With the exception of "Aware" — one of Bajandas' best songs that is given a pleasantly bare-boned treatment — all of the tunes seem primed for additional instruments or a more intrusive approach from one or several of the players.
A Town in Everyone is a beautiful, mellow album, but it could have been a spine tingler. The principal musicians and the auxiliary players are all of the highest caliber from this town, but they all loyally serve the songs and lay way back from anything remotely approaching flashiness. Only Todd Smith demands your attention, and that is primarily because his tastefulness is so inexplicably conspicuous. Most of the goose bumps produced by this album come from the songwriting.
Which ones pucker the skin on your arms? All twelve cuts are well-crafted, but two tunes seem to tap something universal: "Aware," with its story of a homecoming both to a town and to a special friend, and "Patchwork," which manages to tackle the theme of human isolation with some arresting imagery. "Our Back Yard" treats wanderlust and its most pleasurable cure — running away with a loved one — in a manner that is almost melancholy, when one would expect predictable exuberance. "Sarah's Words" has verses that hang on a nifty guitar hook, and words that mine Bajandas' long vein of observant compassion. And while "Come Down to the River," "Come Together Now" and "St. Christopher" might please listeners hungry for a little more energy from Union Tree, they ring more hollow to me, even as I slid into a toe-tapping reverie.
As pleasant as this album is, it faces two main obstacles in the average listener. First, the fan who wants to hear something "rock" may grow impatient with Union Tree's seemingly infinite laid-backness. Second, Bajandas' voice is almost as idiosyncratic as that of his hero, Bob Dylan. Gentle and rarely aggressive, it is as soft-spoken as Bajandas is in conversation. Only the most preposterous vocal comparisons can be made — Al Stewart, Tom Petty, Dylan. If you fall in love with the songs, you won't even notice it; if you see Union Tree perform live, Bajandas' sincerity will wipe away any apprehensions about pretensions. And Robinson's wonderful vocals (utterly and completely free of mannerisms or unnecessary adornments) could further distract listeners if Bajandas still bummed them out.
With Robinson living on the other side of the country now, Union Tree is in a bit of predicament. But this is nothing new for the scratchings and insights in Bajandas' song notebook. They've seen trying days before. These songs will persevere.