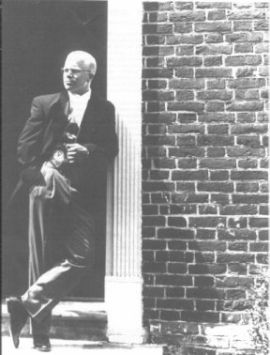 Chuck Jeter
grin-producing vocals, songs, production
Ain't Superman! (self-produced)
Chuck Jeter
By Robert Gruber
Exuberant, energetic, with a joy that virtually spills out of the speakers, Chuck Jeter's debut album, Ain't Superman!, is what contemporary Christian music should be like. Devoid of the sterile, bombastic balladry and bumper-sticker cliché that's typical of much CCM, Ain't Superman! comes off warm, funny, friendly, and -- best of all -- real. The gospel according to Jeter makes the Christian life sound like fun for a change.
This is due in large part to the production skills of Vince Emmett, who adds some serious flesh and sinew to Jeter's acoustic originals. Applying a stellar cast of studio players and singers -- people who've worked with everyone from Reba McEntire to Stevie Wonder -- plus quite a bit of his own guitar work, Emmett creates a distinctive sound for each lyric, leaving plenty of room for Jeter's manic personality to shine through. Engineer Bill ("worked with Elvis") Porter gives the whole project a shimmering, radio-ready sound, putting this indie project on an easy par with anything coming out of Nashville.
There is no down-time, lyrically. Whether it's the encouraging wink-and-a-smile of "Never Give Up," the child's-play romp of the title track, or the rollin'-in-the-aisle rock-out of "Holy Ghost State of Mind," Chuck keeps the spirit up, up, up. His knowledge of Scripture shines in "Call the Name," as he singles out books and verses for the attributes of God.
The joy in Chuck's voice as he sings these songs is so infectious, you'll get a face-wide grin as you listen -- look for Ain't Superman! in the pick-me-up section of your favorite Christian or local music outlet.