Cowboy Corner
Garth Breaks Records and Collects Toys for Tots
Country music superstar Garth Brooks has broken attendance records in 29 of the 38 cities on his current smash tour, selling more than 1.8 million tickets since his tour began in March. Garth recently broke Cincinnati Riverfront Coliseum's previous attendance record set in 1985 by the artist formerly known as Prince when he sold out five shows held last month. If you didn't have a chance to make it to Cincinnati to see the Garthster, don't fret. He'll probably stop off here in Louisville or in Lexington next year.
Garth has been helping the U. S. Marine Corps Reserve Toys For Tots program by asking the organization to set up toy collection centers at his concert stops since October and throughout December.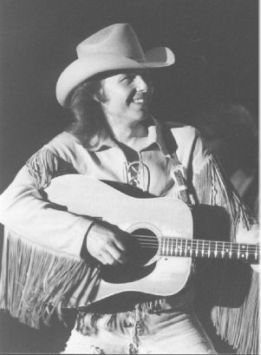 Dwight Yoakam has a new movie, Sling Blade, out.(Louisville Gardens, May 1993) Photo by Letha Marshall
Local Marine Corps Reserve units in towns Garth is performing in are setting up outside the concert venue to collect new, unwrapped toys from Garth's fans. The Toys For Tots program will distribute all toys collected to underprivileged children at Christmas.
Naomi Judd Feeds the Children
Half of one of country music's most famous duos, mama Naomi Judd was the recent spokesperson for Feed The Children as part of USA Weekend's 5th Annual Make A Difference Day, a charity event founded by actor Paul Newman. Naomi and a number of country music industry executives joined to pack 5000 boxes of non-perishable food items to be distributed to needy children across Tennessee. A one-time struggling single mother, Ashland, Kentucky's Naomi Judd was honored to be spokesperson for this charity she has admired for quite some time and says that she wouldn't be where she is today if it weren't for help from others like this.
Lorrie Morgan Writes Book About Keith Whitley
Lorrie Morgan has agreed to write a book about her late husband, Kentucky country singer Keith Whitley, who died May 9, 1989 from alcohol poisoning. Lorrie is co-writing the book with writer George Vecsey, co-author of Loretta Lynn's 1976 autobiography, Coal Miner's Daughter, and Barbara Mandrell's autobiography titled Get To The Heart: My Story. Lorrie's book is due to hit bookstores sometime late next year or in early 1998.
In the meantime, Lorrie has moved on with her life. Lorrie wed her "By My Side" duet partner, Jon Randall, on November 16 in a private ceremony in the living room of her home outside of Nashville. This was Jon's first trip down the aisle and Lorrie's fourth.
Dollywood's Smoky Mountain Christmas
Dollywood, located in Pigeon Forge, Tennessee at the foothills of the Great Smoky Mountains began celebrating Christmas November 14 as Smoky Mountain Christmas kicked off with more than two million sparkling lights.
Visitors can enjoy a capella holiday harmonies of The Mistle Tones, A Christmas in the Smokies tells the story of Christmas, the Kingdom Heirs will offer holiday harmonies in Holiday Jubilee, and there will even be a living Nativity called "O Holy Night."
Dollywood's Christmasfest has fun for the entire family. Everyone can enjoy festive holiday foods, marvel at the beauty of the Smoky Mountains, and even do some great Christmas shopping.
Dollywood's Smoky Mountain Christmas will be open through December 29, Thursday through Sunday from 2:00 - 9:00 PM daily. Hours will be extended from 11:00 AM - 10:00 PM on December 7, 14, and 21. Admission is $19.99 + tax for adults and $12.99 + tax for children ages 4 - 11.
Country Music Actors
More and more country music artists are trying their hand at acting and Joe Diffie is one of the latest. Joe will be acting along with country music's 'man in black,' Johnny Cash, in a made-for-television movie titled All My Friends Are Cowboys. Joe will play a washed-up bronco rider. Also featured in the film will be country music's legendary cowboy Roy Rogers and actor Wilford Brimley.
Pikeville, Kentucky's own Dwight Yoakam's latest acting role is Sling Blade, which hit theaters November 22. Starring alongside Dwight are Robert Duvall and John Ritter, son of the late country performer Tex Ritter.
June Carter Cash, wife of Johnny Cash and mother of Carlene Carter, is going to be a movie star when she appears in The Apostle, a film about a Texas Pentecostal preacher who accidentally kills his wife's boyfriend and hides out in Louisiana. June is not the only star power in this flick. The movie is being produced and directed by and stars Robert Duvall. Also featured in the film will be former Charlie's Angel Farrah Fawcett and Miranda Richardson. The Apostle is currently being filmed on location in Texas and Louisiana.
Vince Gill and Loretta Lynn Win at CCMA Awards Show
The hot new country artist, 22-year-old Bryan White, co-hosted the Fourth Annual Christian Country Music Association Awards with Rebecca Holden November 14 at historic Ryman Auditorium in Nashville, boasting the theme of 'Building A Better Country.'
Christian artist Lisa Daggs took home the coveted top honor: Entertainer of the Year. Country crooner Vince Gill captured three awards, including Mainstream Country Artist of the Year, Musician of the Year, and Video of the Year for his self-penned 'Go Rest High On That Mountain,' which features Kentuckians Ricky Skaggs and Patty Loveless. Butcher Holler's Loretta Lynn was honored with the CCMA's Living Legend Award.
The entire list of 1996 CCMA winners is as follows:
Entertainer of the Year: Lisa Daggs
Female Vocalist of the Year: Paula McCulla
Male Vocalist of the Year: Ken Holloway
Vocal Group of the Year: The Fox Brothers
Vocal Duo of the Year: Seneca
Mainstream Country Artist of the Year: Vince Gill
Song of the Year: Jeff McKee's 'Lake Of Fire'
New Artist of the Year: Wilcox & Pardoe
Musician of the Year: Vince Gill
Video of the Year: Vince Gill's 'Go Rest High On That Mountain'
Living Legend Award: Loretta Lynn
Pioneer Award: Gene Higgins
Radio Personality of the Year: Marty Smith of Cross Country
Radio Station of the Year: WSSA in Morrow, Georgia
Mark Miller Goes To Court
Sawyer Brown's Mark Miller has gone to court, but not over a lawsuit. Mark will be hitting the basketball court as often as possible for the next year. Mark recently signed a one-year contract as a guard for the Fort Wayne Fury basketball team in Fort Wayne, Indiana. Mark played his first exhibition game with this Continental Basketball League on November 1. Mark tried out just like all the other members of the team and has become a full-fledged team player fair-and-square. He will play regular season games when his touring schedule with Sawyer Brown permits.
Congratulations, Coyote!
Congratulations are in order for WAMZ's Coyote Calhoun. Coyote recently received the Marconi Radio Awards Personality of the Year award handed out by the National Association of Broadcasters.
Congratulations, Coyote and keep up the good work!
Hot New Country Christmas
If you like Christmas music country-style, your favorite local record store has something for you! Alabama fans will be happy to know that they have another holiday selection available this season, titled Alabama Christmas Volume II.
Shenandoah offers a brand new Christmas CD full of seasonal standards titled Shenandoah Christmas Featuring Marty Raybon. If you like a wide variety of stars, then Star of Wonder is the right gift for you. This new collection includes Yuletide tunes by favorite artists such as Alan Jackson and the reigning Country Music Association Entertainers of the Year, Brooks & Dunn.
Well, that's it for now. I'd like to take this opportunity to wish each of you a very Merry Christmas and a Happy, Healthy, Prosperous New Year. Please help those in need this holiday season if you are in a position to do so. Always remember: Keep your boots shined up and your hat on straight, 'cause country music is comin' your way.