• Whenever December rolls around, I begin to hear a quiet little voice in the back of my head reminding me that it's time to buy presents. Needless to say, this causes me some anxiety, in part because I usually don't know what I need to buy and for whom. My spouse, bless her, usually covers the clothes and toys for the grandkids. She likes buying toys because then she gets to play with them and the clothing is just routine stuff for her, all year long.
It's the adults I have to take care off, including her.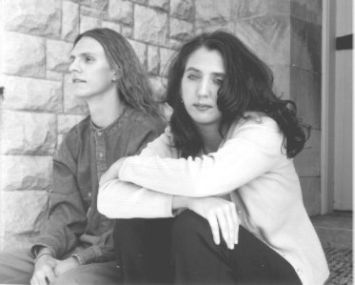 Fish N' Brooks new act Witin: Troy Dilley and LIsa Cardinali
If you have this problem, let me offer up my solution to this: I buy lots of CDs and cassettes and give them away. One size fits all, they're easily returnable if you get the wrong artist(s) and, in December, the sales on CDs are good.
But allow me to take this one step farther: why not buy tapes and CDs from local acts? The selection is larger than it has been in years, the recording quality is constantly improving and your money goes to support the local music scene. I mean, why send that money to California or New York or Nashville?
There is also a diverse selection in town. Check out the local reviews on page 24, for instance. Over the last several issues, a number of local recordings have been reviewed in LMN and, if you want to hear them before buying, check out WFPK FM 92 or slide into ear X-tacy or Disc Jockey or H.M.V. Records and listen to the selections on their listening posts. The smaller stores will play your request, if you actually appear to be willing to spend money.
If worse comes to worse, you might have to get in touch with the band, but that's cool, 'cause bands like to know that people are interested. You can always buy a copy at a performance, of course.
Merry Christmas and happy listening.
• Helen Burns, the piano player for the last twenty years at Cunningham's, dropped at note to say that she was now playing Saturdays at the Rudyard Kipling at 7:30 p.m. Needless to say, all her friends are invited to come on in and sing along.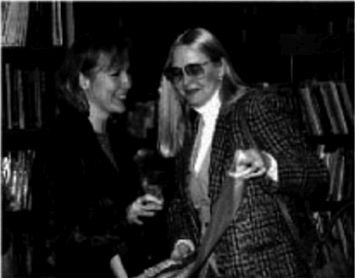 Irish DeMent and writer Alanna Nash talked at Hawley-Cooke Booksellers on Shelbyville Rd. on November 19. DeMant was autographing her new CD.
• Got a call from Music Man Records' Charlie Walls down in Springfield. Charlie's been busy adding an additional room onto his house and - voila! - it's a bigger studio. If you've ever made the trip to visit Mr. Music Man at his home studio, you'll appreciate the bigger quarters.
• "Pennsylvania's King of Country Music," Howard Vokes is an ardent, longtime supporter of "real" country music. He promotes older artists and young acts holding "TRUE to the ROOTS." Vokes dropped LMN a line recently and mentioned that "any real country-bluegrass-country-gospel acts interested in appearing at Prairieville Country Farm Days [should] send a promo pack to: Bill Aukerman, 7990 Milo Rd., Delton, Michigan 49046 or call (616) 623-2485."
The event is eight days long and Aukerman is booking as many older-traditional country, bluegrass and gospel acts as he can, according to Vokes.
• The Pride of Kentucky Chorus, a member of Sweet Adelines International, has moved their headquarters from the Buechel Park Baptist Church to the Clifton Center.
• Chaz Rough has returned to the Train Station Restaurant in Anchorage. This winter, the open stage will be on Wednesdays, 7 - 9 p.m. Rough also says his first CD, Unity, on Wild Justice Records, has a Nov. 30 release date. Rough, who understands staying on message as well as any musician working in town, will do in-store performances at ear X-tacy on Nov. 30 and at H. M. V. on Dec. 2.
• Kelly Wilkinson is now the studio manager at Melody Hill Studios, according to Vince Emmett. Wilkinson will be coordinating album projects. Call her at 502-267-5298 if you want a tour.
• The Louisville Chorus has released Christmas from the Heart, on CD and cassette. The recording is of a selection of Christmas music and is available at Disc Jockey Records, Hawley-Cooke Booksellers and other gift and record stores or by calling 502-895-7070.
• Fish N' Brooks Records has announced the debut release of the instrumental duo Within. Within is Troy Dilley and Lisa Cardinali. These are the first artists produced on Fish N' Brook Records label besides Steve Fish and Bobby Brooks. The recording is scheduled for an early December release date. Within's music is neo-classical, based on classical guitar and piano.
Not to be outdone by their new label mates, Fish and Brooks' new album, Seasons of Serenity, will also be released in early December. They describe the music as "a musical tour of nature's changing colors." The duo's first product, Celestial Journeys, is approaching sales of 50,000 units and has been co-promoted in conjunction with Elizabeth Arden's Sun Moon Stars fragrance.
• Louisville crooner Rick Bartlett has opened his own club, Rick's Square Piano, at 20 Theater Square at 4th and Broadway. Bartlett plans to attract the over-30 crowd with his repertoire of romantic ballads and jazz and pop standards. The Grand Opening is November 29. The club will open Tuesday through Friday at 4 p.m. and on Saturdays at 6 p.m. and will be open late.
Key Changes
• David Nelson, 54, died on November 6. A resident of Versailles, Nelson was formerly in writer relations at A&M Records. Vince Emmitt of Melody Hill Studio said that Nelson was "an inspiration to all whose lives he touched."