Ear Witness
By Cindy Lamb
The morning after November 12 began with WFPK morning host Laura Shine's tip of the hat to the Rudyard Kipling spread of Danny Flanigan, Ellis Paul and Michael Lille:
"I think it must be a hidden secret and it shouldn't be a secret at all. I think that the arts are what make a city cool -- a 155 foot statue of you know, somebody, is cool but it's all about the arts.
Look at what music that a town has to offer. I disappointed myself by saying 'I can't believe that this is a local artist,' this was not a fair thing to say. It was truly the high point of the evening for me to see Danny Flanigan to start, then add in both of his bands, Rain Chorus and Greathouse...it was just a phenomenal evening."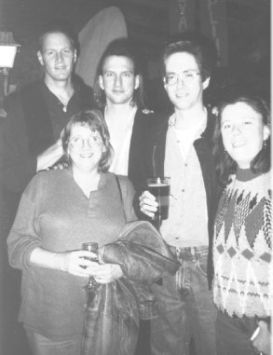 From left: WFPK's Leslie Stewart, Michael Lile, Ellis Paul, Cary B. Willis and Laura Shine, WFPK. Photo by Cindy Lamb
It was, indeed, and I had the honor of hanging out with New 92 staffers and being mistaken for a hip person most of the night. Flanigan's commandeering of the stage began with a moving solo performance, then came the blending of rain chorus and Greathouse. By the raucous finale, three genres of music passed before us, with Flanigan at the vortex.
Shine also praised the efforts of Rounder Records recording artist Ellis Paul ("...one of the best poets and songwriters I've ever heard.") and Nashville visitor Michael Lille ("...his CD is on the way to the station.")
Both Paul and Flanigan can salute the stellar direction of WFPK "The New 92" for their own brilliant evening -- they've had their respective CDs Carnival of Voices and Melody Hill, spun for several weeks before the event, as well as interviews and in-studio performances.
On the road since July, Ellis Paul is looking forward to some downtime back home in Boston. He brags honestly about the ultra-supportive folk and spoken word scene there. The best part was his interactive version of "Paris In A Day" (not quite the "Kumbaya" we expected but more like "Row Your Boat" gone wrong):
Mona Lisa, I said, she smiles like she knows me,
you said she's a woman with nothing to lose
she gathers a crowd around
then she flirts with perfect strangers,
yet she'll never take a lover in the Louve...
His brutally sweet and stunning style of passing a moment down from lips to pen to ear make him one of the new earth angels of folk. He'll be back.
The tall guy from the twangy end of I-65 just had his head shaved on a visit to Nepal. "That, and a stick of incense cost a buck forty," Michael Lille smiled. An equally slick-domed Danny Flanigan surely must've been relieved with Ellis Paul's long hair, otherwise a conspiracy theory may have been set abuzz.
Lille's fretboard expertise often resulted in the illusion that two separate instruments were playing. His clever accounts were lifted from travels and incidents from Telluride to Nashville and beyond. I felt well-traveled, yet refreshed. Lille has joined Paul on the road for a few weeks and they made for a great duo on a few songs. Keep an ear peeled for him on WFPK.
On a final funny note, I'll say that even the identical twin servers at the Rud, who earlier nodded to each other in unison, "I told you this would be a red wine crowd," came through with shining colors with the crowd. After rustling the Cabernet-like herds into their tables, wrangling chairs and bussing noisy glasses, Brenda nabbed the only paparazzi highlight by walking right up to the stage and squeezing a disposable Kodak moment right out of Ellis Paul.
P. S. Danny Flanigan performs all of his greatest solitary hits and more at Anthony's By the Bridge on December 3 as well as all first Mondays of each month. From 8 to 10 p.m., it's open to all ages, after 10 p.m., 21 and over. Anthony's By the Bridge is at 131 West Main, phone 584-7720.