FOR A SONG
Going toe to toe with a bartender and a friend as scattered applause echoes across the stage. That happens. How about pulling an entire room into your soul – standing room only? Everybody wins when that happens. The challenge an artist takes on, when choosing a solo performing career, runs the gamut of impossibilities, emotions and outcomes.
This column is intended as a forum for that genre of an entertainer. The impact of a single voice, accompanied by keyboards or guitar is both an intimidating and exhilerating experience for both the performer and audience. The flaws and the magic are all laid bare on the slab. No hiding here. You lead the crowd into your matchbook lyrics, 9-5 drill, bad mating choices and random epiphanies in about an hour's time.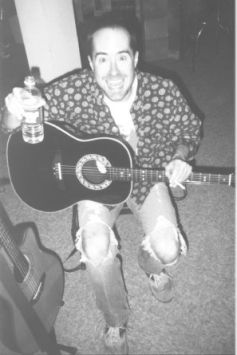 Bryan Hurst and his Water Joe. Photo by Cindy Lamb
Louisville's ever-fluxing music scene has produced some staple performers, from the cocktail circuit to bohemian circles, country to jazz, rock to performance art; yet the general consensus is "the more the merrier," leaving the solo artist in the minority.
The scenario of a band that splinters into one or more solo careers is a popular one, in that the band has established a fan base that the new solo artist(s) can draw from. Alternately, many singer/songwriters have cast a single shadow in the spotlight from the get-go and couldn't imagine sharing the stage, responsibility or cash with a group of people.
Bryan Hurst has moved and moves between the two conditions.
Sometimes You Feel Like A Band, Sometimes You Don't: Sowing the Seeds
About three years ago, Bryan Hurst lent me two tapes that pretty much described his inspiration as a songwriter. From opposite ends of the earth were Steve Earle's Copperhead Road and Richard Thompson's Mirror Blue. To this day, I'm not sure I've returned them, but point being is that they reflect the expansive pool that he draws from as an artist.
Hurst has been in enough bands to be on every track of a "Louisville's Greatest Alternative Hits" CD. From the garages of 1980 to the spotlights of '96, Bryan Hurst and his guitar have graced the bands Strict 9, The Blinders, The Modernheirs, The Front, Core of Resistance and The New Deal, keeping the city in cold beer and sweaty dance steps.
In his current band, Too Wet To Plow, Hurst is joined by John Thornberry, Stacy Ford, Jim Stines and Ben Andrews. Bearing a title from Appalachian folklore, the Plow is a semi-acoustic vehicle for Hurst's acerbic songwriting, which is familiar to a expanding Louisville audience. It's urban folk, seasoned with just the kind of pop/ballad sensibility that Triple A radio formats are made of (just ask WFPK's program director Leslie Stewart.). Good To the Last Drop, a four-song cassette, features "Spanish House" (one of my personal faves from Core of Resistance days) and "You Love Me When You're Drinking (a dark tango sheds light on the liquor and love), "Walking Upright" and "Fiona In the Air" (two New 92 rotation picks).
During an in-studio interview/performance on Laura Shine's WFPK radio program, Hurst modestly admitted that selling his tapes at work was better than selling band candy any day. As the membership coordinator at the Louisville Science Center, he juggles a full-time job, booking the band and keeping the data base steady and growing.
With opening act bookings for the legendary Jonathan Richman in October at Phoenix Hill and Warner Bros. recording artist Iris Dement in November's Louisville and Lexington engagements, Too Wet To Plow is keeping the hip minstrel otherwise occupied as a band leader and performer.
Catching Hurst between bands is the prime time to witness what he does with just a guitar and a microphone but chances to share an intimate set with an audience on his own are becoming rarer but always a treat.
Hurst talked about the transition from solo performer to ensemble player.
"Every time I get to that point I end up putting a band together," he admits with a chuckle. "I haven't pursued solo performances like Danny Flanigan has, but I do the open stages and spot gigs, filling in for people. I've never enjoyed sitting around the house singing to people at a party but at the Rud, that's what it's like."
It's got to be a hard feeling to wonder if you're wallpaper or a centerpiece when standing on stage alone. Do people want to be serenaded or just distracted?
"Crowd acceptance is kind of hard to gauge, " he continued, "It's a letdown in the sense of when you're playing, you're thinking, 'Wow, I could use a bass.' I'm not saying I'm a bad guitarist but I'm limited. I can't translate all that to one voice and one guitar.
On the other hand, he noted, "you don't have to worry about people missing a note or dropping a beat – you can set your own pace. It's neither better or worse than playing with a band. If you play in a place that's amenable to solo, like the Rud, the crowd is pretty much in your face. You don't want to be up on a big stage, of course, it's better to be intimate."
Wearing his lucky ripped jeans and nursing a bottle of Water Joe, caffeinated H20, Hurst and Too Wet to Plow pumped out as many originals as time allowed at Hemisphere's on November 9. Accompanied occasionally by the whir of a milk steamer and surrounded by a universe of tiny orange pinlights, the Plow found the window stage of the coffeehouse to be a toasty enclave.
The energy and environment were just right for the songwriter, so Bryan hopes to return soon with his guitar and an ample supply of Water Joe.
"I really enjoyed working with Ken Kurtz at Hemisphere's. He's very loyal and he's great at communicating. He really worked with me and that's rare."
Send any venue listings you have confirmed to Louisville Music News by the 10th of the month. You can reach me at 327-4793, where you'll be greeted by an audio-electronic likeness of moi. In the meantime, get those flyers on the phone poles, tune your instrument and support local, live music.