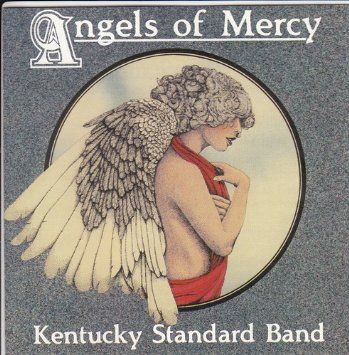 Angels of Mercy (Tree Frog Records)
Kentucky Standard Band
By Dallas Embry
Hey, Bucky, had a rough day at work? Morning traffic drive you crazy? The coffee machine give you a cup, but no coffee? Co-workers giving you frazzled nerves? The evening rush hour traffic is a mess and when you get home, you ran over your kid's tricycle? Totally stressed out and ready to scream?
Have I got a solution for you!
Sink into your most comfortable chair after you put the Kentucky Standard Band' new CD on your player and let the Angels of Mercy soothe your woes.
Dulcimer music, be it hammered or fretted, is inherently peaceful and relaxing. The original tunes on this disc, penned by Nancy Johnson, Ken Baldwin, Alice Burton and David Wilson, hew to that rule to the nth degree.
As you listen to Baldwin's guitar begin the first cut "Kites Over the Ocean," you become a kite yourself, bobbing above the waves of Wilson's violin ocean, as the gentle breezes of Johnson's fretted dulcimer and Burton's hammered dulcimer bounce you along on a cushion of notes.
If the tension hasn't begun to leach from weary body by the end of this cut, you must really be wound tight. Fear not. With one-plus hours of really pleasant sounds, this disc is guaranteed to get you there.
There are subtle influences of Celtic, country, folk and New Age music here but overall the sound is very original, at times so gorgeous your soul wants to cry. The musicianship is excellent and everyone gets a chance to show off their skills on a round-robin of lead instruments.
Right in the middle of these fourteen tunes is the title song, one of two with lyrics. The middle verse speaks directly to my interpretation of the music:
"And when this world is draggin' me down/And my soul is weary, low to the ground/Lift up my spirit and set me free. Angels of Mercy, I call to thee."
Following this is the uplifting "Alto Q I," featuring mandolin, violin and percussion, all performed by Wilson and accompanied by Baldwin's guitar.
Johnson's "Sarvis Tree" opens with a gentle guitar lead which is joined by violin, then hammered dulcimer, the cello. Ultimately the dulcimer and guitars share the lead with the cello providing solid background.
Mountain dulcimer and mandolin start off "The Way I Feel" as a pleasant musical duet which evolves in to a "feelgood" tune involving the entire quintet. The experience ends with a "slight return," called "Alto Q II," which features everyone, but ends with echo-ey guitar and syncopated finger-plucking chiming on guitar.
After experiencing this aptly named CD, I think the Kentucky Standard Band should seriously consider changing the name to Angels of Mercy, because this release proves that is what they really are.