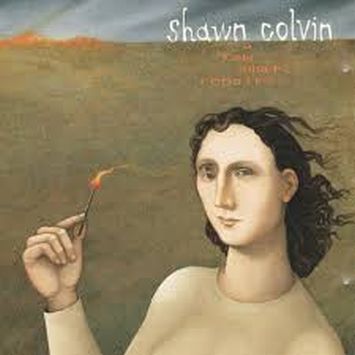 A Few Small Repairs (Columbia)
Shawn Colvin
By Bob Bahr
After you get tired of your favorite song on Shawn Colvin's latest album, something wonderful happens. You hear something nifty in the bridge, you notice something neat about the chorus, a line of lyric suddenly reveals itself. A Few Small Repairs is an album with considerable depth, and the talented singer-songwriter's pairing with producer John Leventhal is a big part of the reason. Leventhal is everywhere on this disc, playing keyboards, guitars, percussion, mandolin and bass, and singing backing vocals, plus drenching most every song in luxuriantly burnished production (with as much earthy style as anything produced by Daniel Lanois). Leventhal co-wrote most of the tunes, and sometimes the seams of the partnership show through the stitching. Rather than distracting, the vigorous collaboration is fascinating.
The songs range from brilliant to better-than-tolerable; the sounds on this disc are consistently gorgeous. "Sunny Came Home" starts things off with a tense mandolin rhythm and a chilling tale of a vengeful homecoming, and the next three songs barrel along in a memorable stretch of great music. "Get Out of This House" rails at an ignorant lover while considering the main character's wounded past, all with an acoustic muscle that is big and forceful. The harmonica hook of "You and the Mona Lisa" is infuriatingly infectious, and after that lick has dragged you to the tune, Colvin delivers with a musically and lyrically captivating composition that beautifully balances the enigmatic with the blatantly lovelorn. The influence of Dylan begins to show through.
"Trouble," with its light touch among the instruments and its flattering showcase of Colvin's now delicate, now tendon-tough voice, is one of the album's cuts that will sink its teeth into you . . . later, like on the fourth or fifth listen. The hidden treasures on this record are what make it so great.
A stretch of three iffy tunes in the middle of A Few Small Repairs creates a slightly hollow center, with "I Want It Back" boasting a few eye-rolling lyrics and "If I Were Brave" coating its confessional message in a little too much confection. "Wichita Skyline" is just a lightweight, sassy, and TNN-ready country pop tune -- until you start to appreciate its taut structure and claustrophobic lyrics.
The album takes a left turn with "84,000 Different Delusions," a darkly atmospheric song with cryptic, brooding lyrics and very little movement in the music compared to rest of the record. It yields perfectly to "Suicide Alley," which gathers together some of Leventhal's best guitar lines, some of Colvin's most wicked vocal phrasing, almost cinematic lyrics and some unusual production -- including the looping and altering of Shawn Pelton's drum beat into an almost hip-hop groove above Michael Rhodes' simple-yet-evasive bass line. Rules are broken on "Suicide Alley" and the risk is rewarded, from the suppression of Colvin's vocal track to the evocation and upending of hoary blues clichés in the lyrics. She makes it work when she sings, "I wasn't born I was spat out at a wall/And no one even knew my name/The sun hatched me out, cradle and all/On the corner of First and Insane."
The last two songs make one wonder about the sequencing of this album, with the wry "New Thing Now" and the bouncing kiss-off of "Nothin on Me" downright disconcerting after the darkness of the previous two tunes. Well, the feel-good chug of "Nothin on Me" may seduce many as an album closer, but "New Thing Now" is the gem, and deserves better than its placement in the album's no-man's-land. Skipping back and forth between skewers of pop music icons and Colvin's thoughts on some unknown, unnamed love interest, "New Thing Now" drifts off in an unforgettable fashion -- with Colvin singing (and trailing off into a whisper) "And it feels so good to doubt you/I could almost live without you/But not quite . . . not quite . . . not quite." This album is one of the year's best, in my opinion.